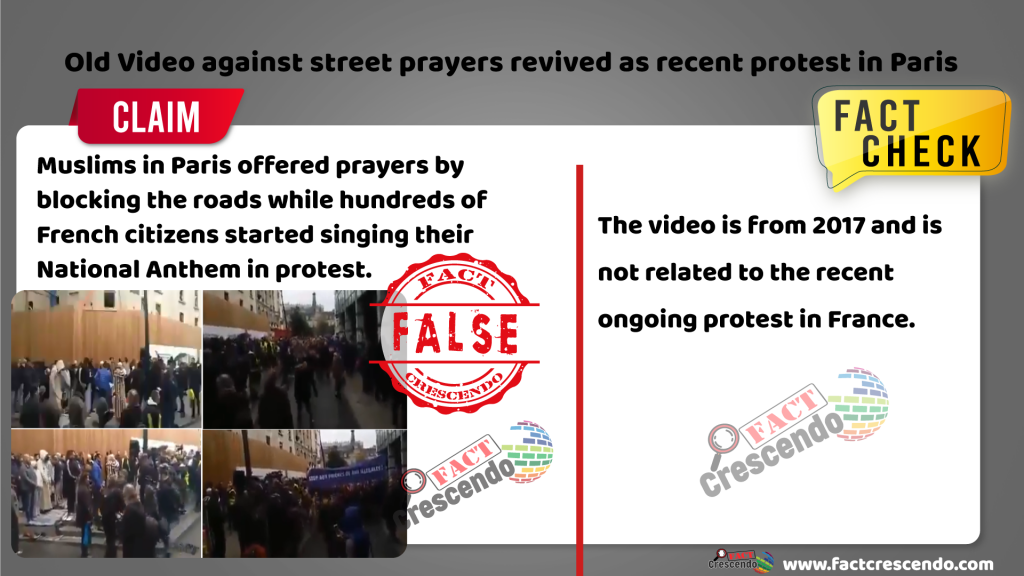 A multi-country backlash is building up in the form of protests on social media after the French President Emmanuel Macron commented on terrorism-related incidents in Paris. Amidst this a video showing hundreds of protestors taking to the streets is going viral with the claim that Muslims in Paris offered prayers by blocking the roads while hundreds of French citizens started singing their National Anthem in a retaliating protest.
The caption of the post mentions that "Jihadis in Paris were offering prayers by doing a road block, while the citizens of Paris started singing their national anthem"
The same video was also retweeted by Canadian journalist Tarek Fatah on 26th October 2020 who wrote "In Paris, as Muslims pray on roads, blocking streets, they are met with equally loud singing of the French National Anthem by French citizens."
The video was also shared with the hashtag 'boycott french products,' which started trending as Muslims across the world called for the boycott of French products. This protest began against the controversial sketch portrayal of the Prophet Muhammad.
Fact Check-
We started our search by running a reverse image search on one of the key frames by InVid- We Verify which lead us to a similar video uploaded by AP Archive on 15th November with the description as
"(10 Nov 2017) Tensions have erupted as residents and the mayor of a Paris suburb on Friday tried to block Muslims from praying in the street, in a dispute that reflects nationwide problems with mosque shortages. Police formed a human barricade between a few dozen Muslim residents trying to pray in the streets of Clichy-la-Garenne and more than a hundred demonstrators trying to stop them. As the Muslims chanted "Allahu akbar," or "God is great" in Arabic, the demonstrators sang the French national anthem, La Marseillaise. Mayor Remi Muzeau led demonstrators to the site where Muslims have been praying for months. Those praying tried to set up on a side street instead, but police pushed them back, prompting minor skirmishes. No one has been hurt, but both sides appear to be digging in their heels in the dispute."
A further keyword search on the video led us to a news report published by 20 minutes France in November 2017, stating that French politicians marched on the street in a Paris suburb in protest against Muslims holding friday prayers in public, calling it an 'unacceptable use' of road space.
BBC's report on the incident carried an image which showed protestors carrying a banner which says "STOP AUX PRIÈRES DE RUE ILLÉGALES,". We found that the same banner was also carried by protestors in the video which can be seen in the comparison image below.
"STOP AUX PRIÈRES DE RUE ILLÉGALES" means "STOP ILLEGAL STREET PRAYERS!"

Fact Crescendo has previously debunked misinformation after the killing of the French teacher in Paris as unrelated videos and images have been shared with false claims.
Conclusion- Fact Crescendo found that the viral video is misleading. An old video from 2017 has been revived amid recent tensions in France over the controversial sketch portrayal of Prophet Muhammed.
A 2017 video of French citizens protesting against 'illegal' street prayers by the Muslim community is being shared on social media misleading people to believe that it is part of the recent protests.

Title:Old Video against street prayers revived as recent protest in Paris
Fact Check By: Aavya Ray
Result: False