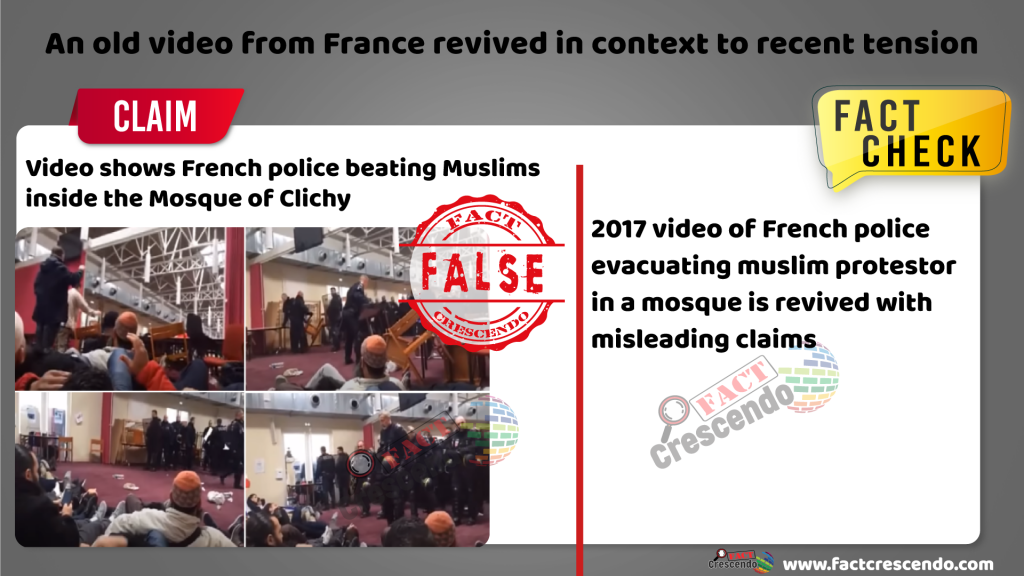 Social media is flooded with old and unrelated videos claiming to be footage of the ongoing protests in France after the French President Macron's comments on Islam. Amidst this, a viral video showing the police beating people is circulating on social media claiming that the video shows the French police cracking down on Muslims inside the Mosque of Clichy in Paris and Anhalu. It further claims that France is declared war against Muslims in the country, which is why the police are beating Muslims mercilessly.

The video is going viral after the French president's recent remarks defending free speech following the death of Samuel Paty – a high school teacher who was decapitated by a radical Islamist. Samuel Paty was beheaded outside his school on October 16th, 2020 by a Chechen radical Islamist for showing his class sketches of the Prophet Mohammed that were deemed to be offensive by some.

The caption of the post mentions, "France declares war on muslims and Islam. The great mosque of Clichy in Paris n anhalu has been stormed, the Muslims have been beaten. The French authorities have crossed red lines and the coming days are not good."
Fact Check-

We started our investigation by running a reverse image search on one of the key frames by InVid-We Verify which led us to the same video published by a Youtube channel on 23rd March 2017 with the headline as "Heart touching ! Muscular evacuation of the mosque in downtown Clichy-la-Garenne". The video on Youtube is a 10-minute version of the viral video. We can see similar scenes as the viral video.
Next, we searched on news reports related to this incident in French, which led to french news articles mentioning that Clichy police entered a mosque in rue d'Estienne-d'Orves area after its lease was not renewed by the municipal body. The news reports also mention that the nearby residents gathered around the mosque to protest but the police had to use force to evacuate them. This incident was recorded in the viral video. The police also brought concrete blocks to block the entrance of the mosque. The news articles were published on 22nd March 2017.

Leparisian.fr | Archive Link | Archive Link  
Fact Crescendo has previously debunked misinformation after the killing of the French teacher in Paris as unrelated videos and images have been shared with false claims.
Conclusion- Fact Crescendo found the viral video to be False. The viral video on social media does not reflect the current situation in France. The video dates back to 2017, which has been revived as being recent given the disturbance in France after Macron's speech on Islam. The video is misleading and is falsely being connected to the beheading incident in France.

Title:An old video from France revived in context to recent tension
Fact Check By: Aavya Ray
Result: False