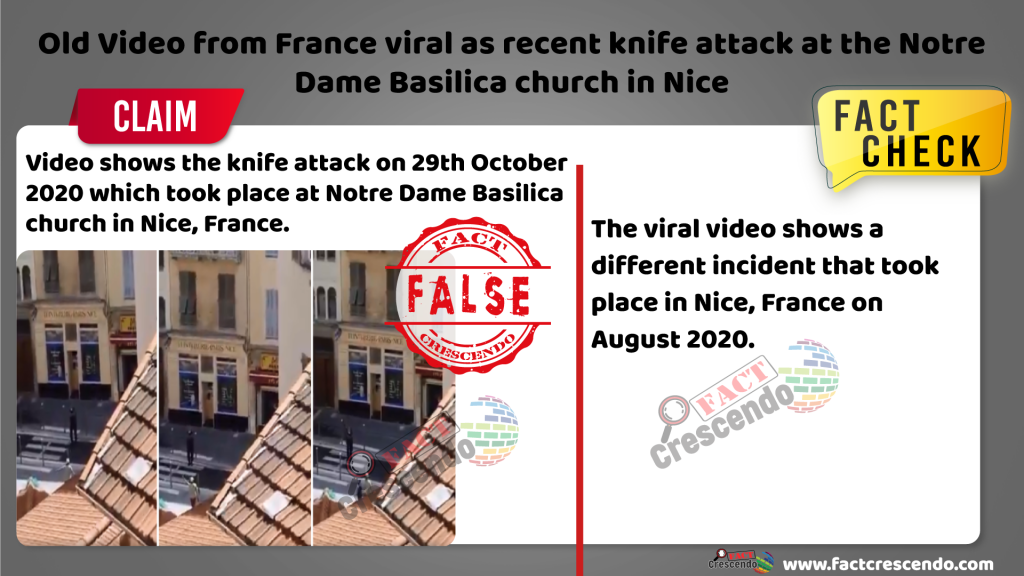 Recently, three people died in a knife attack at a church in Nice ,which French President Emmanuel Macron is said to have declared as an "Islamist terrorist attack". As the news started coming in from Nice about a knife attack at the Notre Dame Basilica church which resulted in the death of three people on 29th October 2020, a video has been circulating on social media with the claim that it shows the police taking down the killer after he murdered the three including the beheading of a woman in Nice, France. The video is doing rounds on social media claiming that it shows the recent Notre Dame Basilica church incident.

The caption of the post mentions that, "A video appears to show the takedown of the terrorist after he murdered three, including beheading a woman in Nice, France."
Fact Check-

We started our investigation by running a reverse image search on one of the key frames by InVid-We Verify which led us to the same video published on 12th August 2020 by a French website which mentioned that the person who was aiming a gun at the police and firing in the air was arrested by the police in Nice. The news report mentioned that a woman of about fifty fired in the air three times with a pistol ("loaded with gas cartridges" according to the first observations) in front of a post municipal police. She was taken into custody in Auvare, pending a psychiatric examination.
This video was also posted on 12th August 2020 by Nice Matin's official Twitter account, which is daily newspaper in South-East France. The tweet mentioned that "An armed woman was spectacularly neutralized on Wednesday after firing several shots in front of the police station at Place Saetone in Nice. She was taken into police custody pending a psychiatric examination # Nice06"
Archive Link

This incident was also reported in August by various French media organizations which you can read here and here.
Archive Link | Archive Link

Nice Mayor Christian Estrosi had tweeted the video of the same incident from another angle in 12th August 2020. He wrote in French which loosely translates to "Thanks to their coolness, their courage and their experience, our municipal police officers succeeded in neutralizing an armed woman and made it possible to avoid a dramatic outcome. I am proud our men and women"
Fact Crescendo has previously debunked misinformation after the killing of the French teacher in Paris as unrelated videos and images have been shared with false claims.
Conclusion- Fact Crescendo found the viral video to be False. The viral video does not show the knife attack on 29th October 2020 which took place at Notre Dame Basilica church in Nice, France. The viral video shows a different incident that took place in Nice, France on August 2020.

Title:Old Video from France viral as recent knife attack at the Notre Dame Basilica church in Nice
Fact Check By: Aavya Ray
Result: False