Protests are being held by the Muslim community in France as well as many other countries following the killing of a teacher in France and a subsequent "Free Speech" remark by the French President over a sketch of the Prophet Mohammed. Many misleading pictures and videos related to France are circulating on social media. Amidst this a viral video showing thousands of protestors on roads has been circulating on social media claiming that the video is from Palestine where people are seen protesting against France in the premises of the Masjidul Aqsa.
The post mentions, "Palestinians hold a protest in premises of Masjidul Aqsa against france for it's continuous condemnation about our Heart Prophet SAW. #boycottfrenchproducts"
Fact Check-
We started our investigation by running a reverse image search on one of the key frames provided by InVid-We Verify tool which led us to the same video published by a Youtube user on 17th March 2015. The caption is in Arabic and translates as, "Thousands of maximum cheering for the Messenger." This make it clear that the video cannot be a protest related to the ongoing tension in France.
Next we searched for news reports on Google which led us to a news report published by Mina News.net on 17th January 2015 which carried similar visuals from the video. According to news report hundreds of Palestinians protested in the Al-Aqsa Mosque, Jerusalem compound after Friday prayers against the publication of a sketch of the Prophet Muhammad by French satirical magazine Charlie Hebdo.
We also found similar images of the video in a news report published by Times of Israel on 16th January 2015 which mentions that demonstrators burn the French flag on the Temple Mount on January 16th, 2015 after Friday prayers at the al-Aqsa Mosque in Jerusalem to protest the depiction of the Prophet Muhammad in the French publication Charlie Hebdo this week. Protesters chanted "jihad, jihad, we will die in the name of God" followed by "Allahu Akbar" [God is great," and "Muhammad [is] our master and leader forever."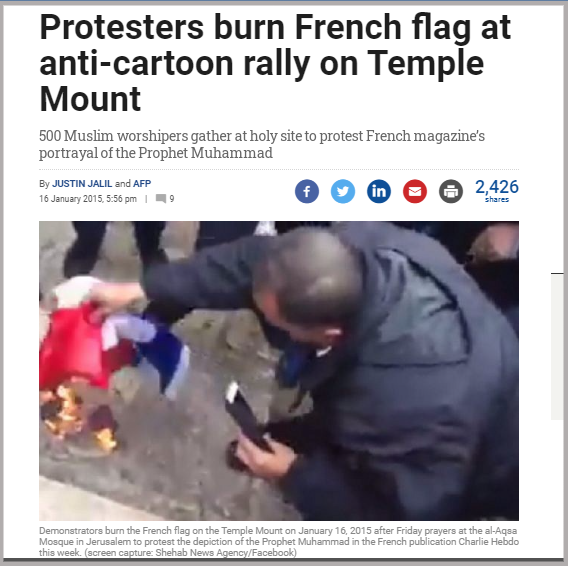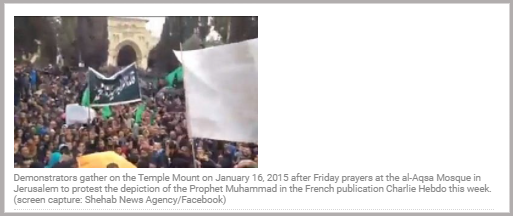 This video was also published by the verified Facebook Page of @ShehabAgency which mentioned that "The French flag was burned during the rally that went out in support of the Messenger of God in the blessed Al-Aqsa Mosque after Friday prayers."
We searched Google Maps and found that Al-Aqsa Mosque is located in the Old City of Jerusalem and is the third holiest site in Islam. The mosque was built on top of the Temple Mount, known as the Al Aqsa Compound or Haram esh-Sharif in Islam.
Conclusion- Fact Crescendo found the viral video to be False. The viral video on social media is from Jerusalem in 2015 when hundreds of people protested at the Al-Aqsa Mosque against the publication of a sketch of the prophet Muhammad by a French satirical magazine Charlie Hebdo. 

Title:2015 video from Jerusalem viral as Palestinians protesting against France
Fact Check By: Aavya Ray
Result: False