The video is from Libya where Libyan rebels shot down a warplane in 2011.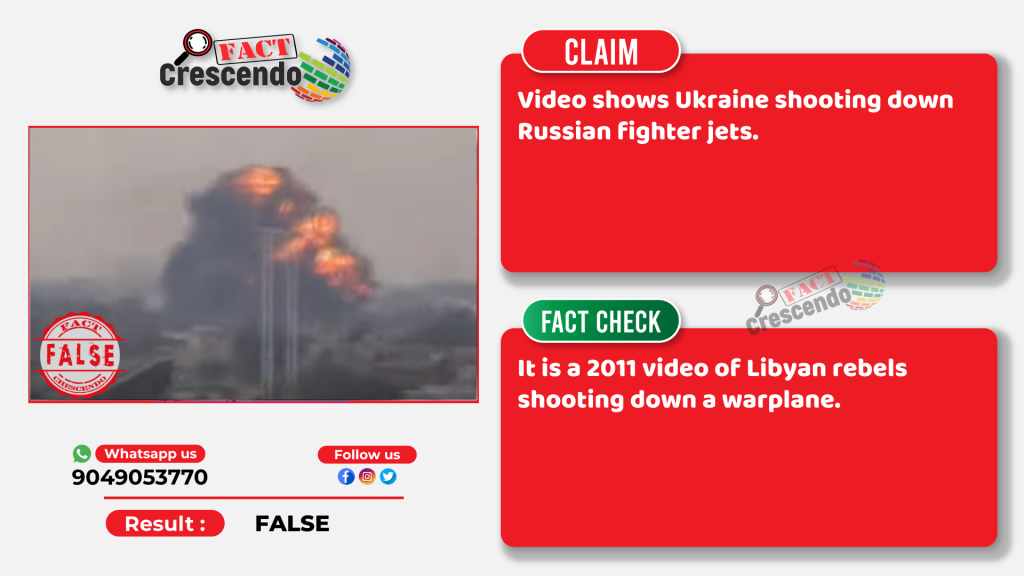 After Russian army invaded Ukraine, videos and images of blasts and attacks flooded the social media platforms. In the backdrop of this, a video is circulating on social media claiming to show Ukrainian army shooting down Russian fighter planes.
The caption of the video "Ukraine is fighting with all its might and has shot down several Russian fighter jets. But, how long will he be able to withstand the all-round attack of the Russian army? This video of Ukraine's shooting down of a Russian fighter plane is a witness to the courage of Ukraine."
Fact Check-
We started our investigation by running a reverse image search on Yandex of a screengrab of the video. The results led us to the YouTube channel of Associated Press. They uploaded the viral video on 19 March 2011. The caption of the video stated that "Raw Video: Plane Shot Down by Libyan Rebels."
According to the description of the video, it shows Libyan rebels shooting down a warplane that was bombing their eastern stronghold Benghazi, as the opposition accused Muammar Gaddafi's government of defying calls for an immediate cease-fire (March 19)."
Channel 4 News published this video on 19 March 2011 with the description "A jet appears to have been shot down over Benghazi. There are reports Colonel Gaddafi's troops have entered the Libyan city despite claims of a ceasefire."
---
ALSO READ: News Report of Climate Policy Protest in Vienna Shared as recent Visuals from Ukraine
---
Conclusion-
Fact Crescendo found the claim made along with the viral video on social media to be False. A video from 2011 showing Libyan rebels shooting down a warplane is circulating as Ukraine shooting down Russian fighter jets.
(If you also have any suspicious messages, posts, photos, videos or news, send them to our WhatsApp Fact line Number (9049053770) for Fact Check. Follow Fact Crescendo on Facebook, Instagram and Twitter to read the latest Fact Check.)

Title:2011 video from Libya viral as Ukraine shooting down Russian fighter jets.
Fact Check By: Aavya Ray
Result: False