Hardoi Police refuted the viral claims on social media and clarified that they have not arrested Vaishali Yadav and she is not in India.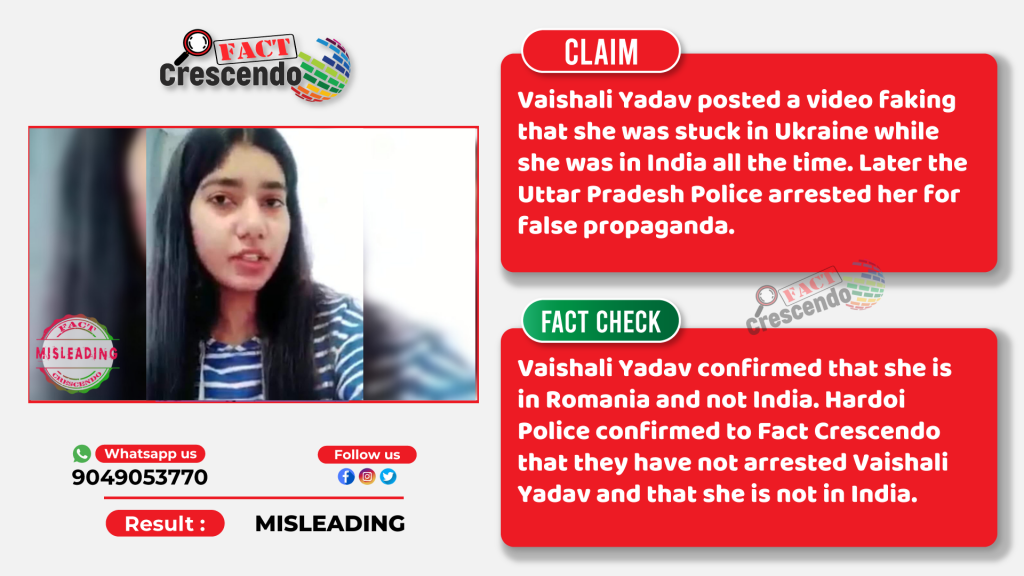 Amidst the ongoing Ukraine and Russia clashes, an image of a girl is being circulated on social media with the claim that she is Vaishali Yadav, an Indian student who faked that she is a medical student stuck in Ukraine. The posts further claim that her father, Mahendra Yadav is a Samajwadi Party leader in Hardoi, Uttar Pradesh who asked his daughter to make the fake video to defame PM Modi. Users claim that the Uttar Pradesh police has arrested Vaishali for her fake propaganda against the BJP government.
The caption of the post mentions, "The girl who made a video by calling herself a medical student in Ukraine and accusing the government turned out to be fake. When police caught Mahendra Yadav's daughter Vaishali Yadav from Hardoi, it was known that the video was made to defame the Modi government at the request of her father. Vaishali's father is the leader of Samajwadi Party."
Fact Check-
We started our investigation by running a keyword search on Google; we found a news report published by Amar Ujala, News 18 and Aaj Tak in December 2021. The report stated Vaishali Yadav from Hardoi, Uttar Pradesh visited India from Ukraine last year during the Panchayat elections and contested for the position of Gram Pradhan. She won the elections and became the Gram Pradhan. After this, she went back to Ukraine to study MBBS and she has been coordinating her duties from Ukraine as a Gram Pradhan. Vaishali is the Gram Pradhan of Tairapur Soli village of Sandi block in the Hardoi district. Her father, Mahendra Yadav is former block chief who is also a leader in Samajwadi Party. The CDO of Hardoi, Akanksha Rana said that the whole matter is being investigated as to how she went to Ukraine while being the Gram Pradhan and by whom the accounts are being operated. At present, the account of the Gram Pradhan has been frozen.
Fact Crescendo contacted Hardoi SP Rajesh Dwivedi who refuted the claim and stated that Uttar Pradesh has not arrested Vaishali Yadav neither she is in India.
We also found a video of Hardoi SP Rajesh Dwivedi refuting the viral claims. A journalist Raja Pal on Twitter posted this video. He wrote Hardoi Police has clarified that, the girl had asked for help, she is currently in Romania. Listen to what the SP is saying. She really needs help." You can watch the longer version of the SP's byte here.
Further, we also found a clarification video by Vaishali Yadav that was published by Dainik Bhaskar where we can see Vaishali refuting the viral claims. She refuted the viral claims on social media and stated that she was in Ukraine but currently she is in Romania and not India.
Conclusion-
Fact Crescendo found the claim made along with viral image on social media to be Misleading. Vaishali Yadav is not in India but currently in Romania. She was in Ukraine when she shot the video and later crossed over to neighbouring Romania. Hardoi Police confirmed that they have not arrested Vaishali Yadav neither she is in India. However, it is true that Vaishali Yadav is the daughter of SP leader from Hardoi, Mahendra Yadav. She had won Panchayat elections in Hardoi and became a Gram Pradhan last year.
(If you also have any suspicious messages, posts, photos, videos or news, send them to our WhatsApp Fact line Number (9049053770) for Fact Check. Follow Fact Crescendo on Facebook, Instagram and Twitter to read the latest Fact Check.)

Title:Indian Student Vaishali Yadav is not in India… Police Dismisses Rumors of Her Arrest.
Fact Check By: Aavya Ray
Result: Misleading