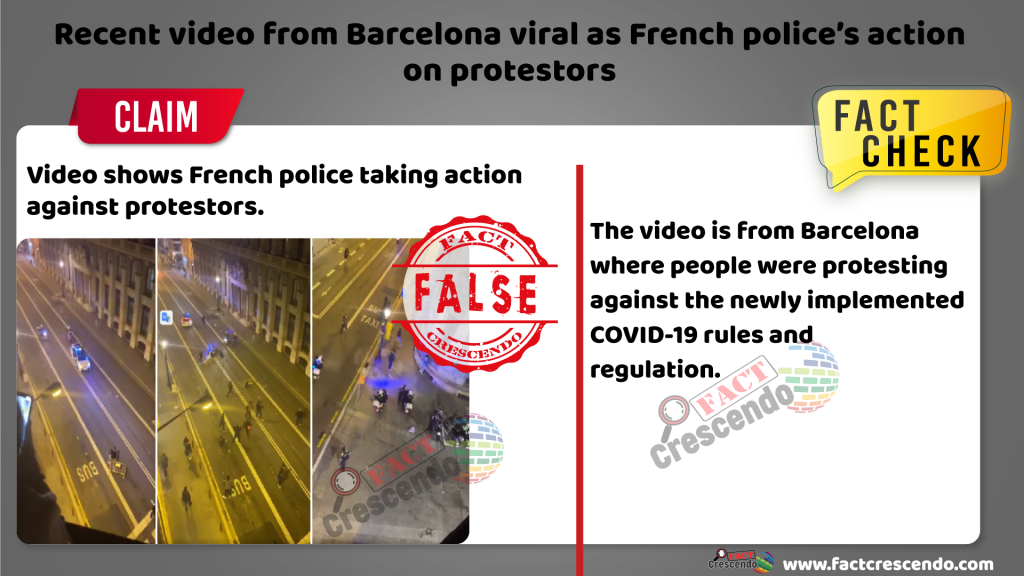 Protests are being held by the Muslim community in France as well as many other countries following the killing of a teacher in France and a subsequent "Free Speech" remark by the French President over a sketch of the Prophet Mohammed. Many misleading pictures and videos related to France are circulating on social media. Amidst this, a viral video showing protestors attacking police vehicles after which we saw a group of police vehicles arriving at the spot and tries to control the protestors. The video is circulating on social media claiming that it shows French police taking action against protestors.
The caption of the post mentions "Police action in France"
Fact Check-
We started our investigation by running a reverse image search on the key frame provided by InVid-We Verify tool which led us to the same video published by 2nd November 2020 by a Facebook User Freddy Finesse with the caption, "Barcelona, Spain : Clashes with police over lockdown restrictions results in officers injured . Police used motorbikes to chase down rioters tonight with several arrests made as large crowds gathered in other places in the city to protest #worldnews #spain #Barcelona."

Next we conducted a keyword search with the above information which led us to a report published on the website 'DailyMail' on 2nd November 2020. This video is accompanied by a caption which mentions "Violent clash with police in Barcelona over restrictions imposed by Corona virus".
According to a report published by EuroNews on 31st October, a violent encounter between the protesters with the police took place on a road called "Via Laietana" in Barcelona as hundreds of people chanting "freedom" and "this is theft" took to the streets of Barcelona to protest against tough new coronavirus lockdown restrictions. Similar news was reported by Politico and Catanlan News.

Archive Link | Archive Link | Archive Link
We tried locating Via Laietana in Barcelona with the help of Google Maps which led us to the following results. Below you can find the comparison image of the viral video and the location in Barcelona. This clearly confirms that the viral video is from Barcelona and not France
Conclusion- Fact Crescendo found the above- mentioned video to be False. The viral video does not show the French police taking action on protestors. The video is from Barcelona where people were protesting against the newly implemented COVID-19 rules and regulation. This video has no relation with the ongoing protests in France.

Title:Recent video from Barcelona viral as French police's action on protestors
Fact Check By: Aavya Ray
Result: False