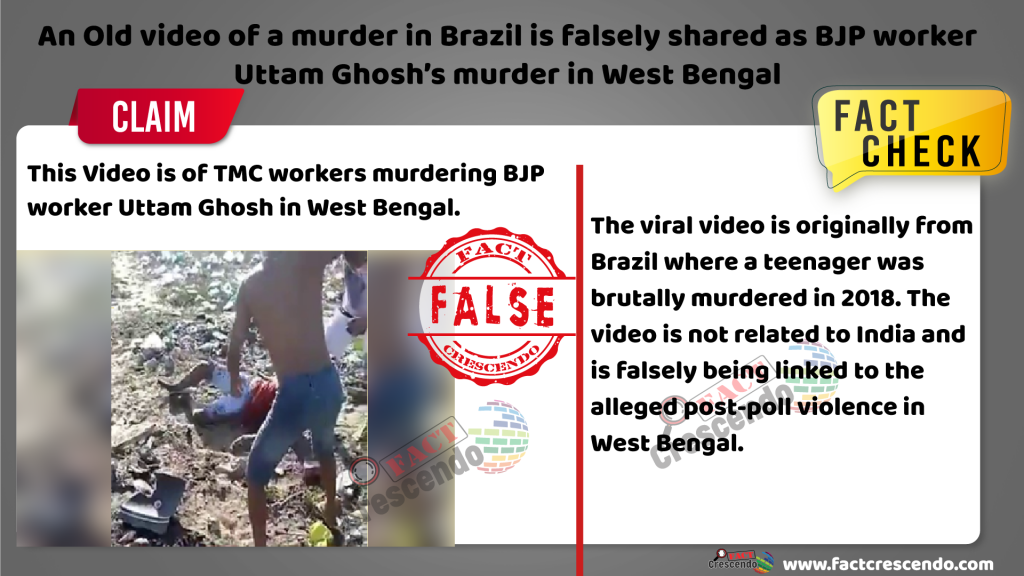 Bengal's State Assembly election results were announced on 2nd May 2021. Since then, there have been various reports of clashes from different parts of the state between the two major rival political parties. There are allegations that a group of people have killed the supporters of another party and incidents were reported where the party offices were torched down. All these incidents have caused a stir at the national level. Various pictures, posts and videos of such clashes are being shared on social media.
Recently, a video was shared on social media claiming that it shows BJP worker Uttam Ghosh being dragged and murdered by TMC workers. The Social Media caption claims to be a request message by his (Uttam Ghosh) wife which mentions that her husband- Uttam Ghosh was dragged out of their house and was asked to say "Jai Shree Ram" after which her husband was murdered, according to her this incident took place in Gagnapur town located in Ranaghat subdivision of Nadiya district, West Bengal. The Social Media post has a video appended which shows a gruesome murder where a group of men are seen hacking another man to death with axes, this video is claimed to be the murder of Uttam Ghosh and is linked to the post-poll violence in West Bengal.
The caption of the post says "*TMC workers dragged my husband from home and asked to chant "Jai Shri Ram", then they asked where are your BJP people and instantly "killed" my husband at Gangnapur Ranaghat, saying who will save you. !! *- Wife of Uttam Ghosh** (Excerpt from Dainik Bhaskar newspaper interview) ** What would have happened in Aurangzeb's time? *"
Fact Check–
When we heard the video carefully, we found that the attackers and the victim are speaking a foreign language, which hints that the incident may not be from Bengal or India.
We started our investigation by breaking down the video into multiple frames using InVid- We Verify tool and performed Yandex reverse image search on them. As a result, we found an article published on 6th January 2018 by a website called 360. The article states that the video is from Brazil and the victim was identified as 17-years old Wesley Tiago de Sausa Carvalho. He was brutally attacked and killed by a mob in Praia do Futuro in Fortaleza, situated in Brazil and at that time, the investigators rejected that Carvalho was killed for his sexual orientation and gender identity. Instead, he was killed due to a settling of accounts between gangs.
In the same article mentioning Esquerda Diario's website, it mentions that she was a transvestite in the transition process.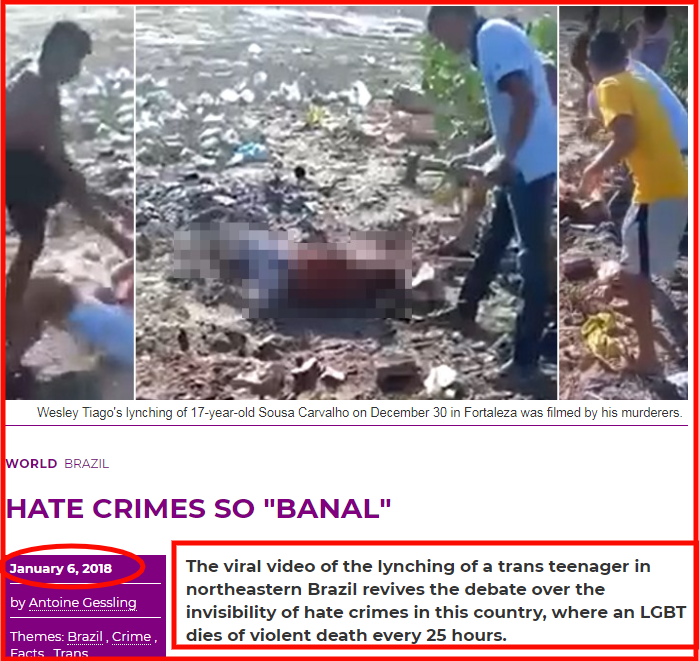 Further, an article published in Monolitos Posts on 10th January 2018, gives a detailed account of the incident. According to the report, the victim's name was Wesley Tiago de Sausa Carvalho and that the suspects involved were all identified by the Civil Police of the State of Ceara, two of whom were arrested. The police report states that the teen was killed with axes, hoes (gardening equipment) and stones.
Furthermore, Wesley Tiago was killed in a dispute between members of two rival gangs. The names of the two arrested were made public – José Carlos Evangelista dos Anjos and Luciano Alves de Souza – while the other two suspects Abraão Jhonny Alves de Freitas and a woman identified only as Carine were absconding. According to them, the incident took place on 30th December 2017.
Also Read: Video from Brazil shared as mob lynching incident in Uttar Pradesh
Conclusion– Fact Crescendo has found that the above-mentioned video claims to be False. The viral video is originally from Brazil where a teenager was brutally murdered. The video is an old video from Brazil and has no connection to India, it is being falsely linked to the alleged post-poll violence in West Bengal.
Title:An Old video of a murder in Brazil is falsely shared as BJP worker Uttam Ghosh's murder in West Bengal
Fact Check By: Aavya Ray
Result: False