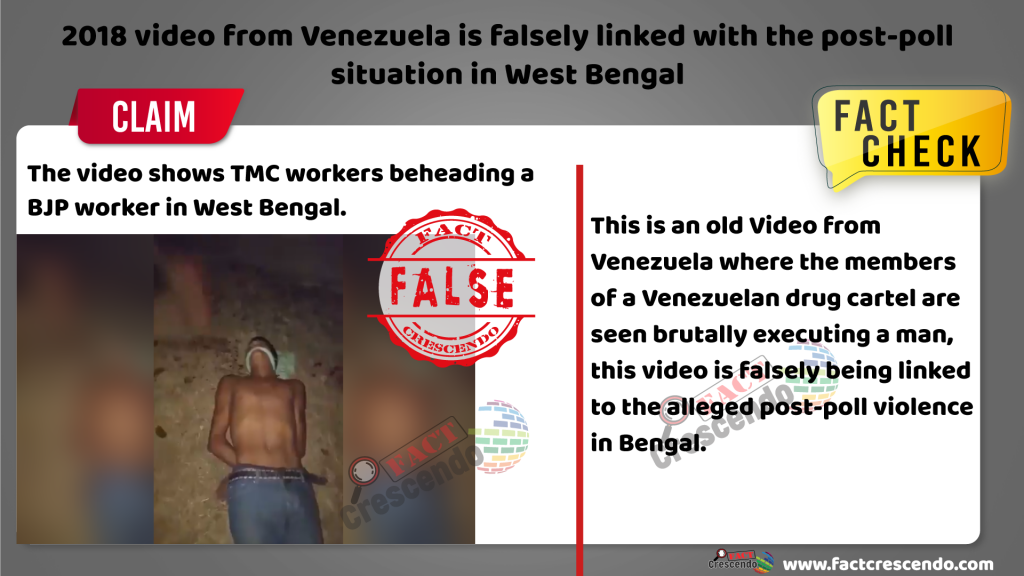 Bengal's State Assembly election results were announced on 2nd May 2021. Since then, there have been various reports of clashes from different parts of the state between the two major rival political parties. There are allegations that a group of people have killed the supporters of another party and incidents were reported where the party offices were torched down. All these incidents have caused a stir at the national level. Various pictures, posts and videos of such clashes are being shared on social media.
Recently, a video is being shared on social media claiming that the video is of a gruesome murder where TMC party workers beheaded a BJP worker using a sword.
The video has been uploaded by BJP worker Tanmay Patel on his Twitter account which has more than a lakh followers. In his tweet, he wrote "Sorry to upload this video. See how a TMC worker is murdering a BJP worker. I have started to think that Pakistan is better than West Bengal because such incidents do not take place there. I have never seen or even thought of such politics. What do you call these attacks on the Hindu community? #TMCTerror."
WARNING: Distressing video.
Fact Check-
We started our investigation by a reverse image search of the video keyframes on Yandex, the search led us to a news report published on 6th February 2018 by a website named news.com.au. The news report contains a screenshot of the viral video and states that the incident took place in Venezuela in North America. The boy in the clip was kidnapped by a rival drug mafia gang and strangled to death at an unknown location. The gang filmed the incident and shared the footage online. The article also contains some frames from the video.
We did a further keyword search taking a cue from the above news article, in results we found that several international media had reported the incident. A report published in 2018 by The Sun stated that news.com.au first broke the story, it mentioned that the Venezuela prison system was one of the most violent in the world, with almost 6,500 murders committed in custody between 1999 and 2014.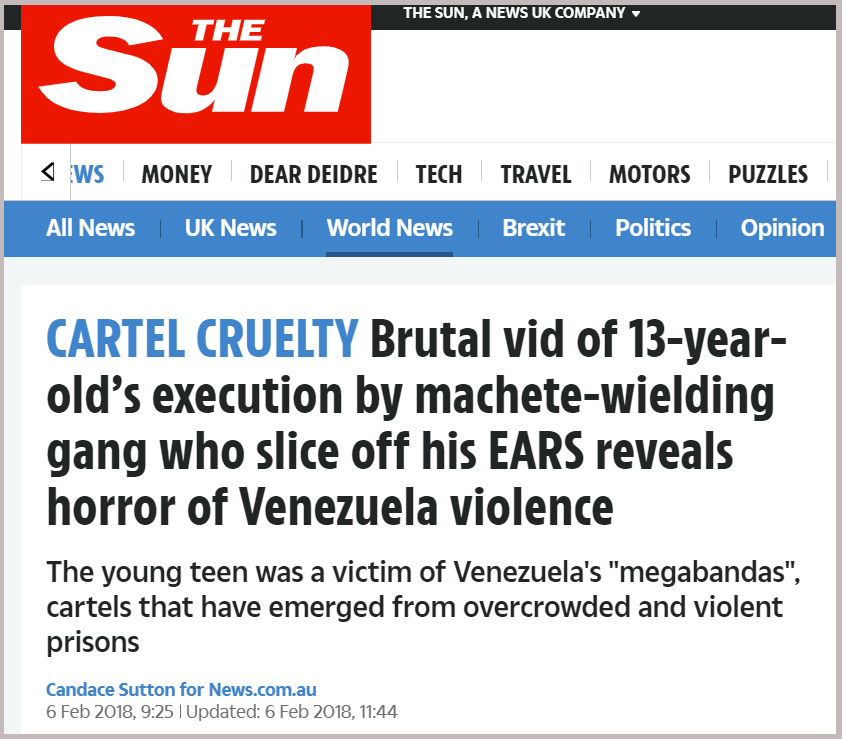 A news report published by the Daily Mail on 6th February 2018 stated that the boy was a victim of the dreaded 'Megabandas' gang that formed in Venezuelan prisons. The group was said to specialize in kidnapping, extortion and murder. Crime expert and journalist Javier Ignacio Mallorca told media outlet Efecto Cocuyo in March 2017 that at least 19 such gangs were active in Venezuela.
Conclusion- Fact Crescendo found the above-mentioned post to be False. The video shows a brutal execution by Venezuelan drug cartel in 2018 which is now been falsely linked with the alleged post-poll violence in Bengal.
Title:2018 video from Venezuela is falsely linked with the post-poll situation in West Bengal
Fact Check By: Aavya Ray
Result: False