After TMC swept the Bengal assembly election on 2nd May, social media is swamped with misinformation related to violence in Bengal. Politicians and celebrities around the country are posting misleading information about the situation in Bengal. Images of dead bodies, riots, fire, looting are being shared as recent incidents related to the alleged political violence.
Currently, a fake photo is being shared on social media claiming that 2 BJP workers have been gang-raped by TMC workers in Nanoor, Birbhum. The picture shows a woman's body lying on the ground and her face is not visible. BJP MP Soumitra Khan shared this photo on Twitter with the caption, "A BJP worker has been gang-raped in Nanoor, Birbhum. There are also reports of rape and violence against women from Nanur's Pakurhash." Many BJP leaders have also shared the image on social media with misleading claims.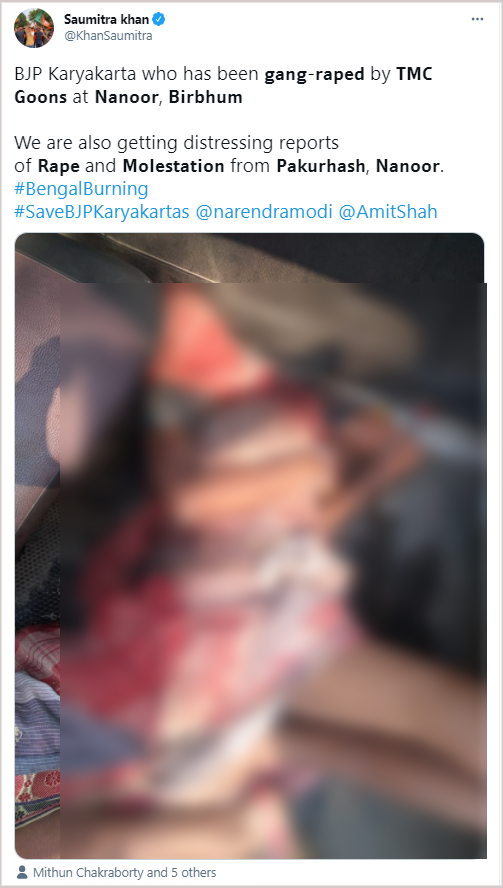 Apart from political figures, India Today has published a report on social media based on this claim.
Verifying the post going viral, we found that this claim is false and misleading. The SP of Birbhum himself said that there was no incident of rape or molestation in the district recently.
Fact Check-
We started our investigation by running a Google reverse image search to verify this claim which yielded no results. After searching for related keywords, we found out that the West Bengal Police have made a post from their official Twitter handle mentioning that this claim was false.
Fact Crescendo then contacted SP Nagendranath Tripathi of Birbhum Police. He confirmed to us that the viral claim on social media is completely False.
He said, "There has been no incident of rape or gang-rape, molestation or torture on women recently in Birbhum. There have been no reports of such political atrocities after the election, or before the election in the district. We contacted Tarakeswar Saha, a BJP candidate from Nanoor in Birbhum. He said he was not aware of any such incident. After the results, only one incident of terror has come to light so far where a boy has been beaten by several people. The accused have been arrested after a case was registered in this regard."
"Since the election, there have been claims from various users that people's homes in Birbhum are being attacked, but no such incident has taken place. We are not denying that there has not been any violence in the area but claims of stone pelting on houses and people and gang-rapes have not taken place. However, few people have been throwing stones and bombs in open fields, but no serious damage was caused by them. No one's house was demolished in this district." said Mr. Tripathi.
When Fact Crescendo inquired about the photo, he said, "We were unable to find this photo anywhere. No such body was found anywhere in Birbhum and no such body was found in any police station in the district. If it was an incident other than rape, a case would have been filed. But nothing like that happened in Birbhum."
"We have been holding peace meetings at the police level since the election results were announced," he said. "I urge everyone to be careful in this situation, stay safe and do not spread such rumours without verifying the information."
Next, Fact Crescendo spoke to BJP spokesperson Sayantan Basu. However we did not recieve clarity from him when we asked him to help us with more information about the name or address of the woman in the viral picture. He also made similar claims as are being made on social media however, we were not provided any concrete information about the incident or reasons as to why no complaint was filed in the police station seeking justice for their party workers.
Conclusion- Fact Crescendo has found the above-mentioned post to be False. The SP of Birbhum confirmed that there was no incident of rape or molestation in the district recently.
Title:BJP workers were not gang raped in Birbhum: SP Birbhum
Fact Check By: Aavya Ray
Result: False