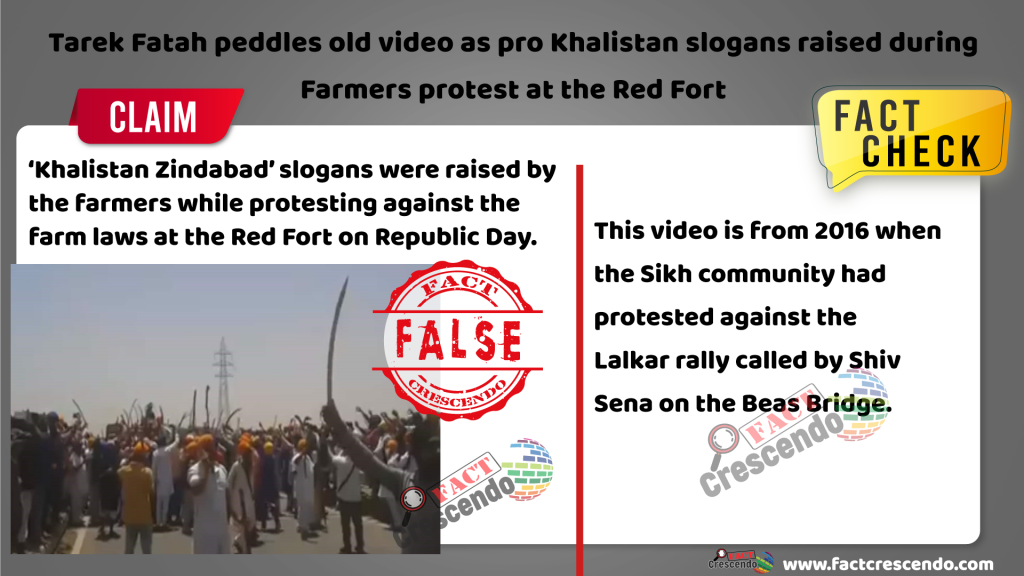 After the tractor rally organized by the farmers at the Red Fort on Republic Day social media is filled with misinformation related to the violence that took place on that day. Amidst this a video of Sikh men brandishing swords on a bridge is circulating on social media with the claim that 'Khalistan Zindabad' slogans were raised by the farmers while protesting against the farm laws at the Red Fort on Republic Day.
This video was posted by Tarek Fatah on his official Twitter handle with the caption as "Chanting #KhalistanZindabad and brandishing drawn swords, so-called 'farmers' praise #Bhindranwale as they head to Delhi to bring down the Indian flag on India's #RepublicDay. 80 police injured, one protestor dead. All smiles in Islamabad and Ottawa as."
Fact Check-
We started the investigation by doing a Google reverse image search with the help of Invid-We Verify tool, as a result of which we found a video uploaded on 25 May 2014 by a YouTube channel called Khalsa Gatka Group, captioned as "Live from Beas ( Shiv Sena is not welcome in Amritsar)."
Fact Crescendo contacted this YouTube account, Khalsa Gatka Group's administrator, Bhupinder Singh, who told us that "The incident is not related to the recent protest in Red Fort, the video is about 4 years old. Previously this video went viral falsely linking it with the CAA and NRC protests. The incident is over the bridge of National Highway-1 Beas river when a rally was taken out by members of the Sikh community in protest against Shiv Sena. It was a protest rally by Sikh groups against the 'Lalkar rally' called by Hindu right-wing organizations in Amritsar. The video has no relation with the ongoing farmer protest."
We searched using relevant keywords on Google and found a news report related to this incident, which states that the viral video is actually of fundamentalist Sikhs who gathered on the National Highway-1 Beas Bridge near Amritsar. In the video, slogans in support of Khalistan and Jarnail Singh Bhindranwale can be heard clearly.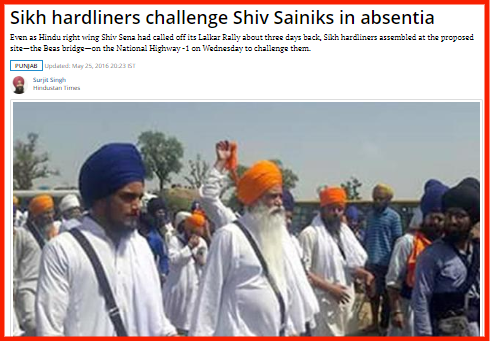 According to local media reports, various Hindu groups called for a 'lalkar rally' in Amritsar on May 25, 2016, and to oppose it, Sikh fundamentalists also organized an 'Anakh rally' on the same date. During the rally, the crowd shouted slogans against Hindu organizations.
Conclusion- Fact Crescendo found the above post to be False. This video is from 2016 when the Sikh community had protested against the Lalkar rally called by Shiv Sena on the Beas Bridge. This video has no relation with the ongoing farmer's protest. Fact Crescendo had Fact checked this earlier when this video went viral linking it with CAA and NRC protests.

Title:Tarek Fatah peddles old video as pro Khalistan slogans raised during Farmers protest at the Red Fort
Fact Check By: Aavya Ray
Result: False