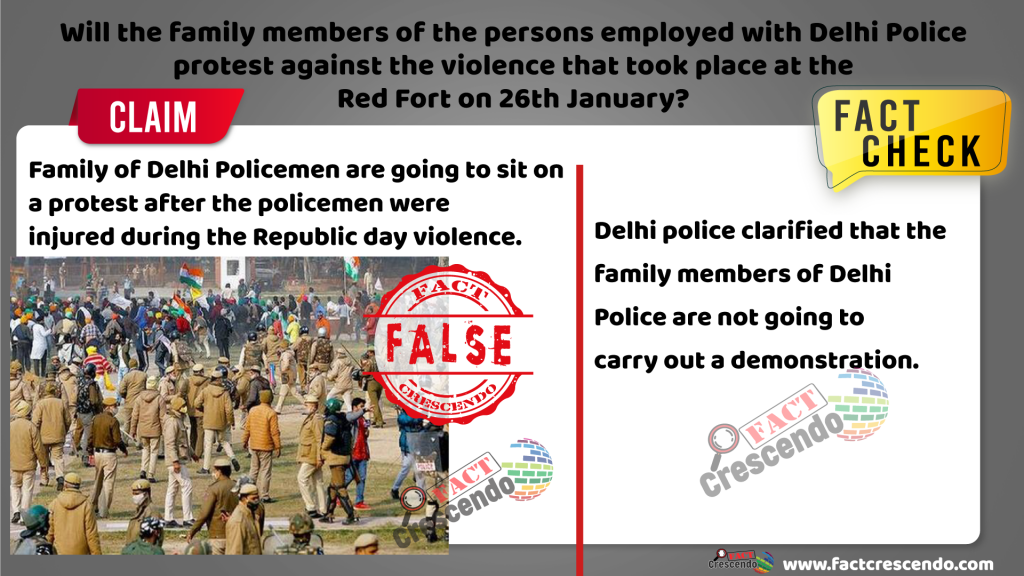 Farmers organized a tractor rally in Delhi on Republic Day, which resulted in a lot of violence, due to which many pictures, videos and related news has been circulating on social media forums. During the violence in front of Red Fort many farmers and policemen were injured. Amidst this a post on social media is widely circulating claiming that many policemen have been injured in the violence at the Red Fort on Republic Day, due to which their family members will sit down in protest against it.
The caption of the post mentions that "the families of Delhi Policemen will start protesting today. It is also right that someone gets his brother husband and son admitted to die, meaning that there is no cost to the soldier's life, will he keep dying?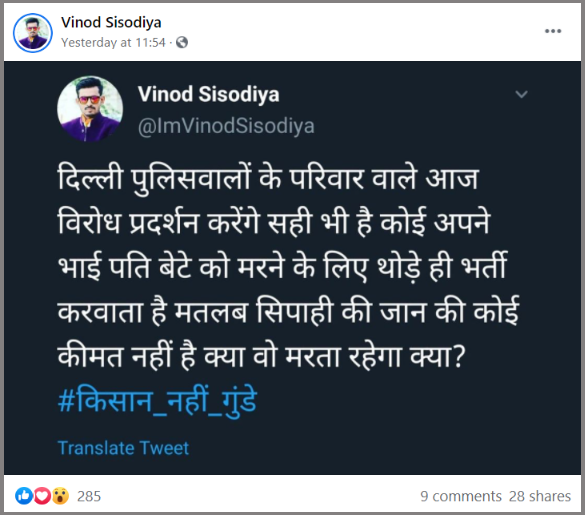 Fact Check-
We started our investigation by running a keyword search on Google to find relevant media reports about the families of policemen in Delhi sitting down in protest against the brutality on policemen during the Republic Day tractor rally event. We were unable to find any relevant news report in this regard.
Next Fact Crescendo contacted Jaspal Singh, Joint Commissioner of Delhi (New Delhi Range) who told us that, "If the families of the policemen have to protest against the violence at the Red Fort, then it is their personal matter. However I am not aware of any protests against the recent violence that took place at the Red Fort."
After this Fact Crescendo contacted the Commissioner of Delhi Mr. S.N Srivastava, who called out the viral post on social media to be fake and misleading. He said, "This news is absolutely false. The families of Delhi policemen are not going to protest. Do not trust such misleading news."
Conclusion- Fact Crescendo found the above post to be False. The family members of Delhi Police do not intend to demonstrate against the violence carried out against the policemen during the tractor rally held on Republic day

Title:Will the family members of the persons employed with Delhi Police protest against the violence that took place at the Red Fort on 26th January?
Fact Check By: Aavya Ray
Result: False