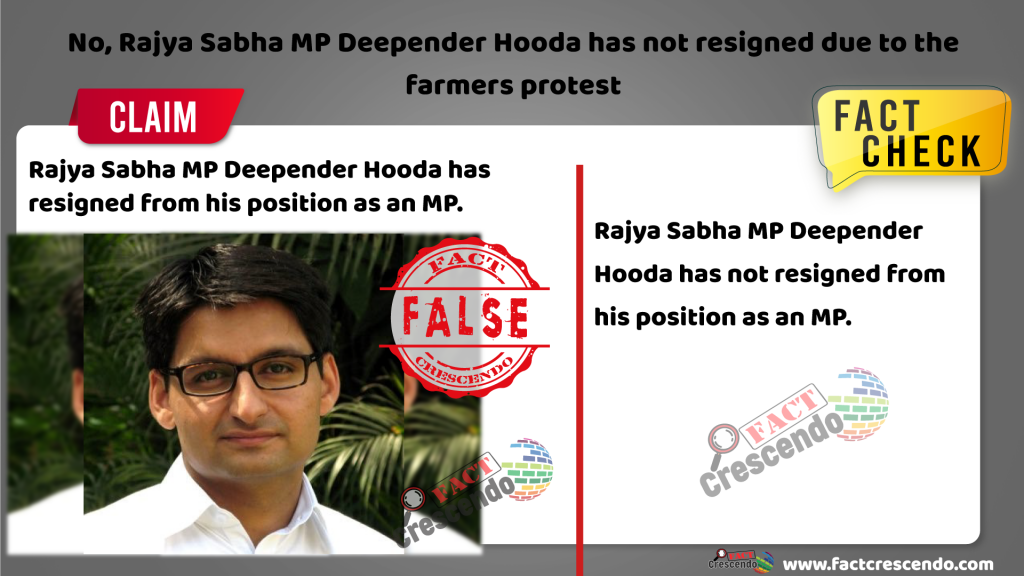 Social media is filled with misleading information about the ongoing farmer's protest. Farmers from all over the country are protesting against the Farm Bill 2020. Amidst this, a post on social media is widely being circulated claiming that Rajya Sabha MP Deepender Singh Hooda has submitted his resignation to show his support to the farmers protesting against the Farm Bill 2020. Deepender Singh Hooda is an Indian politician and four-term MP from the Indian National Congress, who is the current Member of Parliament, Rajya Sabha representing Haryana.
The caption of the post mentions that "Rajya Sabha MP Deepender Singh Hooda has given resignation from his position to show support to the ongoing Farmers protest."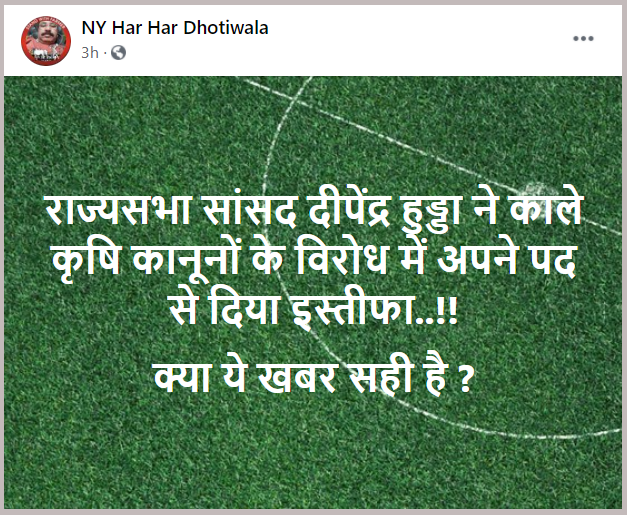 Fact Check-
We started our investigation by running a keyword search on Google to find relevant media reports which talk about Deepender Hooda's resignation from Rajya Sabha's parliament as a Member of Parliament. However, we were unable to find any relevant or credible news report regarding the viral claim.
Next we searched on Deepender Hooda's official Twitter handle to find any tweet made by him in this regard but we were unable to find any information there as well. The last tweet made by him was today about him stating that he had visited Mr.Rakesh Tikait to know about his health and speak with the farmers.
To get credible information Fact Crescendo contacted MP Deepender Hooda who confirmed to us that the viral post on social media is fake. He said "I have not resigned from my post. The viral post on social media holds no facts. I insist people to not believe such rumors."
Conclusion– Fact Crescendo found the above  post to be False. Rajya Sabha MP Deepender Hooda has not resigned from his position as an MP.

Title:No, Rajya Sabha MP Deepender Hooda has not resigned due to the farmers protest
Fact Check By: Aavya Ray
Result: False