The image dates back to 2017 showing the clashes between the student activists of
AISA and ABVP at Delhi's Ramjas College.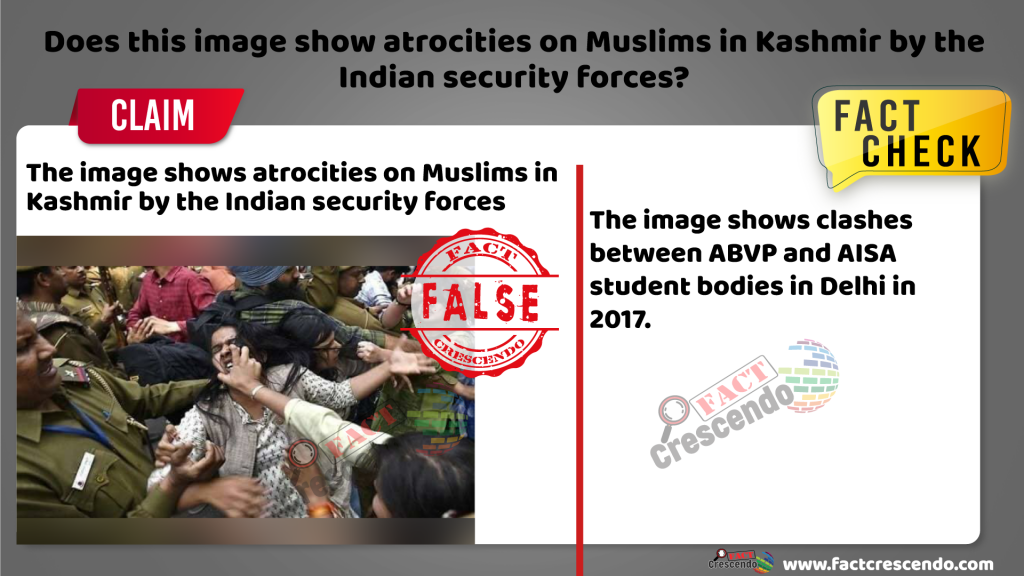 After several civilians were killed by terrorists in Jammu and Kashmir, there has been a tensed situation in the area. Amidst this, an image of a woman who is being grabbed by another woman during a fight surrounded by police is circulating on social media. The post on social media claims to show the atrocities faced by the Muslims in Kashmir at the hands of Indian security forces.
The caption of the post mentions "There is genocide in Indian occupied #Kashmir #boycottindia. (sic)"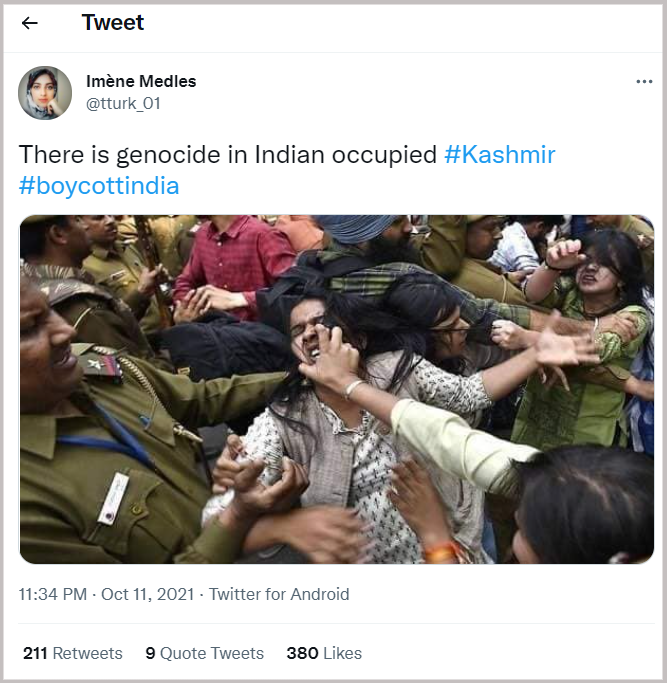 Fact Check-
We started our investigation by running a reverse image search on Google which led us to the same image published on a news report by Hindustan Times on 4 March 2017. The caption of the images states that clashes broke out between activists of ABVP, AISA and other students on Wednesday. The report states that the image was captured by Raj K Raj of Hindustan Times.
According to the report a conference called the "Culture of Protest" held on 21 February 2017, where Umar Khalid and Shehla Rashid were invited at Ramjas College was cancelled as the ABVP has called for its cancellation. They claimed that the students and teachers has raised anti- national slogans. AISA activists has opposed this cancellation by the ABVP activists. This led to a violent clash between the ABVP and AISA student bodies.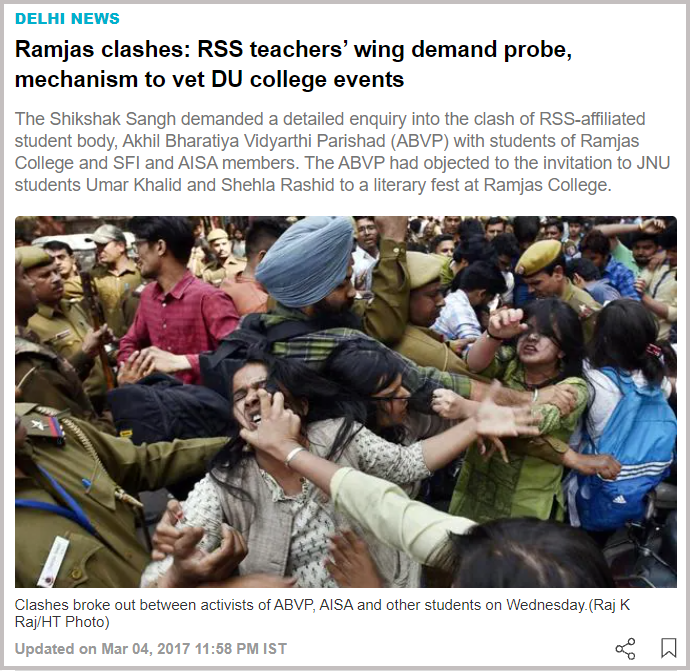 We also found the viral image on Getty images whose description states that this image was captured on 22nd February 2017 in New Delhi. The image shows breaking out of a clash between activists of ABVP, AISA and other students from the Delhi University. The image was taken by Raj K Raj from Hindustan Times.
Conclusion-Fact Crescendo found the above mentioned post to be False. The viral image on social media shows clashes between ABVP and AISA student bodies in Delhi in 2017. The image does not show atrocities on Muslims in Kashmir. The image has no relation with the ongoing tension in Kashmir.
Title:Does this image show atrocities on Muslims in Kashmir by the Indian security forces?
Fact Check By: Aavya Ray
Result: False