Badaun police has clarified to Fact Crescendo that this incident is not from Uttar Pradesh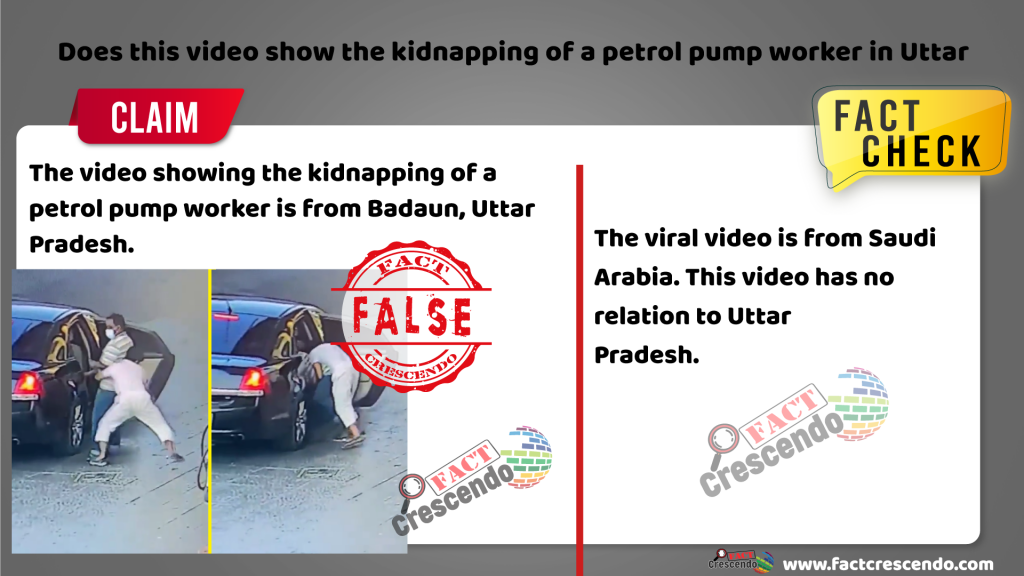 A video of a petrol pump worker being kidnapped is circulating on social media claiming that the incident is from Badaun, Uttar Pradesh.
The video clip shows a black car inside a petrol pump, where one of the kidnappers is seen filling up the tank. In the meantime, we can also see the employee working in the pump standing nearby. Moments later, another man opens the back door and the kidnapper next to him forcefully takes the worker inside the vehicle and drives away.
The caption of the viral post read – "They kidnapped the petrol pump worker because he had the cash of collection of the day. It is being said that it happened in Badaun, UP." The user then tagged UP police in the tweet.
Fact Check
A reverse image search on key-frames of the viral video via Invid tool led us to a news report published by Gulf News on 2 October 2021.
According to this news report, the incident is from the Hail region of Saudi Arabia. An Asian petrol pump worker was kidnapped from the petrol pump where he was employed.
According to Hail Police's media spokesperson, Lieutenant Colonel Sami Al Shammari, three Saudi nationals have been arrested in this connection. Some narcotics were also seized from their possession and they have been sent for public prosecution.
The Saudi Public Security department had also issued a tweet about this case.
Fact Crescendo contacted Badaun SP Praveen Singh Chauhan who confirmed that the video is not from their city.
"The viral video of kidnapping is not from Badaun, Uttar Pradesh. No such incident has been reported in this area," he told.
Uttar Pradesh Police has also refuted the viral claims clarifying that the video is from Saudi Arabia. They also cautioned users not to share any misleading content without verification.
Conclusion
The kidnapping video of a petrol pump worker is not from Badaun in Uttar Pradesh. The incident took place in Saudi Arabia. Hence, we rate this claim False.
Title:Does this video show the kidnapping of a petrol pump worker in Uttar Pradesh?
Fact Check By: Aavya Ray
Result: False