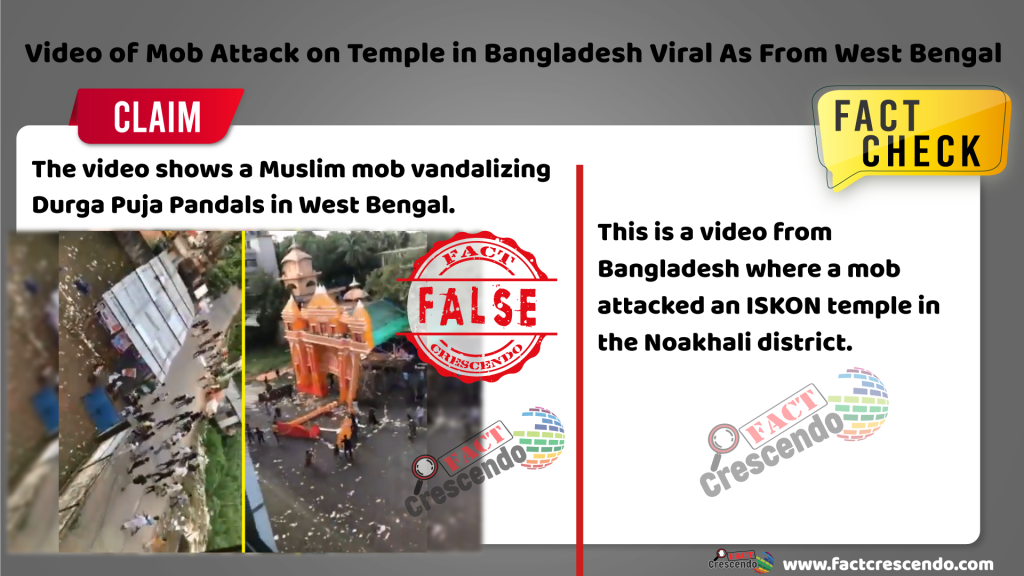 Several incidents of attacks on places of worship of Hindu minority communities in Bangladesh were reported during the Durga Puja celebrations last week.
On this backdrop, a video of a mob vandalizing the Durga Puja pavilion (Pandal) is going viral. Many have been sharing this video claiming it to be from West Bengal.
Fact Crescendo received many fact-check requests about this video on our WhatsApp FactLine (9049053770).
We found out that this video is not from West Bengal.
WHAT'S THE CLAIM?
The viral video shot from inside the home shows an angry mob going rampant outside near the temple. The family inside the home can be heard crying watching the violence outside.
Users on Facebook shared this video saying – "Wherever the population of these people increases, the violence also increases there. Hindus cannot worship Durga Mata in Bengal, Durga Puja pavilions are being destroyed openly."
Twitter users wrote in the caption – "People from the 'peaceful' community in Bengal destroyed Durga Puja pavilion yesterday. It happened because Samajwadi Party in Uttar Pradesh and Mamta Banerjee in Bengal have given these people a free run. Hindus will never forgive Mulayam Sing Yadav and Mamta Banerjee."
FACT CHECK
A keyword search on Google led us to a news report published by Aaj Tak on its YouTube channel. From 2.16-minute mark onwards, you can see the viral video.
According to the report, this video of a mob attack is from Noakhali in Bangladesh. Several such video clips are also shown in this report.
On 14 October, an ISKCON temple in Noakhali was vandalized by a mob in an attempt to stir up communal tensions across the country, reports Indian Express.
Times of India reported that a mob of about 200 people attacked the ISKCON temple in Noakhali district in Bangladesh. The ISKCON community claimed three Hindus have died in the attack, including 25-year-old Partha Das. His body was recovered from a pond near the temple complex on Saturday morning.
Vrajendra Nandan Das, Director-ISKCON National Communication, said, "Our 3 devotees were killed. Bangladesh government should take action to prevent such incidents in future."
ISKON also issued a statement on the mob attack on its temple in Bangladesh.
CONCLUSION
Hence, the video of a mob attack on a temple in Bangladesh was shared with a false claim that it is from West Bengal.
We rate this claim false.
Title:Video of Mob Attack on Temple in Bangladesh Viral As From West Bengal
Fact Check By: Mayur Deokar
Result: False