A distressing video showing a man physically assaulting a minor girl child is widely circulating on WhatsApp. It has been claimed that the abuser is a teacher named Shakeel Ahmad Ansari working at DPS School in Rajbagh at Valsad in Gujarat.
Fact Crescendo received many fact-check requests about this video on our WhatsApp FactLine (9049053770).
We found out that this video is neither from DPS School in Valsad nor from anywhere in India.
WHAT'S THE CLAIM?
The distressing video shows a person standing on the child's chest and arms. That person also wraps legs around the child and sits forcefully on her back.
The video has not been given here due to its violent content.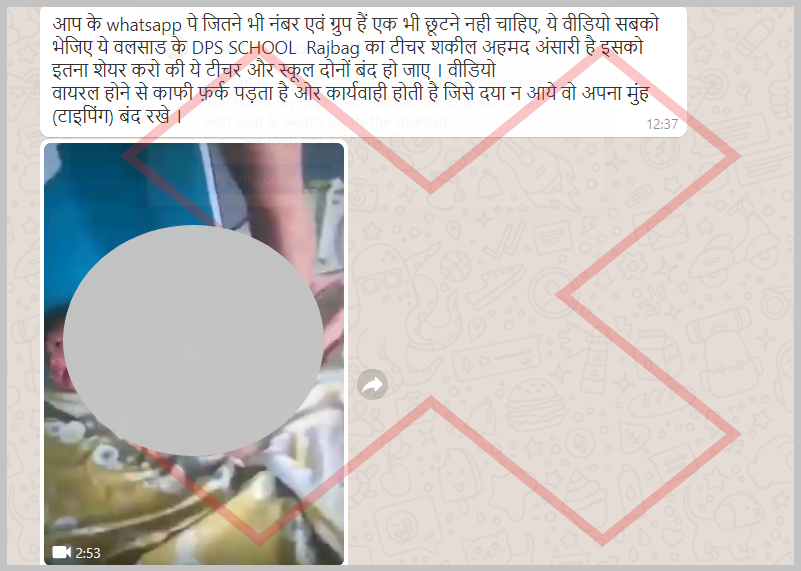 The message along with it reads – "He is a DPS School teacher Shakeel Ahmad Ansari in Valsad, Gujrat. Share this video with all your WhatsApp groups so that the teacher goes behind the bars and school gets shut down."
Fact Check-
A normal inspection of the video will easily tell that the person assaulting the girl child is a woman, not a man.
A Yandex reverse image search upon keyframes of the video led us to a news report published by the Mirror on 14 November 2019.
The report states that this video had gone viral within the community of Corpus Christi, Texas, USA. However, the Corpus Christi police found that the video is not from Texas but from Nuevo Leon in Mexico. They suspect the video to be a year older.
The Corpus Christi police shared the images of the tattoo seen on the abuser's leg for identification with the Child Protection Services in Mexico. They also mentioned that they are yet to identify the abuser.
Fact Crescendo contacted the office of DPS school in Valsad in Gujarat. The executive officer Jeffrey Chettiar told us that they are the only DPS school in the Valsad district. They are situated in Vapi town in the district.
"The person seen in the video is neither a DPS school teacher nor such an incident happened in our school. In fact, there is not any teacher named Shakeel Ahmad Ansari in our school," he said.
CONCLUSION
The viral video of child assault happened in Mexico has been falsely shared with a communal spin claiming to be from Valsad DPS school. There is no teacher named Shakeel Ahmad Ansari in the DPS school in Valsad.
We rate this claim False.
Title:Video from Mexico viral as Valsad DPS school teacher torturing a minor
Fact Check By: Aavya Ray
Result: False