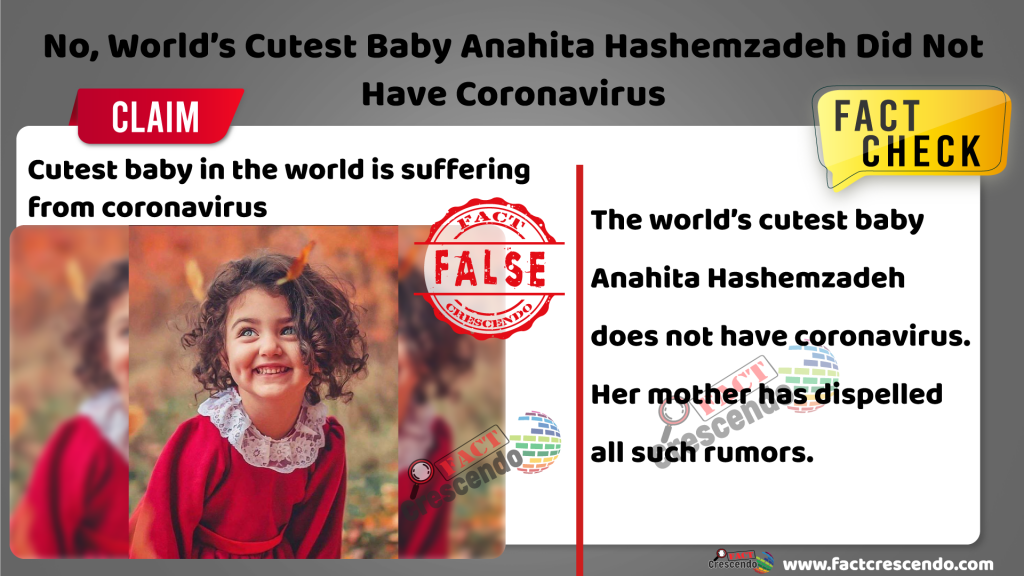 Social media is abuzz with the claim that the world's cutest baby has been diagnosed with coronavirus. Photos of a beautiful girl child are being shared with the caption: Pray for the cutest baby in the world. She is suffering from coronavirus. Plz pray for this baby. Believing it true, many users are commenting for her speedy recovery and sharing it on various platforms.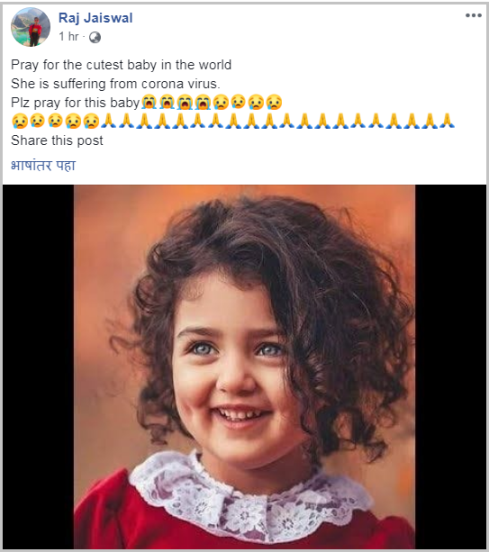 See the original post here – Facebook
Several users have shared the video montage of the same girl with similar claims. You can watch it in the archived video given below.
FACT CHECK
A quick reverse image search showed us that the photo being shared is widely available on the internet. Going through several of them with the help of keywords, we found her name on a Pinterest post. She is a famous child model Anahita Hashemzadeh.
Upon searching for her, we found her Instagram profile. You can see it here:
Anahita's mother runs her social media account. In her recent post, she has uploaded a video of Anahita in which she looks fine and dandy. In the caption accompanied by it (written Persian) she wished for everyone's safety while urging her followers not to go outside in this difficult time.
When many users asked about the rumors going around about Anahita being diagnosed with coronavirus, her mother replied: "She (Anahita) is healthy".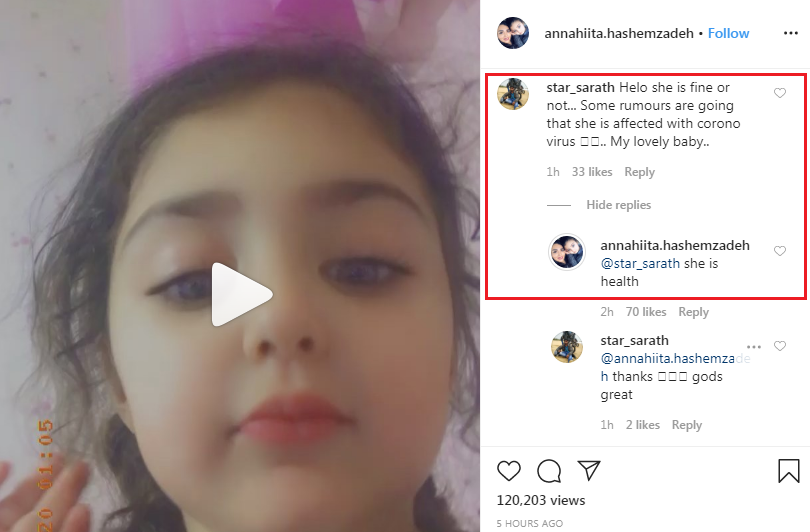 See the original post here – Instagram
She also posted another video on her Instagram story clarifying Anahita is "Healthy and Safe". We have downloaded this Instagram story for our readers. You can watch it here:
Who is Anahita Hashemzadeh?
A very popular child model and internet sensation Anahita Hashemzadeh is a four-year-old girl from Esfahan, Iran. She has 6.5 lakhs of followers on Instagram. Dubbed as the world's cutest baby girl on the internet, her photos are widely used on social media. Known for her stunning blue-eyes, this angelic beauty is safe and does not have coronavirus as claimed on social media.
Conclusion
With the above evidence we can safely say that the world's cutest baby Anahita Hashemzadeh does not have coronavirus. Her mother has dispelled all such rumors.

Title:No, World's Cutest Baby Anahita Hashemzadeh Does Not Have Coronavirus
Fact Check By: Mayur Deokar
Result: False