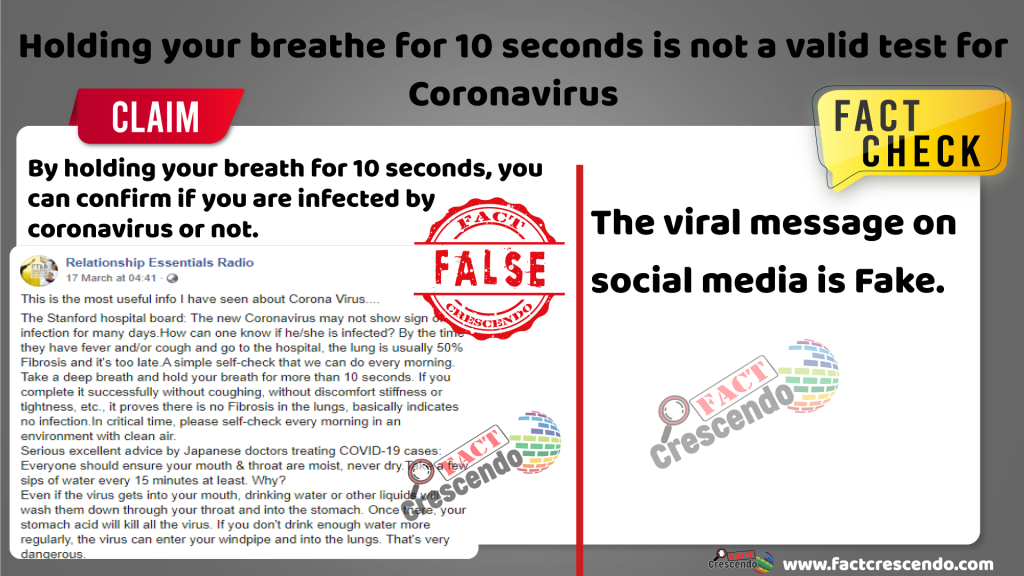 Social media have come up with several home remedies to cure and prevent Coronavirus. This time social media users claim that there is home remedy to check whether you are positive for Coronavirus or not. An advisory attributed to the Stanford Hospital Board, claims that if you can hold your breath for more than 10 seconds, you are not infected by coronavirus.
The advisory states that "Take a deep breath and hold your breath for more than 10 seconds. If you complete it successfully without coughing, without discomfort stiffness or tightness, etc., it proves there is no Fibrosis in the lungs, basically indicates no infection. In critical time, please self-check every morning in an environment with clean air."
Fact Check- 
We started our investigation using a simple keyword search on Google which led us to a tweet published by PIB Fact Check on 22nd March 2020 stating that "Claim: If you can hold your breath for 10 sec without discomfort, you don't have #Coronavirus #PIBFactCheck : Most young patients with #Coronavirus will be able to hold their breaths for more the 10 sec and many elderly won't be able to do the same. Conclusion: #FakeNews."
We also found a tweet by Stanford University which clarified that the viral advisory was not published by them. The tweet mentions "Misinformation about COVID-19 symptoms and treatment falsely attributed to Stanford is circulating on social media and in email forwards. It is not from Stanford."
Faheem Younus, the chief quality officer and chief of infectious diseases, University of Maryland UCH, has also tweeted clarifying that the viral message is False. He wrote "Wrong: Most young patients with Coronavirus will be able to hold their breaths for much longer than 10 seconds. And many elderly without the virus won't be able to do it."
Conclusion- Fact Crescendo found the above mentioned post to be False. From the above clarification it is clear that  just by holding your breath for 10 seconds, you cannot confirm whether you are infected with coronavirus or not. The viral message on social media is Fake.

Title:Holding your breathe for 10 seconds is not a valid test for Coronavirus
Fact Check By: Aavya Ray
Result: False