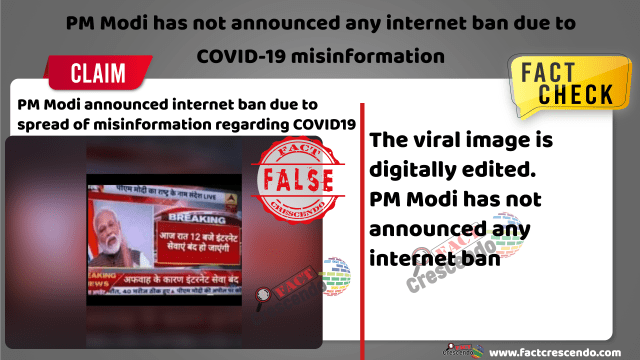 In the on-going chaos surrounding COVID-19 social media is filled with a lot of misleading videos and photos related to the virus. One such image which appears to be a screenshot of a popular news channel's news bulletin which claims that PM Modi has announced closing of internet facilities in India from midnight due to the spread of misinformation regarding Coronavirus. The screengrab is from a news bulletin by ABP News.
Fact Crescendo received this viral image for Fact Check on our WhatsApp number 9049053770.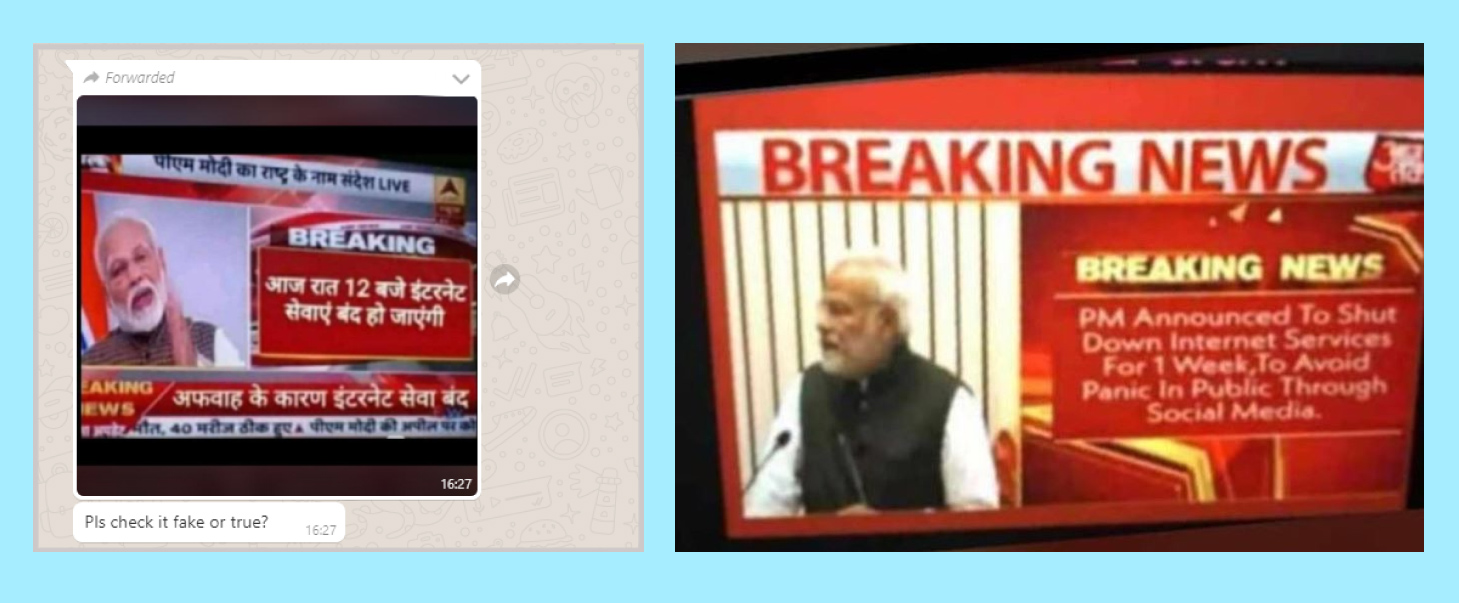 Fact Check-
We started our investigation by searching with relevant keywords on Google to find any news reports on the above claim. We were unable to find any credible news report supporting the above claim.

Next we searched for the news bulleting published by ABP News. With a simple keyword search on YouTube we found that the live streamed bulletin by ABP News Hindi is originally dated on 24 March 2020 when PM Narendra Modi had announced a nationwide 21 days lockdown due to the outbreak of COVID-19. One can see PM Modi wearing the same outfit in the viral screenshot. We can also see that the headline of the YouTube news bulletin and the viral screenshot are same.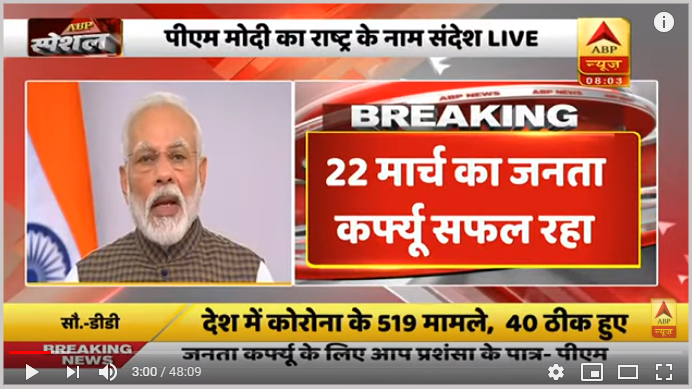 Below you can watch the 48 Minute bulletin by ABP News Hindi and nowhere in the entire speech did the PM announce that they are shutting down internet services due to the misinformation related to Coronavirus. This means that the viral image on social media is digitally edited.
We also found a tweet where PIB Fact Check has clarified they wrote "The rumour doing the rounds on social media asserting that Internet services has been shutdown amidst #CoronavirusOutbreak is #Fake! No such announcement has been made by the Government. Everyone is advised to check the authenticity of message before forwarding the same!"
Conclusion- Fact Crescendo found the above mentioned post to be False. The Government of India has not announced internet shut down due to infodemic regarding Coronavirus. The viral image is digitally edited to create panic among the masses. We advise everyone to check the authenticity of message before forwarding the same.

Title:PM Modi has not announced any internet ban due to COVID-19 misinformation
Fact Check By: Aavya Ray
Result: False