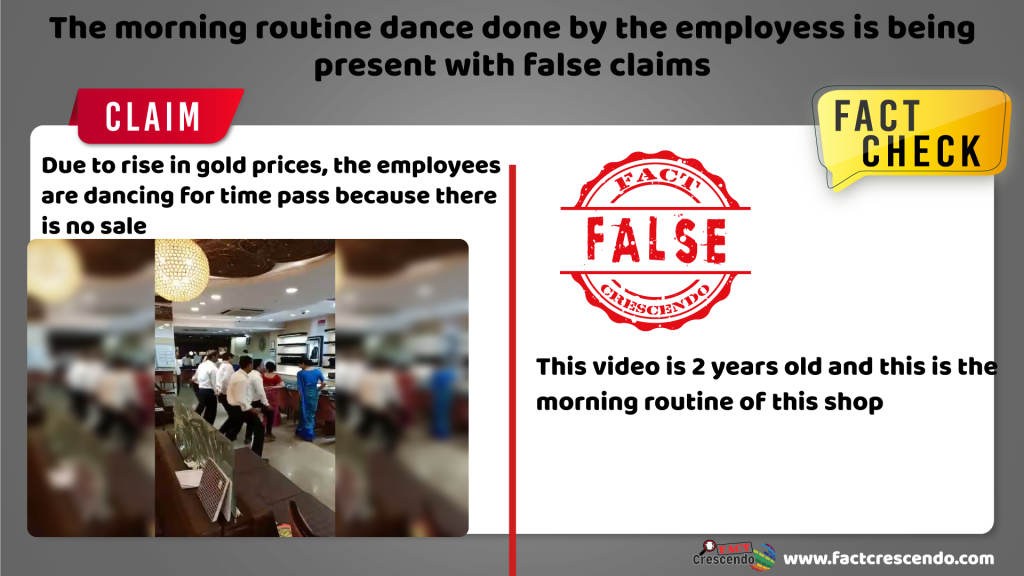 A video was posted on September 9th 2014 by a Facebook page called Hyderabad Deccan News 5 captioned "Gold is now selling for Rs. 40,000/- neither there is any sale nor is there is any customer. Jewellery shop workers are enjoying themselves without any work. Thanks to all the voters. GDP is at 5%, all time low in the history of India. In this video we can see gold shop employees dancing inside the shop. This video is widely spread on social media and this is being claimed that the price of gold has gone up to Rs. 40,000/- per ten grams due to which the customers have reduced and the employees in their free time dance together and spend time. By the time facts were checked, this video received 1967 responses and it was viewed 9700 times.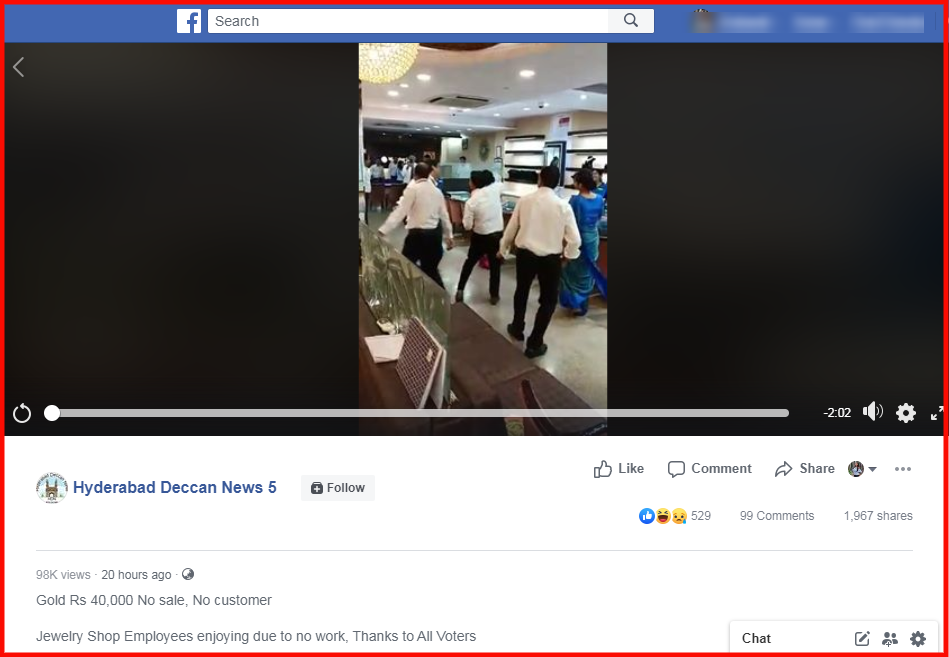 In the beginning of our investigation, we saw this video carefully and learnt that the name of the shop is Manohar Lal Jeweller's.
After this, we searched for a video on YouTube using the keywords "Manohar Lal Jewellers viral dance video". As a result, we found a video uploaded on YouTube on 11th September 2019. This video was uploaded by Surendra Singh and its caption says "morning routine of Manohar Lal JewJeweller's

Thereafter, we searched for Manohar Lal Jeweller's on Google search. After having a look at their website, we came to know that the shop is located in Delhi. We also came to know that this jeweller has six outlets located in Defense Colony, Preet Vihar, Pitampura, Indirapuram, Noida and Faridabad. By looking at the photos of this outlet, we found that this video is from their Preet Vihar branch because several things shown in this video are similar to the pictures of this branch. You can see the similarity between the both below (the viral video and pictures of Preet Vihar branch available on their website).
Then, we contacted Pradeep Shukla, an employee of Manohar Lal Jewellers of Preet Vihar. They told us that this video is from 2017. The claims made through this video are false because these people are not dancing due to loss in sale but this is our morning routine. And such flash mob happens frequently with us. This is being wrongly presented in the social media.
Conclusion : After fact checking, we found the above post to be incorrect. This video is from Manohar Lal Jeweller's morning routine. Also, this video is 2 years old and has nothing to do with the present.


Title:The morning routine dance done by the employess is being present with false claims
Fact Check By: Ruchika M
Result: False