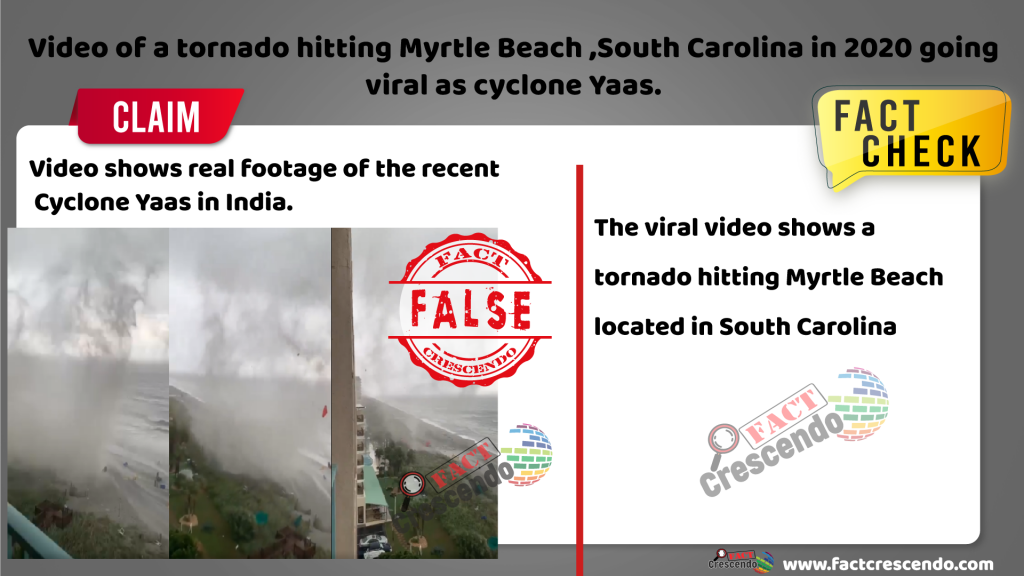 At present, many videos are being shared on social media platforms in relation to cyclone Yaas which recently hit West Bengal and Orissa. Many of these videos are old and not related to Cyclone Yaas. Recently, a video has been circulating on social media claiming that this video shows real life footage of cyclone Yaas. In this video you can see that there is a very strong wind blowing on the sea shore.
The title of the viral video reads, "Live, terrifying look of cyclone Yaas Storm Live, now the terrible havoc of Cyclone Yaas storm after Corona."
Fact Check-
We started our investigation by using the InVid-We Verify tool to break the video into small keyframes and ran a Google Reverse image search on them which led us to a Facebook page called Natural Phenomena where the video was broadcasted on 26 September 2020. Was. The title of the video reads, "USA United States – Watersprout in Myrtle Beach, South Carolina, this afternoon on September 25, which was built on a landfall and turned into a tornado."
Taking a cue from the above mentioned post we ran a keyword search on YouTube and tried to get more information about this video, the results led us to a similar video on an official YouTube channel called WXII 12 News Aired on 26 September, 2020. The title of this video reads, "Myrtle Beach tornado confirmed."
In this video, you will get to see scenes similar to the ones seen in the video that are going viral.
Subsequently, we searched for more keywords on YouTube and tried to find the same video that was going viral, we found a video aired on 27 September 2020 on a YouTube channel called Disaster Compilations. The title of the video reads, " EF-0 Tornado Hits Myrtle Beach, South Carolina – Sept. 25, 2020."
The description of the video states that "The National Weather Service in Wilmington storm survey crew confirmed an EF0 tornado touched down near Myrtle Beach on Friday (25 September 2020) afternoon."
The tornado had winds of 75mph on the beach line between 74th Ave N. and 73rd Ave. N. MYRTLE BEACH, S.C. (WBTW) — A confirmed tornado touched down in Myrtle Beach Friday afternoon. The tornado touched down around the Ocean Forest and Long Bay area. The area was not under a tornado warning.
The National Weather Service – Wilmington said on Twitter that there was no warning issued because sometimes brief tornadoes can happen between radar scans. Brief tornadoes often happen with tropical remnants."
Conclusion- Fact Crescendo found the above-mentioned video to be False. The viral video is not from India and is not related to the recent Cyclone Yaas . The viral video dates back to September 2020 and shows a tornado hitting Myrtle Beach in South California.
Title:Video of a tornado hitting Myrtle Beach ,South Carolina in 2020 going viral as cyclone Yaas
Fact Check By: Aavya Ray
Result: False