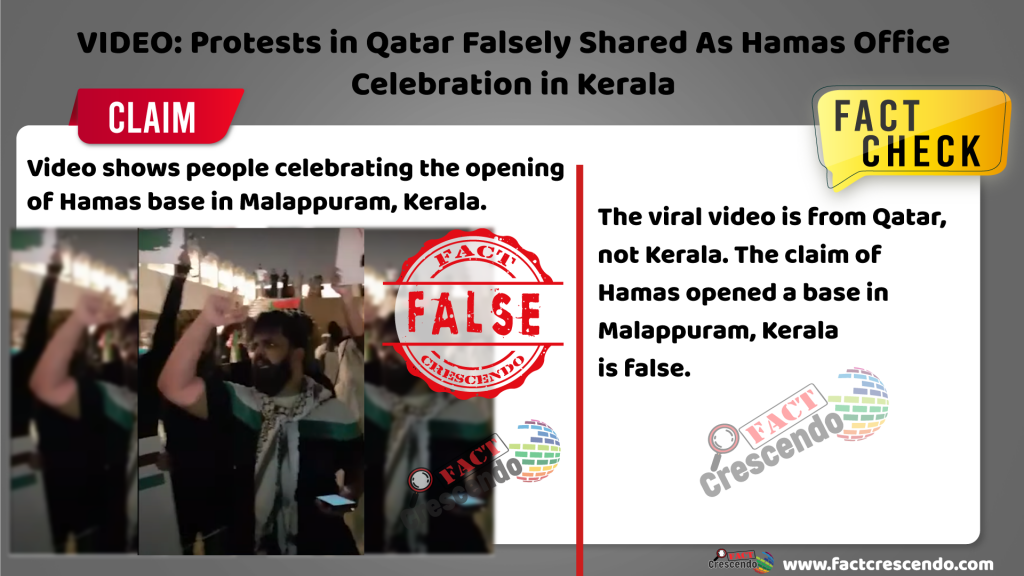 A video is going viral with a claim that it shows people celebrating the innaugration of the office of the Palestinian Hamas group in the state of Kerala.
Fact Crescendo received many fact-check requests about this video on our WhatsApp FactLine (9049053770).
This is a false claim. The viral video is not from India.
WHAT'S THE CLAIM?
The widely shared clip shows a group of people raising slogans and holding 'Free Palestine' placards. Many have been sharing it with a claim that reads: This is not Palestine or Pakistan but Malappuram city in Kerala. People there celebrated the opening of the new Hamas office. Hamas has been declared as a Terrorist group by the UN and 160 countries of the world.
Similar videos and claims are also viral on Facebook.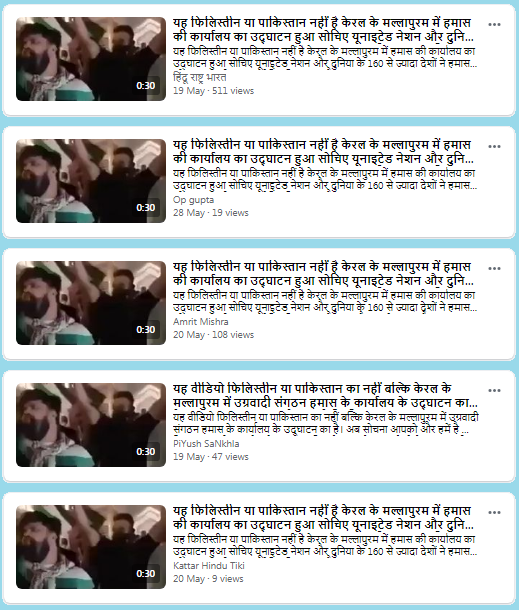 FACT CHECK
People are raising slogans in the Malayalam language in the viral video. Our Malayalam team translated the slogans as:
"We will never forget you. For every drop of blood you shed, we will make you pay. Inshallah! Inshallah!"
Taking the clue from it, we landed upon a GulfMalayaly YouTube and Facebook page. It has uploaded the same viral video but in a longer version on 16 May 2021.
"Malayalees chanted slogans at the Palestinian meeting in Qatar | Palestine solidarity in Qatar" is the title of the video.
The video reported, "Many Keralites living in Qatar flock to Grand Mosque of Doha to express solidarity with Palestine. They raised slogans in Malayalam. Senior political leader of Hamas Ismail Haniyeh was present there and his words raised the spirit of the protestors who chanted slogans against Israel."
A large number of people had gathered in the square of the Imam Abdul Wahhab Mosque, popularly known as Grand Mosque, in Doha, Qatar in support of Palestine and in protest of the Israeli aggression on Gaza, reported Quds News Network on 15 May 2021.
The speeches of various leaders were broadcasted live on social media
In the longer version of the video, a minaret can be seen. Even the video shared by Quds News Network has the same minaret. We compared it with the original minaret of the Grand Mosque of Doha and they correspond to each other.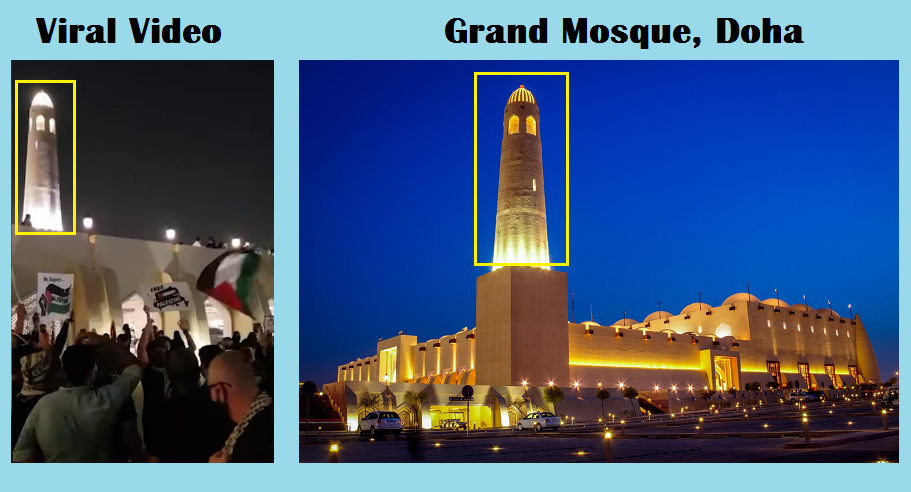 CONCLUSION
The viral video of people raising slogans in support of Palestine is from Qatar, not Kerala. The claim that Hamas has opened a base in Malappuram, Kerala is false.
Title:Protests in Qatar Falsely Shared As Hamas Office Celebration in Kerala
Fact Check By: Mayur Deokar
Result: False