A post on Twitter about the death of a young doctor due to COVID-19 took Twitter users by an emotional storm. The post made from the account @Aisha_must_sayz has gone viral with an emotional outpouring from across the world. "Dr Aisha" became one of the "Top Trending" stories on Twitter. The tweet read "Haya friends not coping with COVID-19. Going to be hoked up to the ventilator sometime today. Remember me, my smile to you. Thank u $ Ur friendship. Will miss u, Be safe take this deadly virus seriously. Luv u guys. Bye." Several social media users posted her last tweet along with their condolences claiming that Dr. Aisha who is a Covid warrior died due to COVID-19.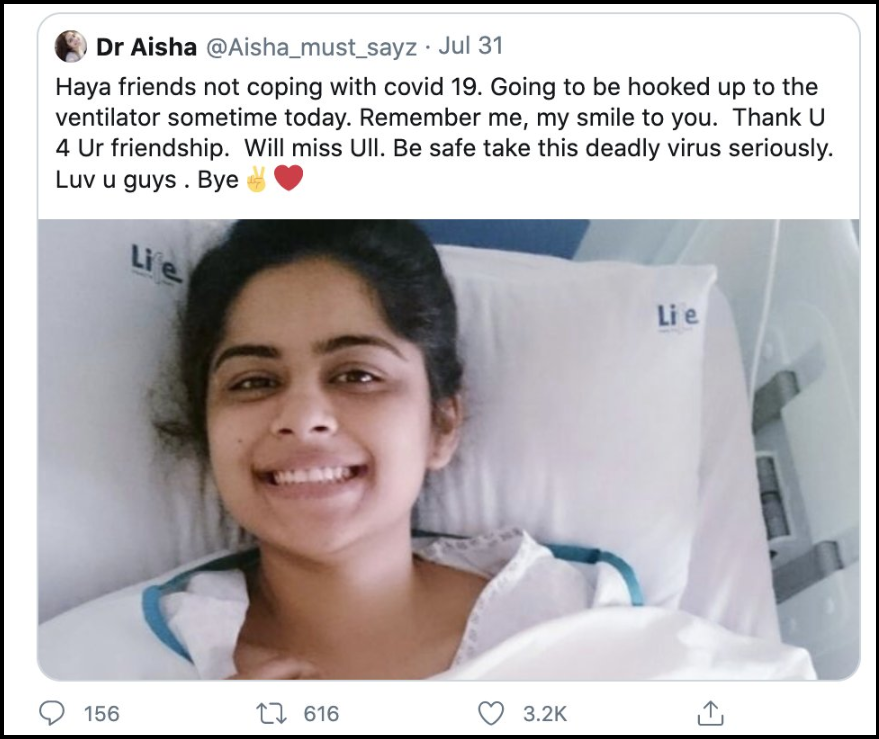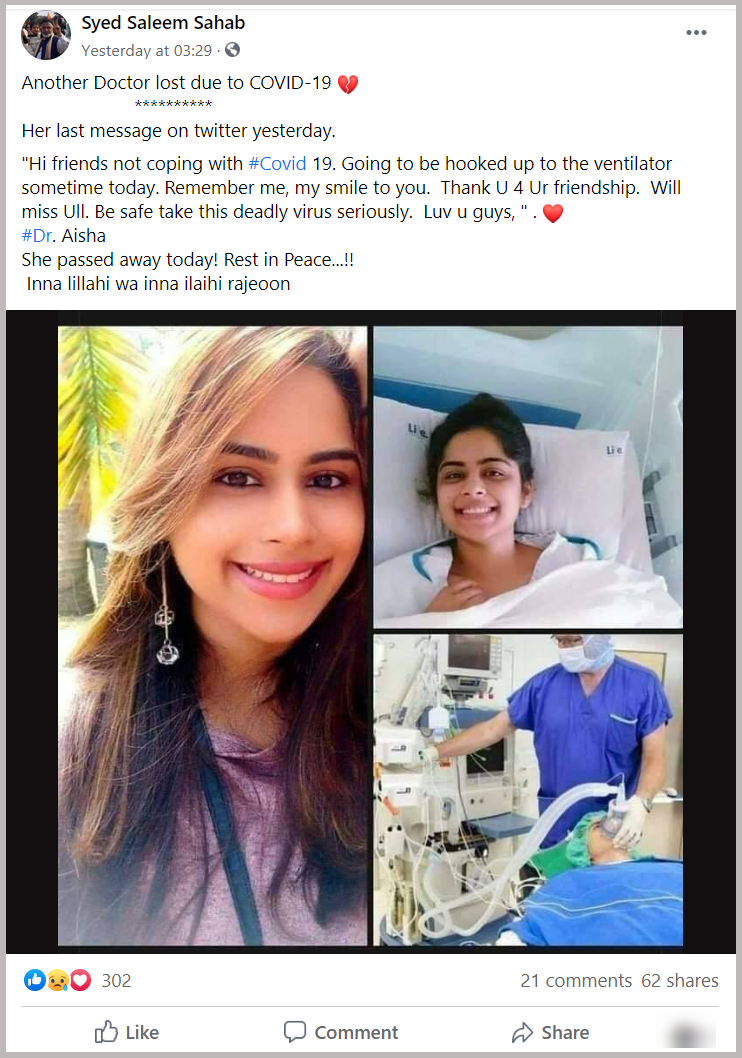 Later, the same account shared another photo where a patient intubated can be seen. The tweet mentioned viewers to keep 'Dr Aisha' in their prayers.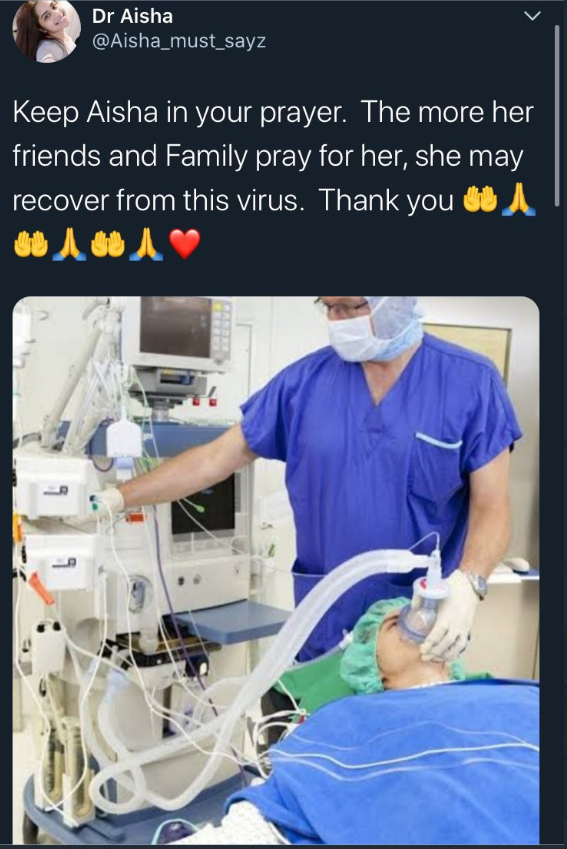 Fact Check-
We started our investigation by scrutinizing @Aisha_must_sayz' Twitter account and found it to be suspicious for many reasons which are as follows:
1. If the patient supposedly had COVID-19, then why is the doctor not wearing a PPE kit while handing the patient.
2. We ran a reverse image search on the second image uploaded by the account and found that this image is available on the internet since 2016. According to consultdranderson website the image shows a pre anesthesia screening. This picture is also widely available on many websites. It was first posted in October 2017.
3. The location mentioned on the Twitter handle is "South Africa".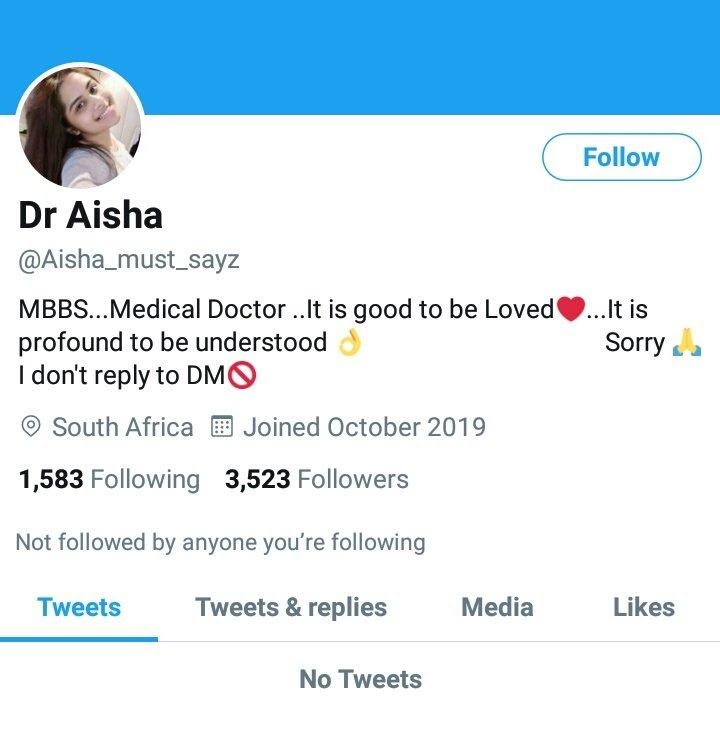 Several people, including journalist Nidhi Razdan, shared the tweet with the selfie, offering condolences. Later she deleted her original tweet and issued a clarification on Twitter saying "Have deleted a previous tweet about a Dr Aisha. Turns out the account was fake ! You have to be really sick to pretend to have COVID."
After it was revealed that the account was fake, the post as well as the account (Dr. Aisha) were found to have been deleted.
Next, we found a logo on the pillow cover where we can see Dr. Aisha which says "Life Hospital". Upon searching he same on Google we came across "Life Hospital" in Kamareddy, Telangana. The logo of the hospital matches the logo on the pillow on which Dr. Aisha is lying. Below you can view the comparison between the logo on the pillow and Life Hospital's logo.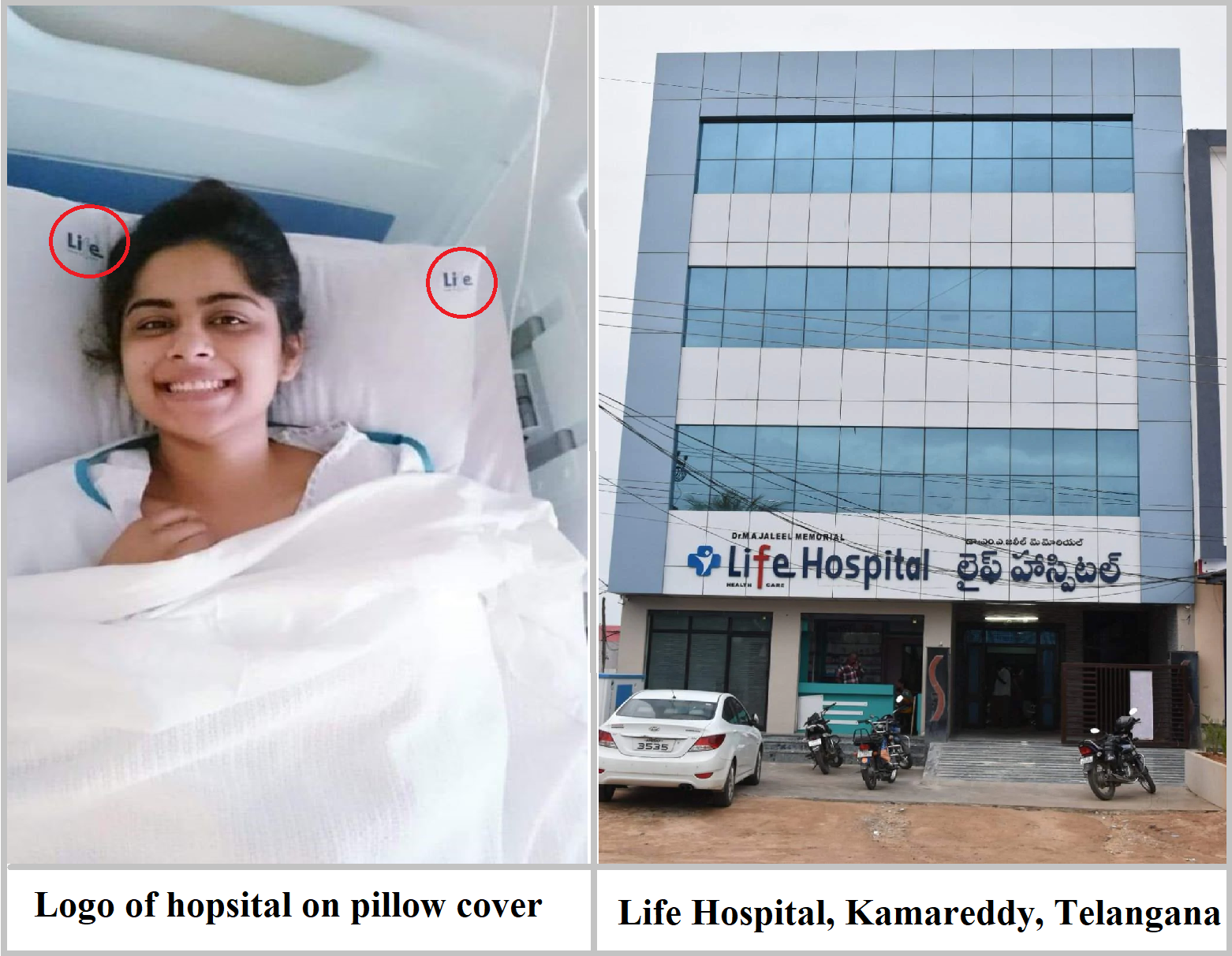 Fact Crescendo contacted Life Hospital, Kamareddy, Telangana who confirmed us that "Life Hospital is not a COVID-19 designated hospital nor is there any patient here infected with COVID-19. Thus, we can confirm that no one by the name of Dr. Aisha has died here due to COVID-19. We cannot give you the patient information due to our privacy policy but the pillow in the picture is from Life Hospital, Telangana." They have also confirmed to us that "Life Hospital" does not have any branch or chain.
Conclusion- Fact Crescendo found the above mentioned post to be False.
With the above evidences we can confirm that Dr. Aisha's Twitter account was fake. Dr. Aisha is not a COVID-19 patient.

Title:Why Dr. Aisha's post on Twitter was Fake?
Fact Check By: Aavya Ray
Result: False