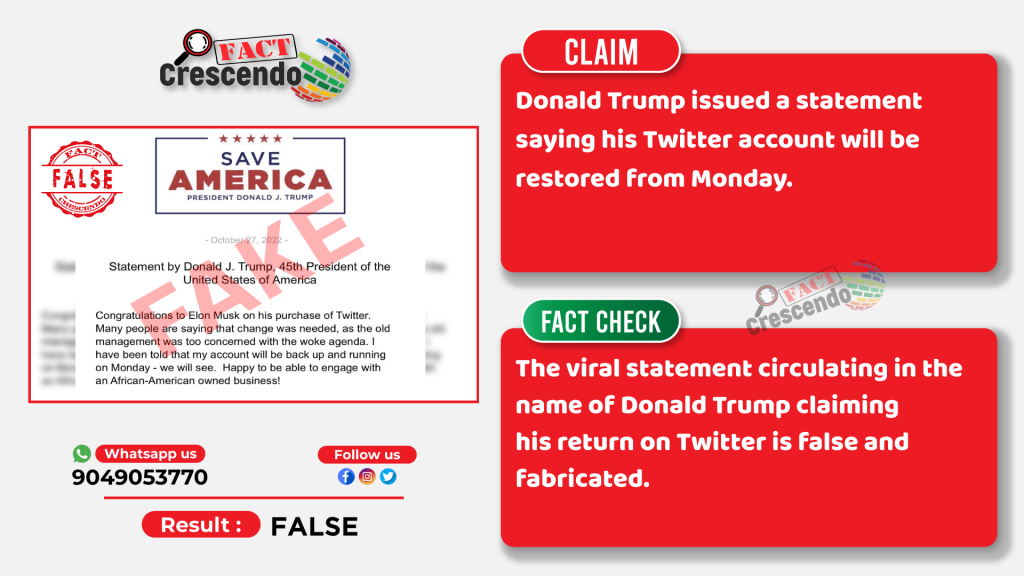 After months of speculations, Elon Musk finally completed the Twitter deal and took over control of the company on Thursday night. Soon after the takeover, a number of Twitter executives including CEO Parag Agrawal were fired and many policy changes are expected to follow.
Amidst all of it came a rumored statement from former US president Donald Trump congratulating Musk and allegedly claiming that his suspended Twitter account will be restored from Monday.
Many users, including the leading news agency ANI, fell for this fabricated statement.
WHAT'S THE CLAIM?
On 28 October, ANI shared the viral Donald Trump statement which reads as follows:
"Congratulations to Elon Musk on his purchase of Twitter. Many people are saying that change was needed, as the old management was too concerned with the woke agenda. I have been told that my account will be back up and running on Monday – we will see. Happy to be able to engage with an African-American owned business!"
The statement has the 'Save America' masthead.
FACT-CHECK
First, we looked for the official source of this alleged statement. We could not find or trace it to any authentic platform or official account.
The viral statement is not available on Donald Trump's official website.
No such statement was reported by any major news outlet.
We found that Trump's Former Campaign Manager Brad Parscale tweeted the image of the viral statement and wrote: "This is a fake, obviously."
Trump's current Director of Communications Taylor Budowich also retweeted the same.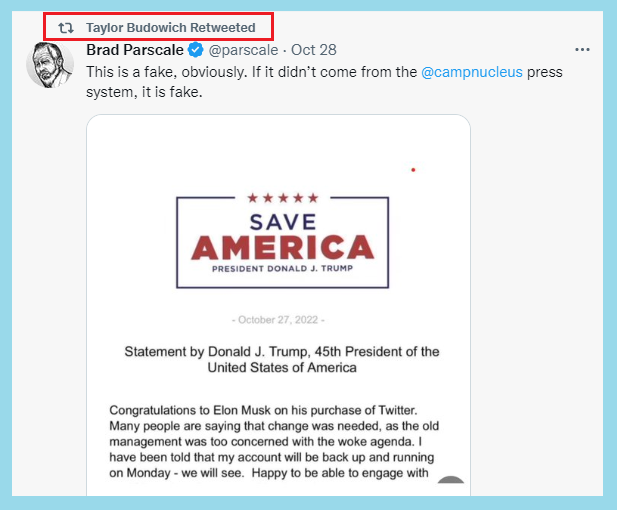 Is Trump Coming Back on Twitter?
No. Twitter has not issued any direction about it.
In fact, Musk has announced that "no major content decisions or account reinstatements will happen before content moderation council convenes."
Twitter will be forming a content moderation council with "widely diverse viewpoints", Musk tweeted on Friday.
Twitter had permanently suspended Trump's account due to "the risk of further incitement of violence" after the insurrection at the U.S. Capitol on 6 Jan 2021.
Since Musk announced his bid to buy Twitter, the possibility of Trump's return to Twitter has been the subject of speculations on the internet.
Trump Did Congratulate Musk
Donald Trump did really congratulate Elon Musk after taking over Twitter.
In a statement posted on the Truth Social platform Friday, Trump wrote, "I am very happy that Twitter is now in sane hands, and will no longer be run by Radical Left Lunatics and Maniacs that truly hate our country."
While speaking to Fox News, Trump said that he is going to make use of his own Truth Social media platform.
"I like Elon, but I'm staying on Truth," he told Fox News in an interview without explicitly saying he would not post on Twitter if his account is reinstated.
CONCLUSION
It is clear that the viral statement circulating in the name of Donald Trump claiming his return on Twitter is false and fabricated. Neither Trump nor Twitter announced any decision about the former president's account being restored on the platform. Even ANI retracted its tweet.

Title:Is Donald Trump Coming Back on Twitter from Monday? Fake Statement Goes Viral
Fact Check By: Mayur Deokar
Result: False