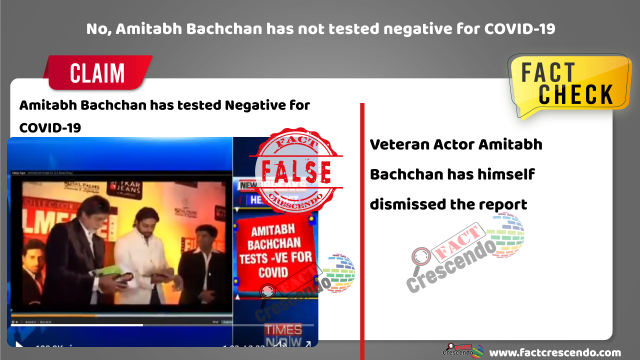 Veteran Actor Amitabh Bachchan was admitted to Nanavati Hospital in Mumbai on July 11th after testing positive for COVID-19. While Amitabh Bachchan and his son Abhishek Bachchan have been hospitalised since July 11th, Amitabh Bachchan has been sharing regular updates about his family and his health on his social media accounts. He has been thanking well- wishers saying that their support is what has been getting him through the difficult times. Amidst this, we came across a news bulletin by Times Now which claimed that Amitabh Bachchan has tested negative for COVID-19. Soon this news flooded social media platforms.
Fact Check-
We started our investigation through a simple keyword search on Google to find relevant news reports which led us to Amitabh Bachchan's official Twitter account where he himself clarified that the rumours on social media were fake. He retweeted Times Now's report clarifying that it is incorrect , irresponsible , fake and an incorrigible LIE !!
Conclusion- Fact Crescendo found the above mentioned post to be False. Amitabh Bachchan has not tested negative for COVID-19 which has been clarified by him on social media.

Title:No, Amitabh Bachchan has not tested negative for COVID-19
Fact Check By: Aavya Ray
Result: False