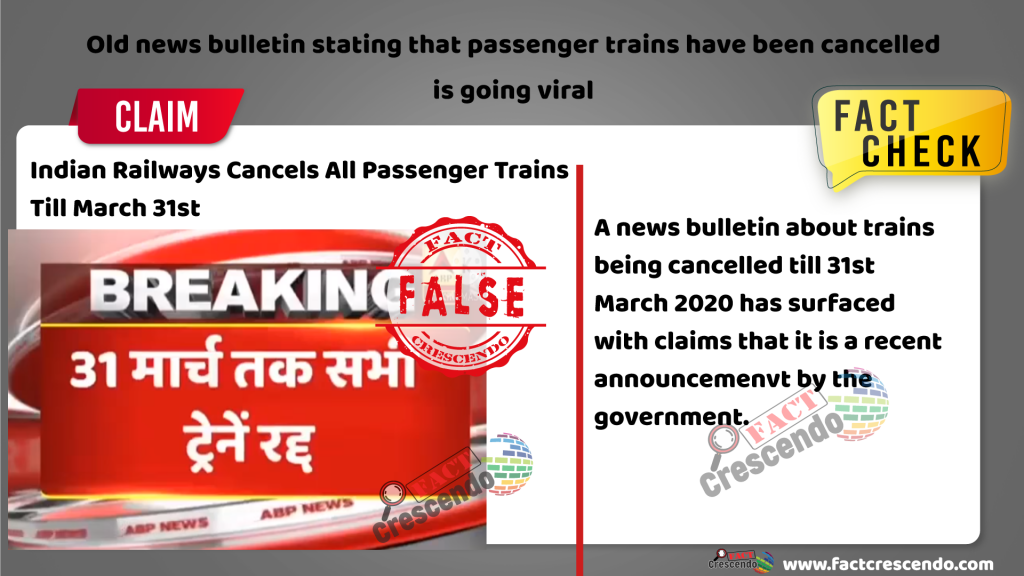 With the rise in the number of COVID-19 patients in the country social media is filled with misinformation related to the virus and vaccine. Amidst this, social media users are sharing a news bulletin run byABP News which claims that the Indian Railways has cancelled all passenger train's till 31st March.
The six minute-long breaking news bulletin talk's about passenger and express trains being cancelled till March 31st. This bulletin surfaced after Nagpur city and adjoining areas went into a strict week-long lockdown following the second COVID-19 wave. The anchor states, how in a latest development to curb the spread of COVID-19, Indian Railways has announced the cancellation of all passenger trains till March 31st .
The caption of the post mention,
"Indian Railways Cancels All Passenger Trains Till March 31 | ABP News"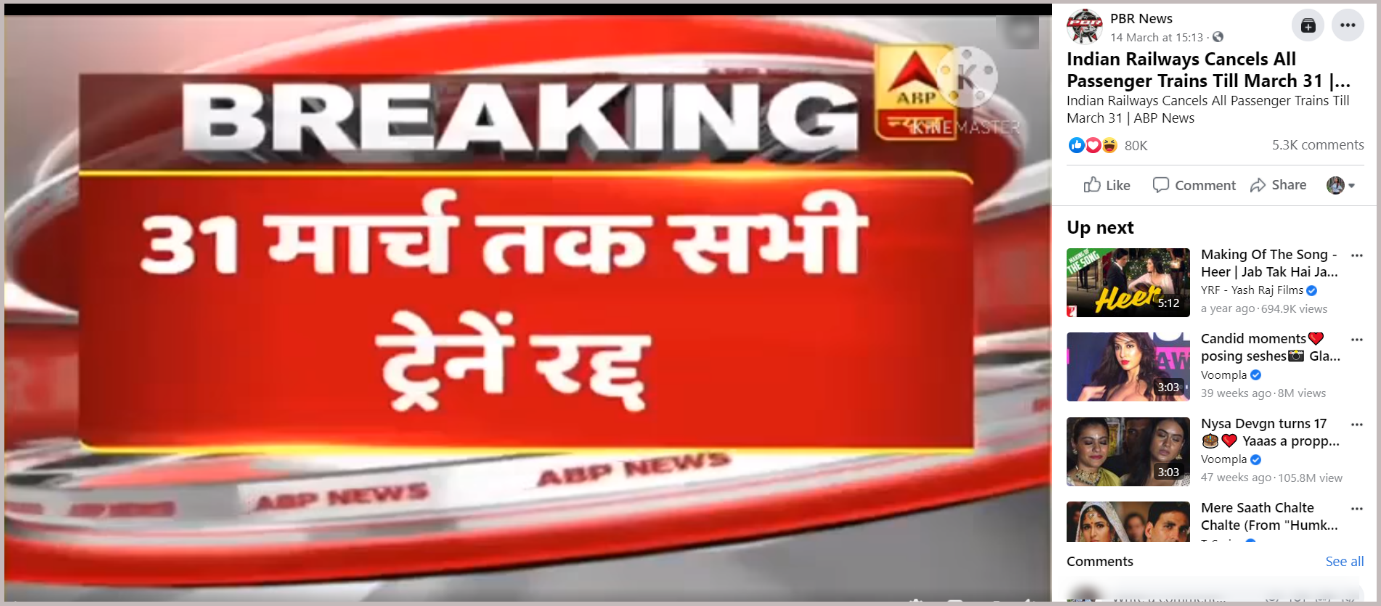 Fact Check-
We started our investigation by running a keyword search on Google which led us to the same video published on ABP News Hindi on 22nd March 2020. The caption of the video mentions that "All passenger trains cancelled till 31st March, Indian Railways decides | ABP News Hindi."
The description of video mentioned, "The order for cancellation of all trains for 31st March has been issued by the Ministry of Railways. During this time only goods trains will continue to operate. Earlier, the railway was considering that trains would be cancelled by March 25th, but in view of the ever increasing congestion in trains, this decision has been taken by the railways."
We also ran a keyword search to find similar news reports that mention that the Indian Railways announced the cancellation of trains across the country till March 22nd and further extended its initial order upto 31st March as the number of COVID-19 patients rose to 341 in India. These news reports were published on 22 March 2020.
Conclusion- Fact Crescendo found the above-mentioned post to be False. A news bulletin about trains being cancelled till 31st March 2020 has resurfaced with claims that it is a recent announcement by the government.

Title:Old news bulletin stating that passenger trains have been cancelled is going viral
Fact Check By: Aavya Ray
Result: False