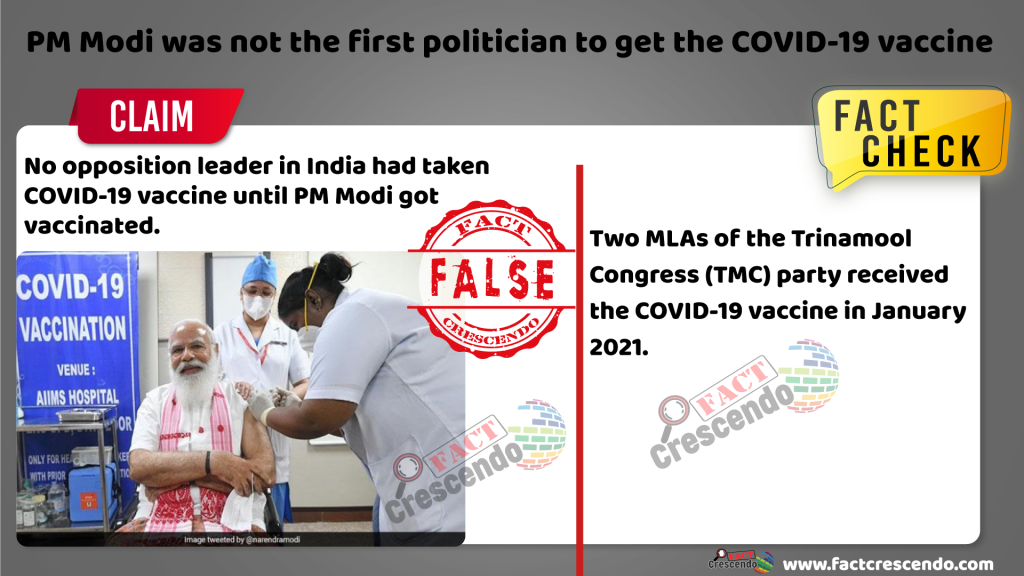 With the rise in COVID-19 patients across the country, social media is filled with claims related to the vaccine. Amidst this we found an image circulating on social media claiming that no opposition leader in India had taken the COVID-19 vaccination until PM Modi got vaccinated. It says that Prime Minster Narendra Modi was the first political leader to take the COVID-19 vaccine.
The image mentions that "No opposition leader took COVID-19 vaccination until PM Modi took. After him, everyone is taking it. Looks like they have more faith on Modi than they have on the vaccine itself."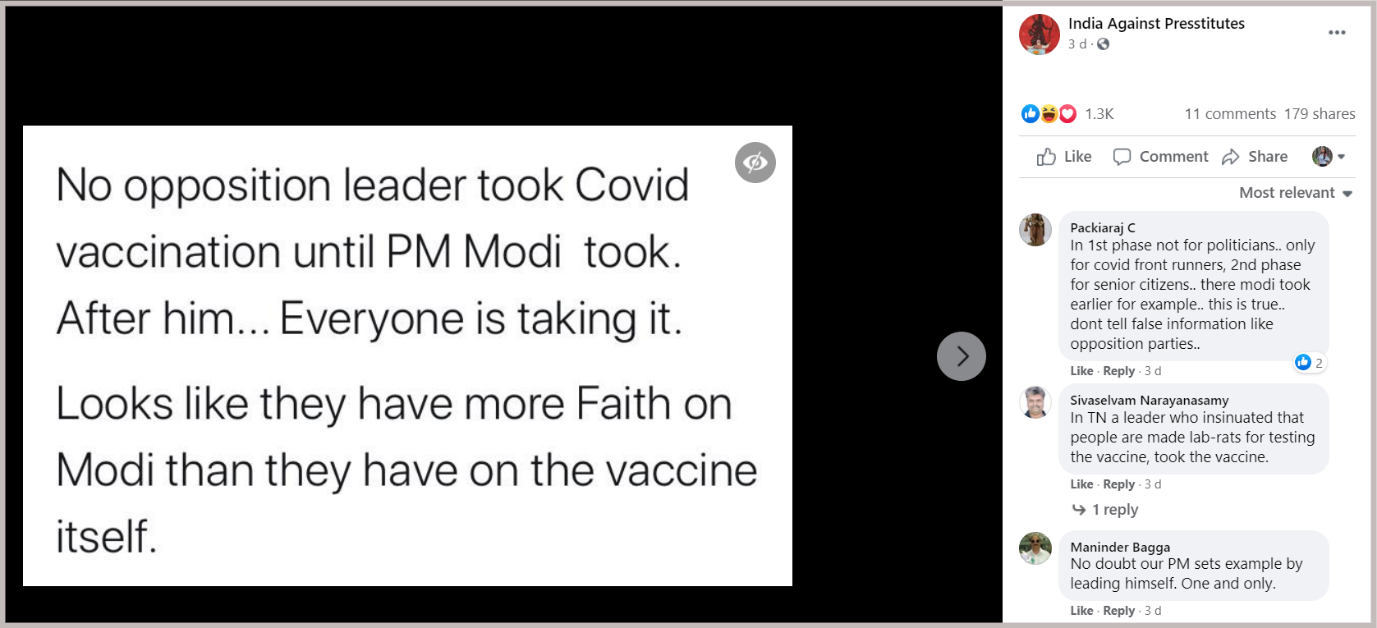 Fact Check-
We started our investigation by searching for the details on the official Indian Government website, we found that the Government of India has prepared a priority list for the COVID-19 vaccination.
According to the website we found that on 16 January 2021, the COVID-19 vaccination drive began in India and the government announced that healthcare and frontline workers will get vaccinated in the first drive of the COVID-19 vaccination.
In the second phase of the vaccination, the Government included politicians and persons over 60 years of age and persons with co-morbidities above 45years.
Next with the help of keyword search we found that two MLA's of the Trinamool Congress party (TMC) in West Bengal took the COVID-19 vaccine on 16 January 2021. The names of the MLA's are Katwa MLA Rabindranath Chatterjee, Bhatar MLA Subhash Mondal from TMC. They received the COVID-19 vaccine in the first phase. When questions were raised on TMC leaders getting vaccinated, a District health official mentioned that these leaders are members of the Patient's Welfare Committee
(Rogi Kalyani Samiti) in West Bengal.

We also found that BJP MP Mahesh Sharma, who is a trained doctor also got vaccinated on 16 January 2021. We found that PM Modi got vaccinated on 1st March 2021 whose images have been posted on his official Twitter handle.
Conclusion- Fact Crescendo found above-mentioned post on social media to be False. PM Modi is not the first politician in India to get vaccinated. Two MLAs of the Trinamool Congress (TMC) party received the COVID-19 vaccine in January 2021. Narendra Modi took the vaccination on 01 March 2021.

Title:PM Modi was not the first politician to get the COVID-19 vaccine
Fact Check By: Aavya Ray
Result: False