The person seen motionless in the video is not dead. Due to excessive alcohol consumption, he reached an unstable state like death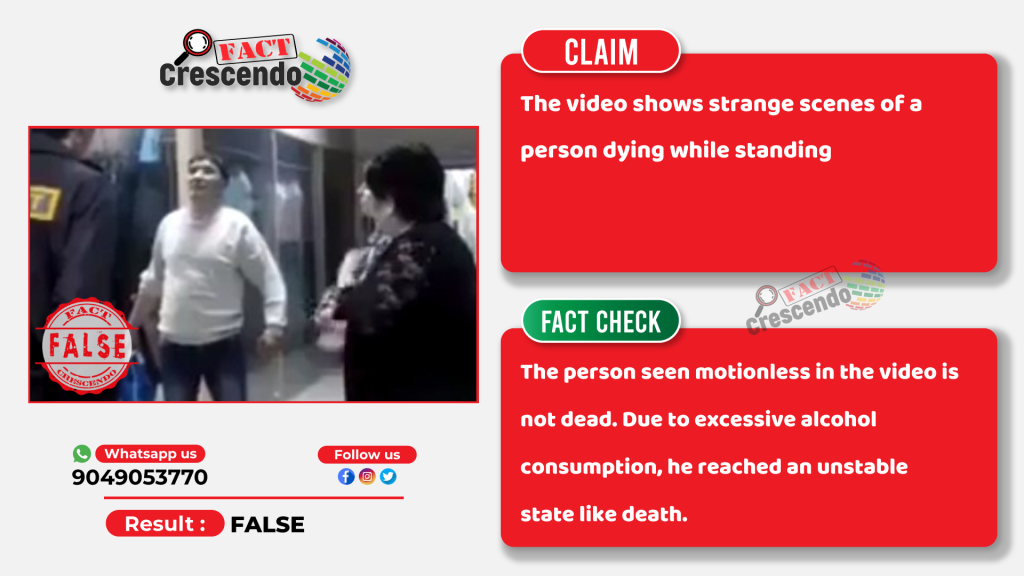 A video of a person claiming to have died in a standing position has gone viral on social media. This is a video of a person standing still. Even the eyes are still, even though many people come close and touch them. Later he is being carried on a stretcher. The video is circulating that the dead body miraculously does not fall down. Claiming that he succumbed to his death while standing this way, the caption reads, "The strangest death in the world is that of a man who died standing in the market, neither falling to the ground nor his shopping bag falling down".
Fact Check- 
Our investigation began with a reverse image search of key frames from the viral video, which led us to a 2015 report on a website called NG72.RU. In which part of the viral video is seen. According to the information given in the report, this video is from Kazakhstan.  "An unusual incident occurred in one of the shopping centers of Taldykorgan (a city in Kazakhstan). The middle-aged man literally froze in place, he froze in one position, his eyes were fixed on one point. The mall workers called paramedics. The doctors placed the frozen man on a stretcher and took him to the hospital, where they took the necessary measures to bring the strange patient back to normal". However, nowhere in this report was it written about the death of the person.
It is indicated that this person was in this condition for several hours. He was then placed on a stretcher and taken to a hospital in Almaty region by ambulance. 
In further search we found a report published in the year 2015 on the Russian website tvzvezda.ru . In which the information was given that, "The person seen in the viral video was in a state of intoxication and was taken to the hospital. After being treated there, he was discharged the same day. "The Department of Health of Almaty region confirmed that such an incident took place in Taldykorgan on April 19.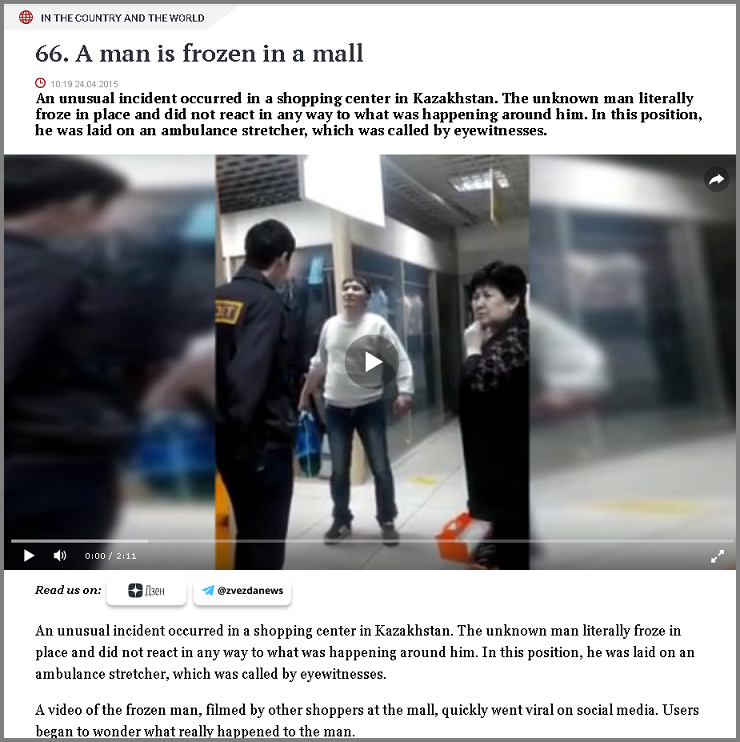 What causes this to happen? 
We spoke to renowned gold medalist Dr. Krunal (MD) regarding this matter and he told us that the man must have suddenly slipped into a 'coma' due to the intoxication of alcohol. Some people may develop this condition as a result of excessive drinking. But it usually happens when they are sitting quietly. If they are taken to a hospital and the alcohol is removed from the body, they recover. This is a rare occurrence while walking in a shopping mall. Due to excessive consumption of alcohol, such people feel that they are unconscious for a long time. Also it is normal for them to feel unstable. Excessive alcohol consumption and drug use can cause this condition.
Conclusion-
Fact Crescendo found the claim made along with the viral video to be False. The video does not show strange scenes of a person dying while standing. Due to excessive alcohol consumption, he reached an unstable state like death. He was taken to hospital and treated. 

Title:Strange scenes of a person dying while standing-know the truth
Written By: Usha Manoj
Result: False