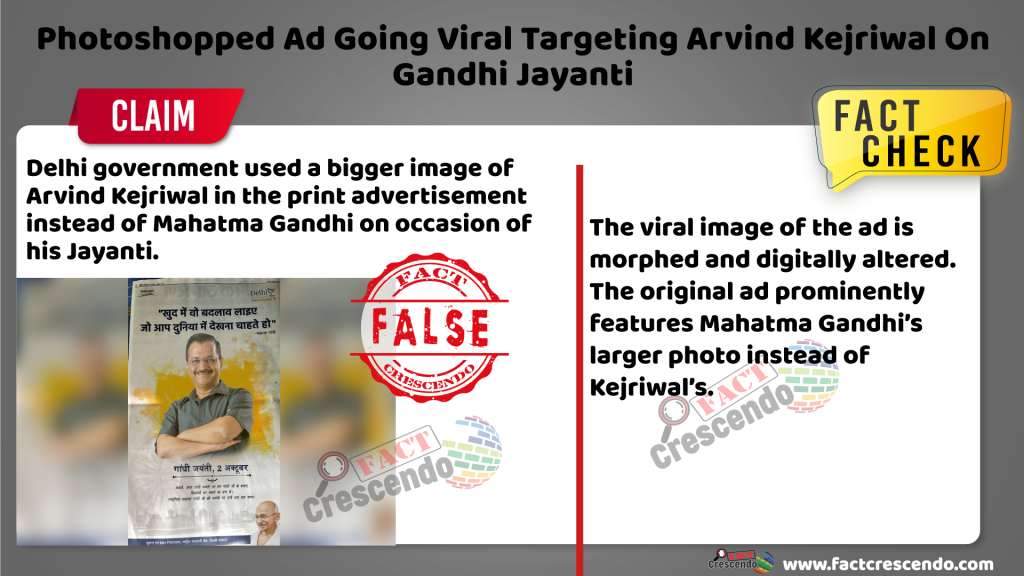 An image supposedly showing a print advertisement issued by the Delhi government in a newspaper on the occasion of Mahatma Gandhi's Jayanti has become a trending topic on social media.
On the basis of this viral photo, Netizens are ridiculing Delhi CM Arvind Kejriwal for "self-promoting" by using a bigger picture of himself while cornering Gandhi in a smaller picture.
Fact Crescendo received many fact-check requests about this video on our WhatsApp FactLine (9049053770).
It turned out that the viral photo is fabricated and misleading.
WHAT'S THE CLAIM?
The viral image shows an advertisement published by the Delhi government's Directorate of information and publicity to commemorate the birth anniversary of M K Gandhi. It can be seen that Arvind Kejriwal's picture clearly dominates space and the man of the moment (Gandhi) is placed left in the bottom corner.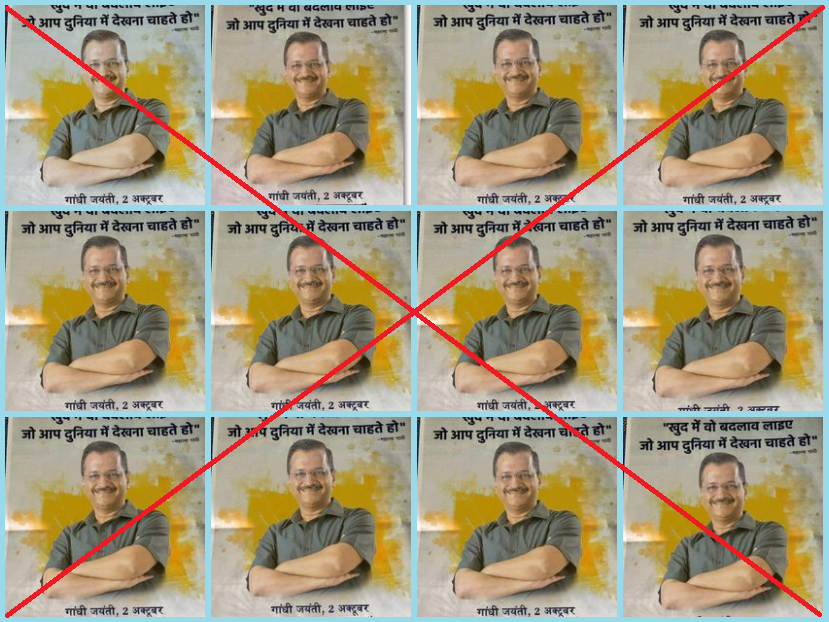 Social media users are sharing this image along with the captions –
1. "आज जयंती किसकी है: केजरीवाल की या महात्मा गांधी की?" (Whose birth anniversary is it today? Kejriwal's or Mahatma Gandhi's) [Link]
2. "केजरीवाल जयंती पर सभी देशवासियों को शुभकामनाएं" (Best wishes for all on the occasion of Kejriwal's Jayanti) [Link]
3. केजरीवाल गांधी जी की जयंती मना रहा है या गांधी जी केजरीवाल की मना रहे हैं? कुछ समझ नहीं आ रहा? (Is Kejriwal celebrating Gandhi's Jayanti or Gandhiji celebrating Kejriwal's Jayanti? Hard to know. ) [Link]
This image is also shared on Twitter.
FACT CHECK
A close inspection of the viral image makes it clear that the advertisement in question is from Dainik Jagran.
We checked Dainik Jagran's New Delhi edition of 2 October 2021. On page five, the Delhi government's advertisement is published. However, the original advertisement is very different from the viral one.
It clearly establishes the fact that the viral image is digitally altered and false. In the original ad, Delhi government had used a bigger picture of Mahatma Gandhi and a smaller picture of Kejriwal.
After the fabricated image went viral, Aam Admi Party's (AAP) Delhi unit put out a tweet with the original image. Calling the viral image "morphed", it said that "image is being circulated with a malicious intent".
The image comparison of both images will make it clear more.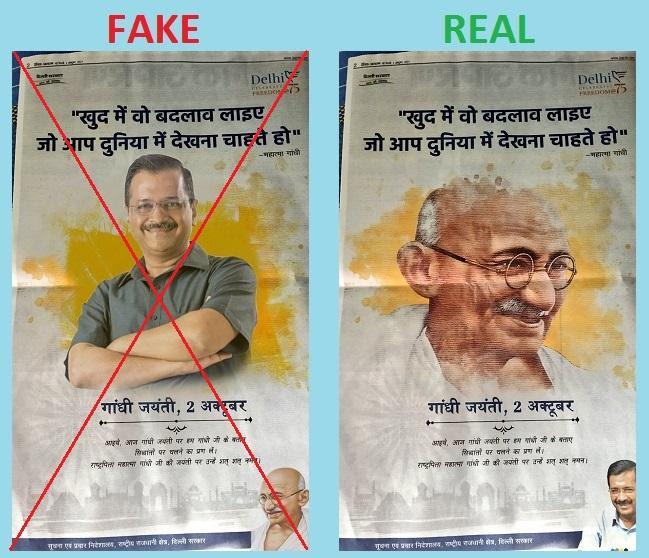 CONCLUSION
The viral image of the Delhi government's ad on Gandhi Jayanti is morphed. It has been created by digitally manipulating the original image.
We rate this photo 'Altered Image'.
Title:Photoshopped Ad Going Viral Targeting Arvind Kejriwal On Gandhi Jayanti
Fact Check By: Mayur Deokar
Result: False