The viral video is scripted. The video was made to raise awareness about harassment faced by young girls due to dowry.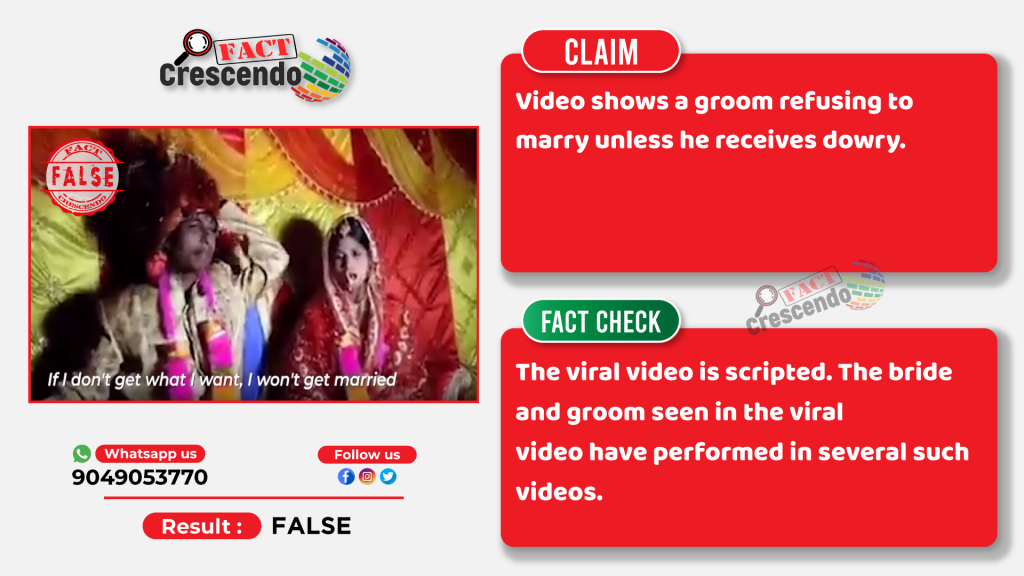 A video showing a couple in wedding attire where the groom demands dowry has because he has a government job and his father is a teacher is widely circulating on social media. The groom defends the dowry system while the person recording the video says that if educated people indulge in such regressive customs then the non-literate people will also do the same.
Users claim that the video is a real life incident where the groom refuses to get married after he demanded for dowry.
The Times of India, Anandabazar Patrika and the Indian Express reported the incident as news based on the viral video.
The caption of the post reads, "Viral Video: 'Nothing wrong in asking for dowry', groom refuses to get married."
Fact Check–
We started our investigation by running a keyword search on social media platforms to search the viral video. The results led us to the longer version of the video posted by a Facebook page named "Divya Vikram" on 25 February 2022. However, we found that now here in the video the page has stated that this video is staged.
According to this Facebook page, they are video creators.
We found that this page has similar videos where we can see the same bride and groom. The couple has been making such videos from some time.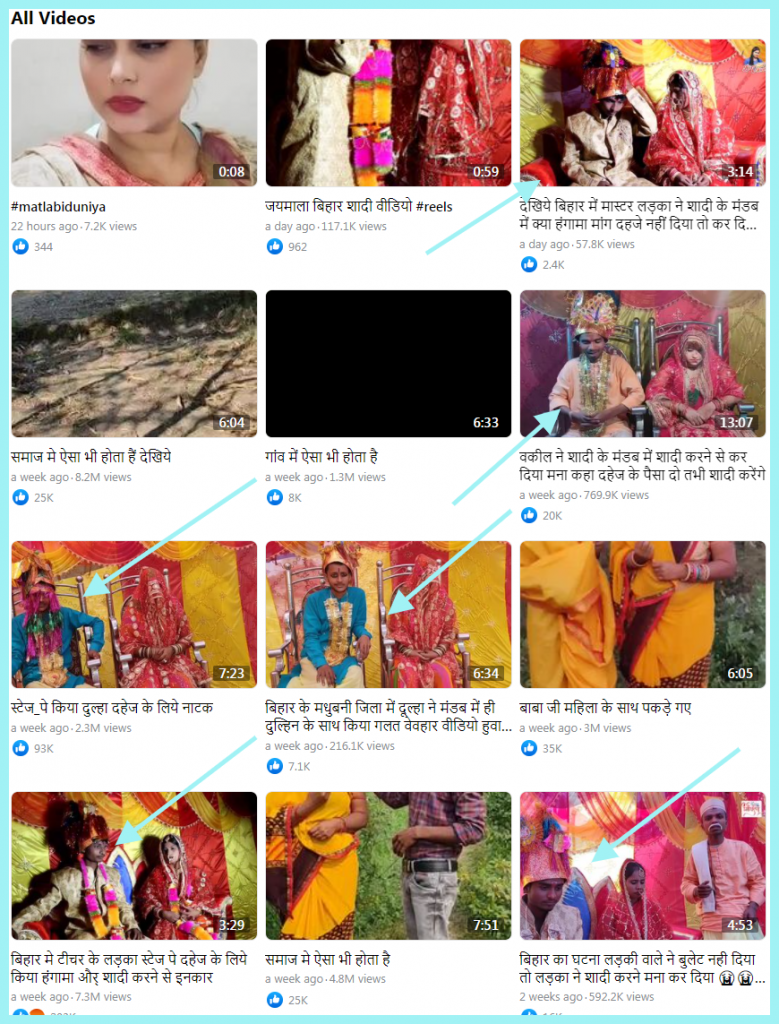 A Facebook user named "Vikram Mishra" on 23 February 2022 also posted this video. He wrote that this video is from Bihar where the groom is demanding dowry. His Facebook bio says that Vikram Mishra is an artist, actor and producer. Vikram Mishra has uploaded similar scripted videos on various social topics.
WHY DO YOU NEED MORE CONTEXT?
Users may wonder that staged or not, the video intends to spread awareness about a social evil.
However, Fact Crescendo has debunked several such staged and scripted videos, which were viral with communal claims.
Many times these fictional videos are shared to spread misinformation and create communal tension.
For example:
1. A "staged" video was shared with a false communal claim that Muslim men duped Hindu girls posing as Hindu boys. (Read Fact-Check)
2. A "scripted" video was shared with a baseless claim that a Muslim boy was captured stealing the bike of a young girl. (Read Fact-Check)
3. A "fictional" video was shared as a real incident of child kidnapping. In India, rumors of child kidnappings have already led to several deaths in mob lynchings. (Read Fact-Check)
4. A "made-up" video from the same Sanjjanaa Galrani page went viral as a real incident of a man being electrocuted while using mobile phone plugged for charging. (Read Fact-Check)
In the name of "social awareness" or "motivational" videos, these scripted videos are solely made to garner views and hits on social media.
Sometimes they are shared out of context and sometimes with outright false and dangerous communal claims. Therefore, users need to know the full context of these videos.
Conclusion-
Fact Crescendo found the claim made along with the viral video on social media to be False. The viral video is scripted and is not a real incident. The couple seen in the video can be seen has performed in several such videos.
(If you also have any suspicious messages, posts, photos, videos or news, send them to our WhatsApp Fact line Number (9049053770) for Fact Check. Follow Fact Crescendo on Facebook, Instagram and Twitter to read the latest Fact Check.)

Title:Media Misreports Scripted Video of Groom Asking Dowry as Real Incident.
Fact Check By: Aavya Ray
Result: False