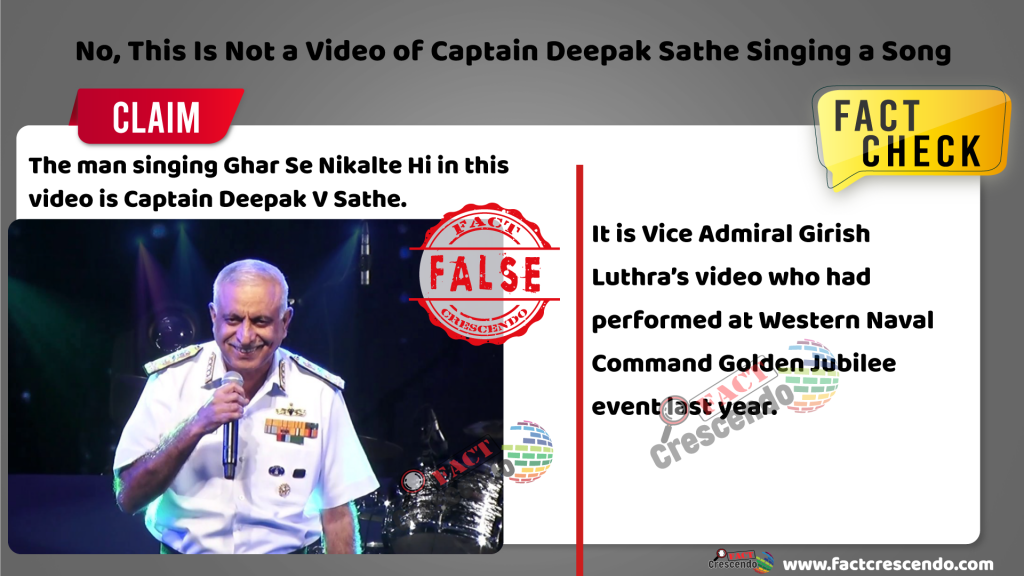 A viral video supposedly of Captain Deepak Sathe singing a popular Hindi song went viral on social media. Many users are sharing this video as a tribute to Captain Sathe who died while piloting an Air India flight from Dubai to Kozhikode that crashed during landing at Kozhikode airport.
Fact Crescendo found that the man seen in the video is not Captain Sathe. He is, in fact, Vice Admiral Girish Luthra.
What's the claim?
A Four-minute long video of a uniformed man singing 'Ghar Se Nikalte Hi' is being shared with the claim that reads: beautifully sung song clip by captain Dipak Sathe, who died in air crash in Kerala yesterday night while on Vande Martaram Mission.
Another user shared the same video saying "Song by Captain Vikram Sathe who had passed away in yesterday Air India airplane crash at CALICUT."
Such posts are making rounds on Facebook as well.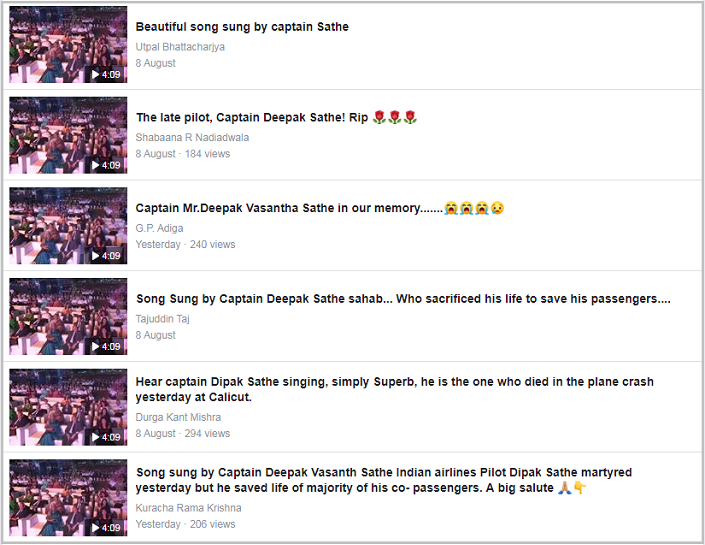 FACT CHECK
Captain Sathe was a former wing commander who retired in 2003. Then he joined Air India as a commanding pilot. Interestingly, the man in the video has donned a Navy Uniform.
Taking note of it, we searched using keywords and performed a reverse image search of key-frames of the video obtained through InVid tool. The results, as suspected, were different from the claims.
The man singing in the video is retired Vice Admiral Girish Luthra. He had performed this song at Western Naval Command Golden Jubilee event last year. He had uploaded the full video, where you can see his name on the stage, on his YouTube channel.
Vice Admiral Girish Luthra is the former Flag Officer Commanding-in-Chief, Western Naval Command, Indian Navy. He was commissioned into the Indian Navy in July 1979. He was awarded the Param Vishisht Seva Medal in 2017 by the President of India. He retired in January 2019.
After his singing video caught the media attention, Mr. Luthra gave an interview to Quint in March 2019. He discussed his love for music, politics, and the culture of misinformation in it.
Who was Captain Sathe?
Captain Deepak V Sathe was a decorated former Indian Air Force pilot. He was an alumnus of the National Defence Academy (NDA). Sathe joined Air India after leaving the Air Force in 2003. He then shifted to Air India Express where he became a captain.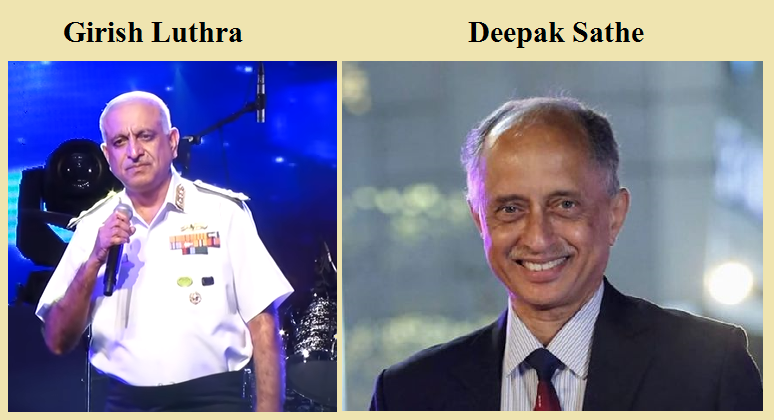 CONCLUSION
From the above evidence, we can conclude that the viral video is not of Captain Deepak V Sathe. The video is of Vice Admiral Girish Luthra.

Title:No, This Is Not a Video of Captain Deepak Sathe Singing a Song
Fact Check By: Mayur Deokar
Result: False