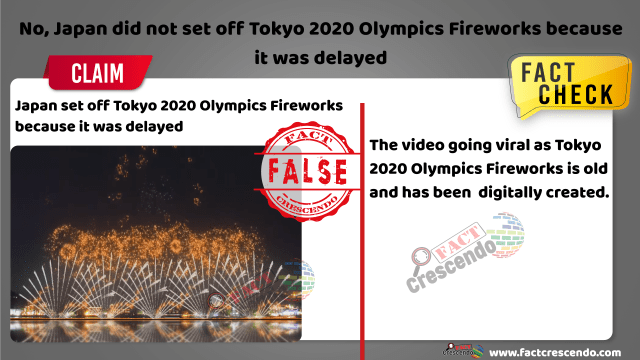 A stunning video of fireworks lighten up the sky against Mount Fuji is doing rounds on social media. Many people have been sharing it with the claim that it is a video of the Tokyo 2020 Olympics fireworks.
According to a viral message received via a request on Fact Crescendo's Chabot helpline (9049053770), "The Olympics cannot be opened because of the epidemic, but these fireworks cannot be stored until 2021, so the Olympic fireworks are displayed at this time."
Fact Crescendo found out that the claims are false and the viral video is actually an old video which is available on the internet since 2015.
WHAT'S THE CLAIM?
A twitter user shared the video with a caption that reads: Fireworks at Mt. Fuji in Japan. This display is prepared by Tokyo for the opening ceremony of the Olympic Games this year.
After the video went viral, Gulf News published a story on it saying: it would not have been safe to keep the explosives on the shelf until the Games eventually begin, so organizers in Tokyo decided to give residents and viewers around the world a treat and go ahead with the display anyway.

Original News – Gulf News | Archive | Twitter | Archive
The same video is being shared with similar claims on Facebook.
FACT-CHECK
When we searched for such an event, we did not find any credible news. The Gulf News report does not contain any date or official quote with specific's about the event. It is highly unlikely that such a fireworks display would take place without any major news media coverage.
Even the official Tokyo Olympics 2020 website or social media channels do not have any information or video of it.
So, what is the truth?
With a keyword search, we came across a 2015 video, which is identical to the viral video.
A YouTube user "hiramu55bocaboca" had uploaded this video on 1st December 2015. The title of it reads: FWsim Mount Fuji Synchronized Fireworks Show2
Interestingly, it is not a real fireworks display. "FWsim" in the title of video refers to a computer simulation programme. According to its official website, the programme can create firework displays with your favourite music and 3D worlds with realistic lighting.
Therefore, the video of fireworks is digitally created.
CONCLUSION
The video going viral as the Tokyo 2020 Olympics Fireworks is old and digitally created. It is being shared with a false claim. 

Title:No, Japan did not set off Tokyo 2020 Olympics Fireworks because it was delayed
Fact Check By: Mayur Deokar
Result: False