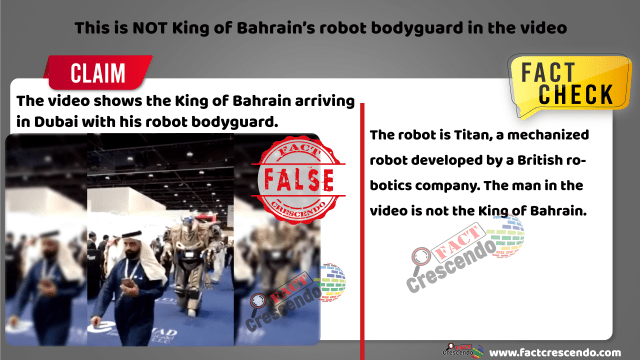 A video is being shared on social media with a claiming that the King of Bahrain arrived in Dubai with his robot bodyguard. Additionally, it is being said that the robot is fitted with 360 cameras and inbuild pistols. In the video one can see a man walking ahead of a huge robot who is being claimed to be the King of Bahrain followed by other people trying to capture images and videos of the robot.
the post claimed "King of Bahrain arrives in Dubai with his robot bodyguard fitted 360 with cameras and in-built pistols. Technology moving very fast than ever in history".
Fact Check-
We started our investigation by watching the video carefully ,when we noticed 'ETIMAD' written on the carpets. Taking a cue from the this, we ran a keyword search on YouTube which led us to the same video that was uploaded on YouTube dated February 24, 2019. The headline of the video mentions "8-ft Titan robot greets visitors at UAE defence show Idex in Abu Dhabi". We also found similar videos of the UAE defence show Idex where the robot named Titan can be seen.
Next, we used keywords on Google to search for related media reports which led us to a news report by Khaleej Times published on 19th February 2019. As per the report visitors of the International Defence Exhibition (Idex) in Dubai are amused by the robot greeter, Titan, that comes out at every hour to greet them and welcome them to the region's largest defence exhibition. Titan, a famous walkaround robot, is 8ft tall and weighs 60 kg. He is the world's first commercial entertainment robot artist and was developed by the British company Cyberstein. Titan the robot has before appeared at many events at many prestigious events in UAE including the Abu Dhabi F1 Grand Prix and the International Exhibition for National Security and Resilience in Abu Dhabi in 2018.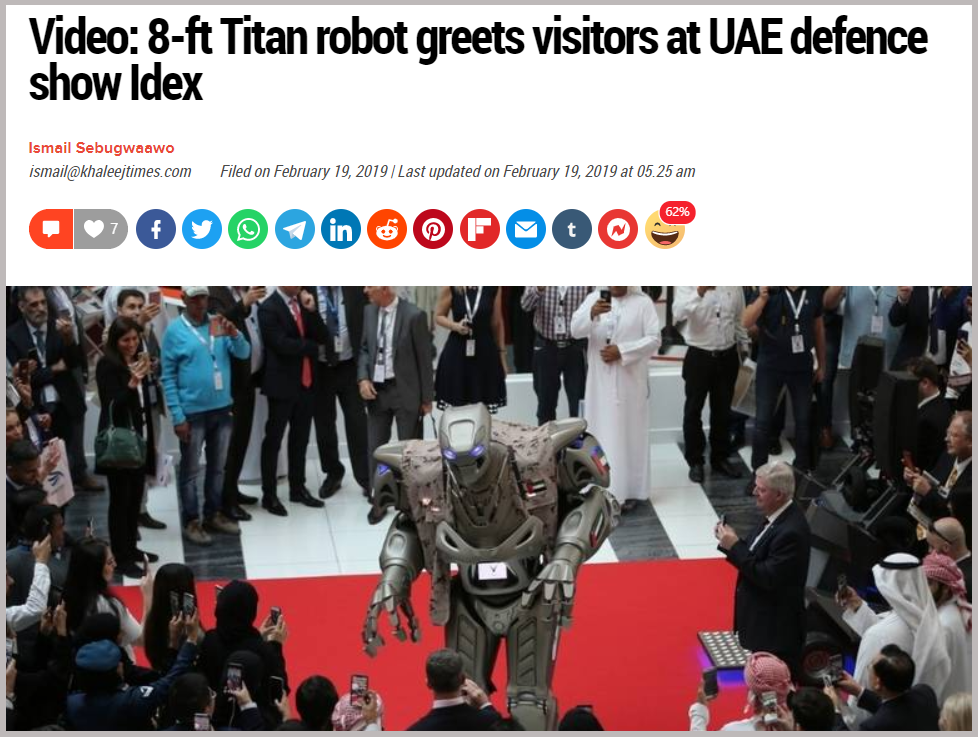 We also looked up the King of Bahrain, Hamad bin Isa Al Khalifa and found that he does not resemble the man in the video. Below you can see a comparison image of both.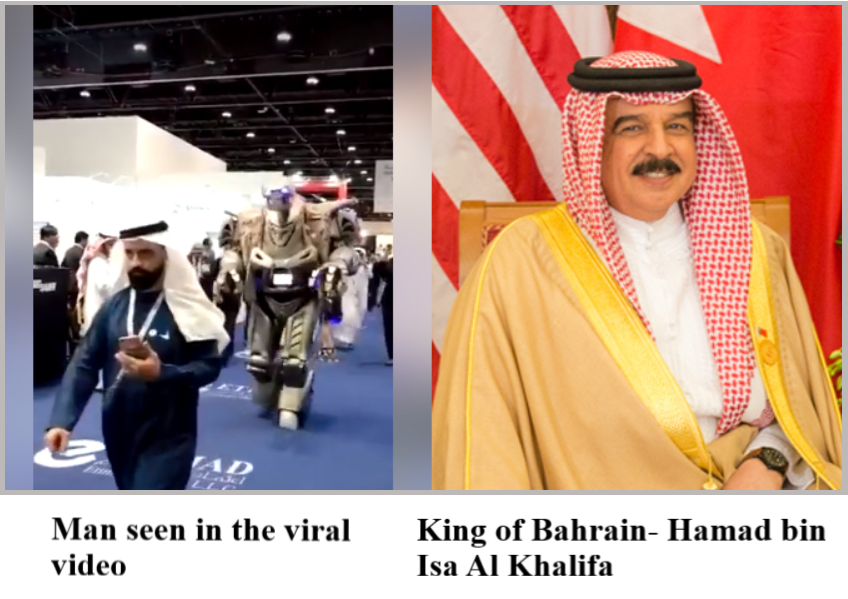 Conclusion- Fact Crescendo found the above mentioned post to be False. The video does not show the King of Bahrain walking with a robot. The robot is Titan, a mechanized robot developed by a British robotics company.

Title:This is NOT King of Bahrain's robot bodyguard in the video
Fact Check By: Aavya Ray
Result: False