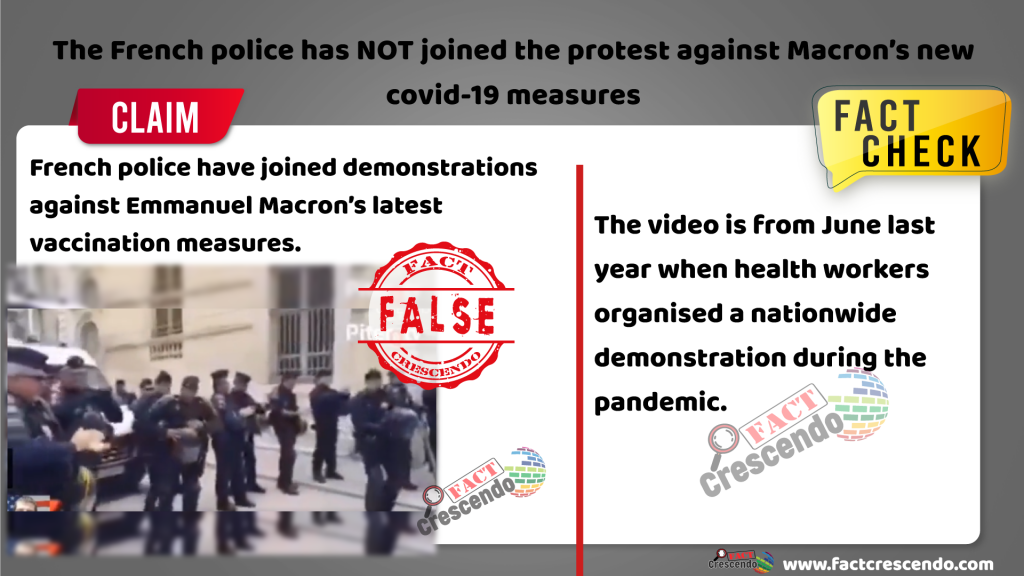 French President Emmanuel Macron's latest measures to push people to get vaccinated and to curb new Covid infections, announced recently, have generated an angry response from both the far-left and far-right groups in the EU country, with more than 1 lakh protesting nationwide on 17th July 2021. French President Emmanuel Macron has decided to make vaccination compulsory for health workers and health passes mandatory for access to restaurants and other public amenities.
Amidst this a video is going viral on social media showing policemen applauding the passing by demonstrators and putting their helmets on the ground as respect for their protests. The claim going viral along with this video is that the French policemen have also joined the ongoing protests and are showing support to the protesters.
The caption of the post mentions that "French police join protesters."
Fact Check-
We started our investigation by breaking the video with the help of InVid We Verify tool and ran a reverse image search on the same. The results led us to a YouTube video posted on 17 June 2020 by a verified French channel named RMC. This YouTube channel has over 2 million subscribers. The video description in French translates to, "Police put their helmets on the ground and applauded caregivers in Nîmes during the demonstrations"
We also came across the same video posted by a user on Twitter on 16th June 2020 which mentioned that "To those who want to oppose us, you will not succeed."
Taking a cue from this, we ran a keyword search on Google and found a French news article from 2020. According to this report, during nationwide demonstrations by health workers in the middle of the pandemic last year, a different moment was witnessed in Nimes where cops applauded them by putting their helmets on the ground. The report mentioned "The demonstrations of caregivers, which took place everywhere in France on 16 June 2020, also saw beautiful moments. In Nîmes and Lille, the police who supervised the mobilization and the demonstrators of the medical profession thus applauded each other. Images that are balm in the heart after the clashes that have punctuated the Parisian procession, and in particular the videos of the violent arrest of a nurse in Paris."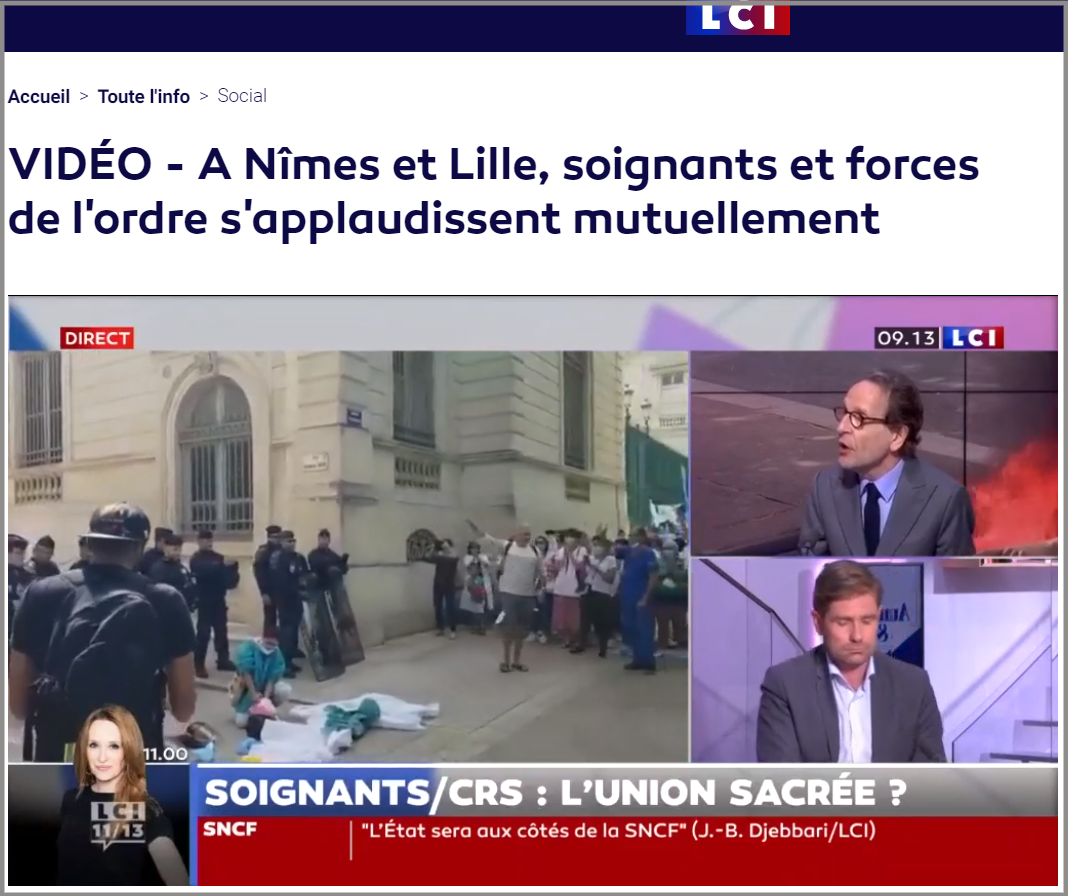 We further ran another keyword search to find relevant news reports showing the policemen in France joining the protest against the new measures taken to curb the covid-19 virus but we could not find anything. However, we found reports that showed that the French police is using force on the protestors to control them.

Conclusion- Fact Crescendo found the above-mentioned video to be False. French police have not joined the ongoing protests. The viral video is from June last year when health workers organised nationwide demonstrations during the pandemic. In Nimes, cops put down their helmets and applauded health workers.
Title:The French police has NOT joined the protest against Macron's new covid-19 measures
Fact Check By: Aavya Ray
Result: False