The creators of the video confirmed to us that the video is not a real incident. They confirmed to us that they created the stage as well.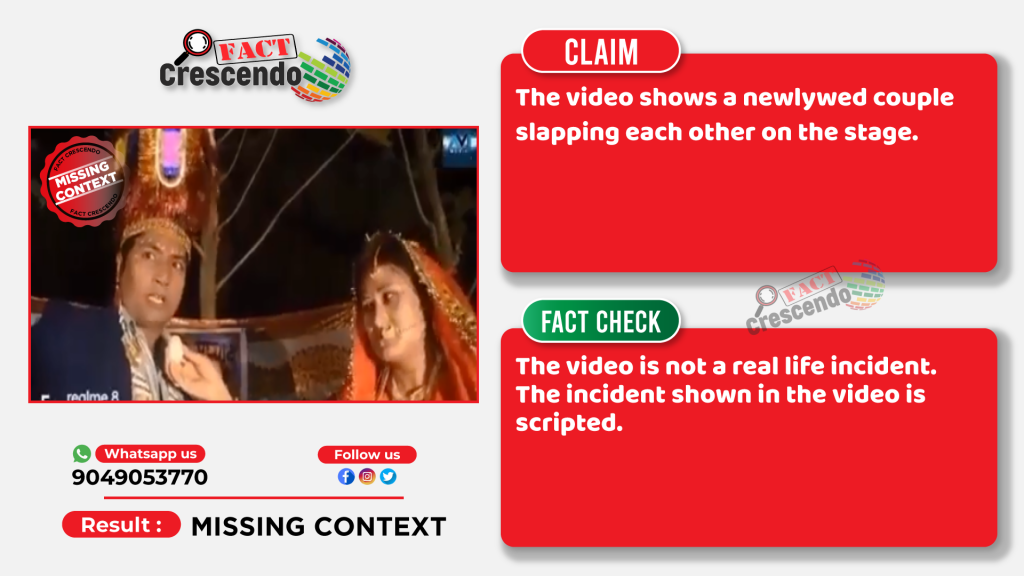 A video showing a newlywed couple fighting each other on stage is widely circulating on social media as a real life incident. Users are sharing this video as a real incident showing a wife slapping her husband who is busy clicking pictures instead of eating the food she offered to him.
Users are sharing this video as a funny but real incident with sarcastic captions as shown below:
(Hindi: देख लो फोटोशूट का ढेर शौक रखने वाले कैसे कैसे लोग भरे पड़े हैं, शादी का सिजन चल रहा है थोडा ध्यान से|)
Fact Check-
We started our investigation by running a reverse image search and a keyword search on Google, which led us to the longer version of the video posted by a YouTube channel named "AVI MUSIC" on 5 April 2022. The caption of the post states that it shows a husband and wife fighting in a Swayamvar. The video also mentions that it shows Maithili comedy. The video is shared with tags such as #maithilicomedy #ishikacomedy #laduwacomedy.
According to the description of the video, it shows a scripted video that has been directed by Arun Vijaiya. The name of the actors are Ishika , Abhinash Jha, Gajendra Gajju , Piphi and Lovely. Thus, the video is a scripted shoot.
We found that the channel AVI Music is associated with another channel named Maithili Comedy. Fact Crescendo contacted a technician named Sanjay Bhujel from the channel Maithili Comedy via email. He confirmed to us that the viral video is not a real incident. It is a scripted video. It is a part of a comedy video and there are several such videos. We created the set and shot the video one month ago. The name of the actor is Ishika Bhujel and Abhinash Jha. Both of them are from Janakpur in Nepal.
WHY DO YOU NEED MORE CONTEXT?
Users may wonder that staged or not, the video intends to spread awareness about someone's habit of clicking photos during important events that could be rude towards others.
However, Fact Crescendo has debunked several such staged and scripted videos, which were viral with communal claims.
Many times these fictional videos are shared to spread misinformation and create communal tension.
For example:
1. A "staged" video was shared with a false communal claim that Muslim men duped Hindu girls posing as Hindu boys. (Read Fact-Check)
2. A "scripted" video was shared with a baseless claim that a Muslim boy was captured stealing the bike of a young girl. (Read Fact-Check)
3. A "fictional" video was shared as a real incident of child kidnapping. In India, rumors of child kidnappings have already led to several deaths in mob lynchings. (Read Fact-Check)
4. A "made-up" video from the same Sanjjanaa Galrani page went viral as a real incident of a man being electrocuted while using mobile phone plugged for charging. (Read Fact-Check)
5. A scripted video went viral as a real incident of a dowry case where the groom refused to marry the bride because of less dowry. Times of India falsely reported this video as well. (Read Fact-Check)
6. A scripted video went viral as a real incident showing a Muslim tailor harassing a Hindu woman. (Read Fact-Check)
In the name of "social awareness" or "motivational" or "Comedy" videos, these scripted videos are solely made to garner views and hits on social media.
Sometimes they are shared out of context and sometimes with outright false and dangerous communal claims. Therefore, users need to know the full context of these videos.
Conclusion-
Fact Crescendo found the claim made along with the viral video to be missing context. The video does not show a real life incident showing a bride beating her groom. The video created for hilarious purposes is not of a real incident.
Title:Video showing a newlywed couple slapping each other is scripted.
Fact Check By: Drabanti Ghosh
Result: Missing Context