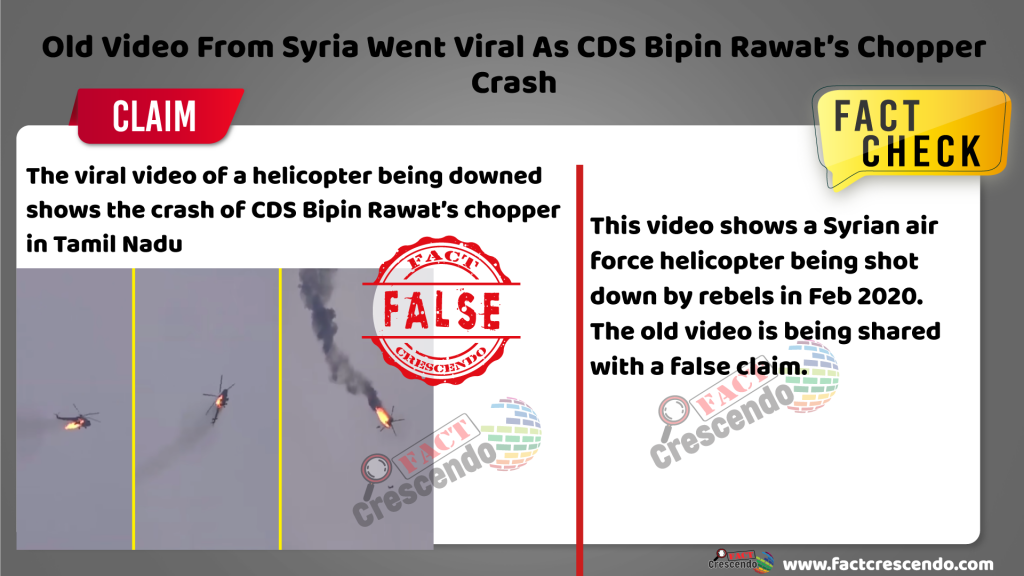 India's first Chief of Defence Staff General Bipin Rawat died today after a military chopper crashed in Tamil Nadu. Indian Air Force has tweeted that his wife Madhulika Rawat and 11 other persons on board have also died in the accident.
As this news broke today, several old videos and images re-surfaced on the internet claiming to be of Rawat's chopper crash.
In one such video, a helicopter can be seen spiraling out of the sky with flames trailing behind before it crashed. Users are sharing this clip assuming it to be of Gen. Rawat's chopper accident.
Fact Crescendo found that the viral video is from Syria. It has been shared with a false claim.
WHAT'S THE CLAIM?
A 1.20 min video clip viral on Facebook shows a helicopter caught on fire being downed. The users wrote in the caption – "Bipin Rawat Helicopter Crashed In Tamil Nadu Video"
Original Post – Facebook
An Israeli user Hananya Naftali with more than one lakh followers on Twitter and almost one million followers on Facebook also shared the same video. He wrote – "The tragic moment of the Indian military helicopter crash in Tamil Nadu."
FACT CHECK
We performed a Google reverse image search upon the key-frames of the viral video. It led us to a fact that this video first appeared on the internet last year.
The Telegraph newspaper has uploaded this video on YouTube on 11 February 2020. They reported that the video shows a Syrian air force helicopter being downed by rebels in the area of Nairab in eastern Idlib.
---
ALSO READ: Old Photo From Colombia Shared As Remains Of The Crashed Chopper Carrying CDS General Bipin Rawat
---
Associated Press reported at the time that rebels had shot down a Syrian military helicopter in northern Syria, killing its crew members. The Syrian helicopter gunship was shot down by insurgents amid fighting near the village of Nairab.
Turkey's official Anadolu news agency reported that the pilot and two others aboard were killed, while opposition activists reported that only two crew members were on board, says the AP report.
You can watch the full-length video on AP Archive's YouTube Channel.
---
ALSO READ: Two-Year-Old Image Of Helicopter Crash Passed Off As CDS Bipin Rawat's Chopper
---
CONCLUSION
Hence, the old video of a Syrian air force helicopter being shot down has falsely been shared as the last moment of Gen Bipin Rawat's chopper crash in Tamil Nadu.
We urge our readers to refrain from sharing unverified images or videos of this accident.
Title:Old Video From Syria Went Viral As CDS Bipin Rawat's Chopper Crash
Fact Check By: Mayur Deokar
Result: False