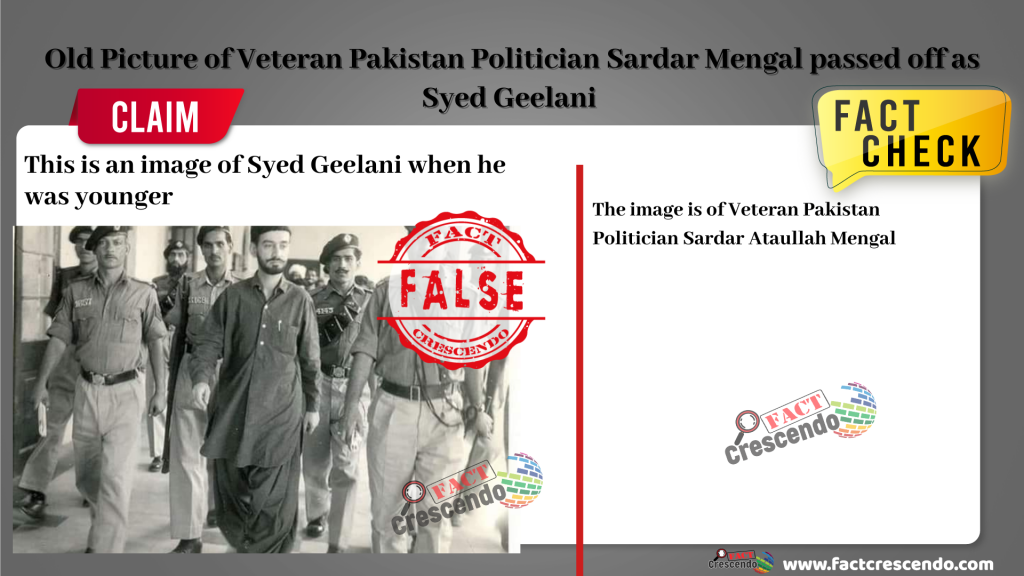 A picture of a Young Man being escorted by Police Officers is going viral on Facebook with Captions like stating that it is an image of late separatist leader from Kashmir, Syed Ali Shah Geelani when he was young. Multiple profiles and pages have been posting the same image and the posts have gone viral.
Some examples of posts sharing this viral image claiming it to be of Syed Ali Shah Geelani can be found below: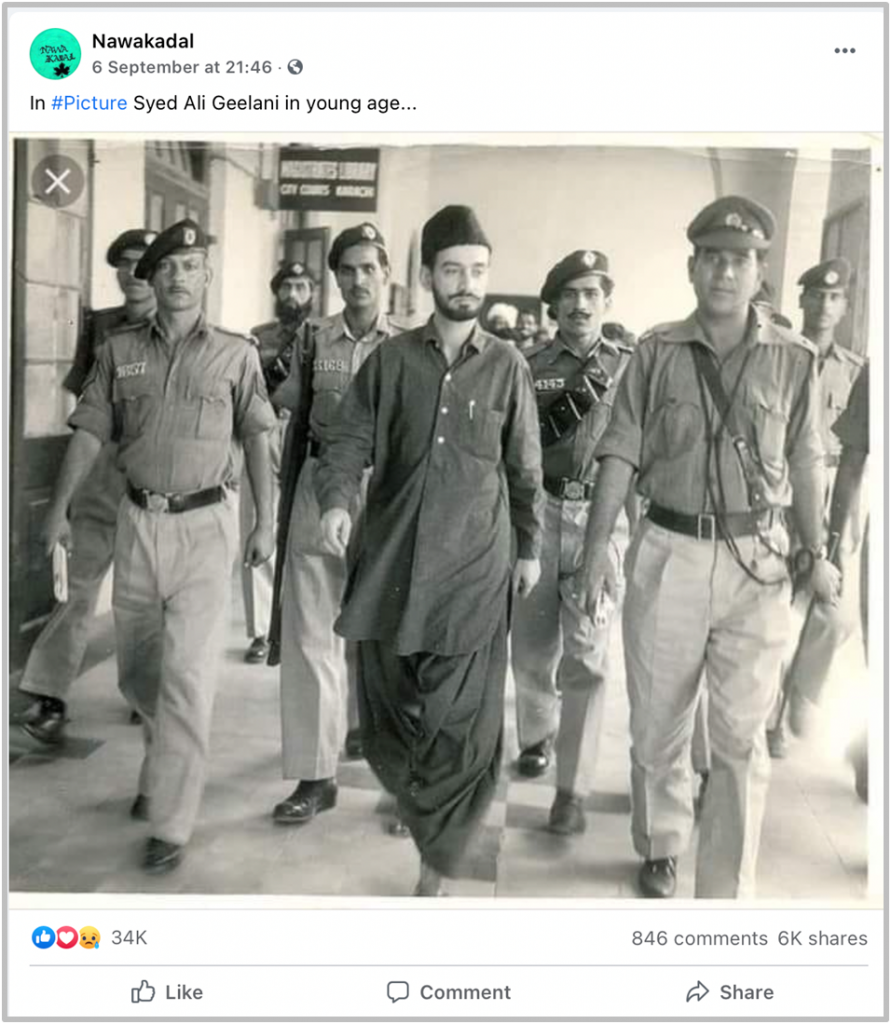 However, Fact Crescendo found that the picture is not of Syed Gilani but is of Sardar Attaullah Mengal, a veteran politician from Balochistan, who passed away recently, at the age of 93. Here are the details…
Fact Check Methodology
At first we ran a Yandex reverse image and found that this image was posted on Flickr, an online photo management and sharing application on September 14, 2009 by user Zoraak Zagr, with the caption "Sardar Ataullah Mengal being Taken Away from A Hearing in Karachi."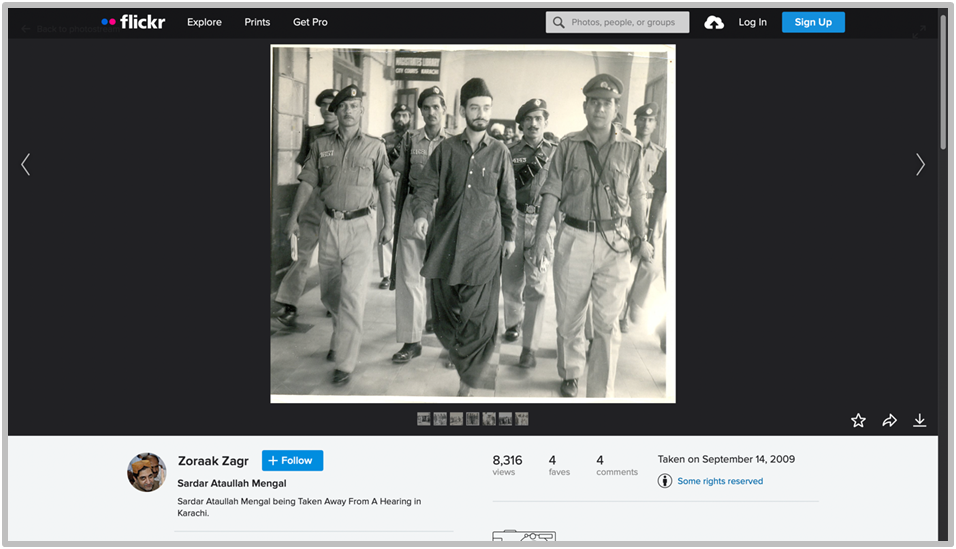 We looked around and saw that the same user had uploaded another photo from the young days of the Pakistani Politician and there is a striking resemblance between person in the two images. The second image was uploaded on September 14, 2009 with the caption "Mir Gul Khan Nasir (Standing:Left) and Sardar Ataullah Mengal (Sitting)".
We also saw a picture on Wikipedia, captioned "Mir Gul Khan Nasir (left), Ataullah Mengal and Mir Ghaus Bakhsh Bizenjo in Mach jail," where the resemblance is clearly visible.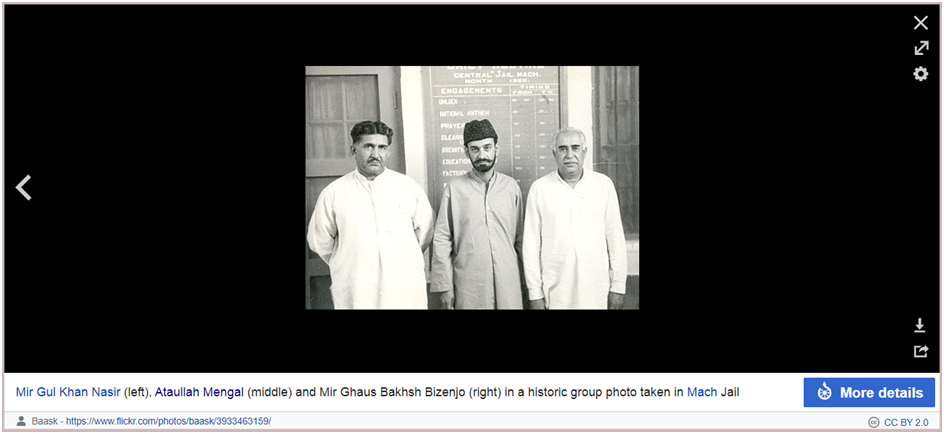 Who is Sardar Ataullah Mengal?
Sardar Ataullah Mengal was born in 1929 in Lasbela. After spending his childhood there, he moved to Karachi. In 1954, he was declared the chief (sardar) of the Mengal tribe. Mengal was also the first Chief Minister of Balochistan during Zulfikar Ali Bhutto's premiership from May 1972 to February 1973. His government was dismissed by Z.A. Bhutto's federal government and Sardar Mengal was arrested. He was released in 1977 by General Muhammad Zia-ul-Haq when he chose self-exile to London. He returned to Pakistan in 1996 and formed the Balochistan National Party. He was considered for the position of President of Pakistan by the coalition that formed the government in Pakistan after General Pervez Musharraf resigned in 2009.
He passed away on September 2, 2021 in Karachi, Pakistan.
Who is Syed Ali Shah Geelani?
Syed Ali Shah Geelani Syed Ali Shah Geelani was a Pro-Pakistan separatist leader from Kashmir. Before he founded his own party by the name of Tehreek-e-Hurriyat, he was a member of Jamaat-e-Islami Kashmir. He has served as the chairman of All Parties Hurriyat Conference, a conglomerate of separatist parties in Jammu and Kashmir. He was elected MLA from the Sopore constituency of Jammu and Kashmir thrice.
He passed away on September 1, 2021, at his Hyderpora residence after prolonged illness. He was 92.
Conclusion
From the evidences, it is clear that the young man being led away by Police Officers in the picture is actually a politician from Pakistan, Sardar Ataullah Mengal and not Hurriyat Leader Syed Ali Shah Geelani.
Title:Old Picture of Veteran Pakistan Politician Sardar Mengal passed off as Syed Geelani
Fact Check By: Manjori Borkotoky
Result: False