The viral video is old and dates back to 2018 and it is not from India. The video is from Colombia showing indigenous people clashing with the army officials.
On 4th December, 14 civilians were shot dead security forced in Mon, which is a district in Nagaland. The security forces opened fired on a group of labourers mistaking them for insurgents. The government has promised a high-level probe in this matter. This incident has given rise to tensions in Nagaland, prompting the government has appealed to maintain peace in the state.
Amidst this, a video showing military officials confronting a group of villagers is circulating on social media claiming to show the recent killings of the civilians in Nagaland. Users claim that the video shows Nagaland firing that took place in Oting village. They further claim that the security forces fired on the civilians because the civilians attacked them. Video claims to show the real incident.
The caption of the video mentions, "REMEMBER INDIA !! Soldiers don't fire unless attacked upon, even then they warn first See this video, you will know #NagalandFiring." (sic)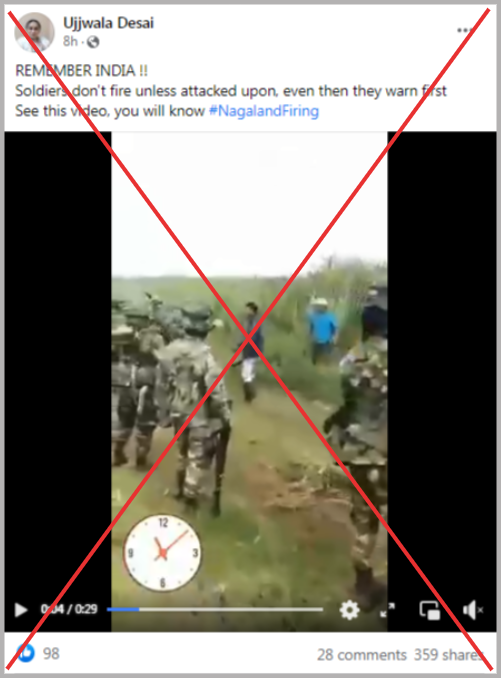 Fact Check-
We started our investigation by breaking the video into small key frames with the help of InVid We Verify tool and ran a reverse image search on the same whose results led us to the same video published on Youtube in 2018. The caption the YouTube video mentions that Colombian army officers were attacked by indigenous villagers.
Taking a cue from the above video, we ran a keyword search on Youtube, which led us to a similar video published by the verified YouTube channel of Cable noticias on January 2018. According to the caption of the video, Confrontation between indigenous and military in Corinto, Cauca" Cauca is situated in Colombia.
We found a news report on this video published by a Colombian newspaper in El Tiempo in 2018. It stated that this video shows an incident that took place in Corinto, Colombia. The Colombian soldiers tried to arrest a group of locals, who had occupied a property illegally. We can see that one of the locals confronted the military officers by putting a knife to their neck, which prompted the other soldier to fire at the locals.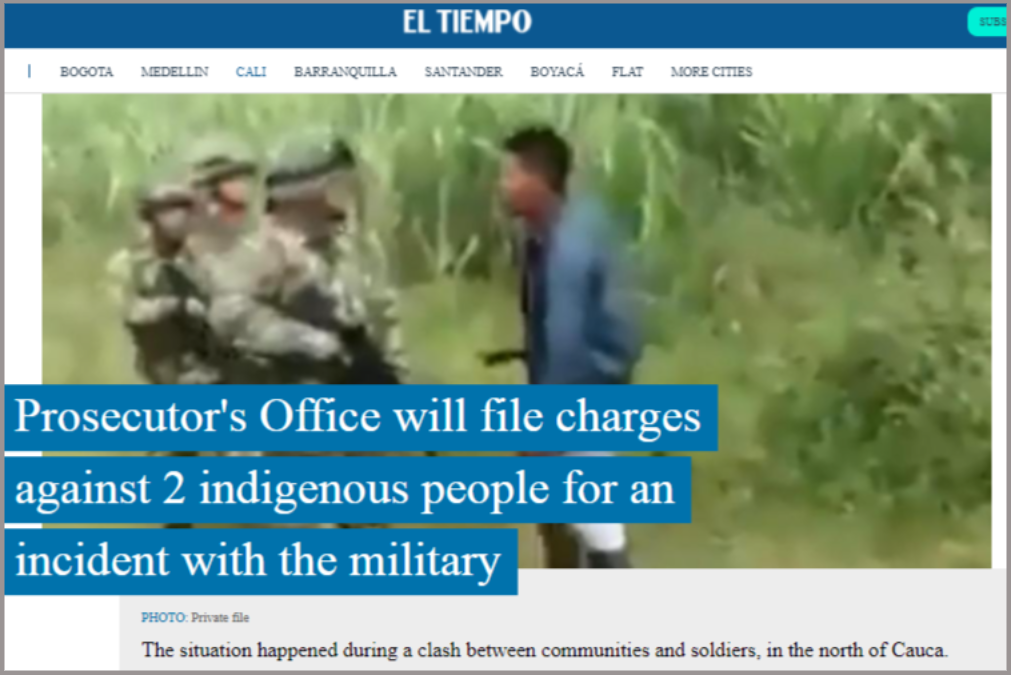 Another update on this report published by El Tiempo in July 2018 stated that the man who was seen threatening the soldier with a knife was sentenced to imprisonment by the court of Cauca in Colombia. Columbia based media outlet, Semana also reported this incident in January 2018.
Conclusion-
Fact Crescendo found the viral video on social media to be false. The viral video has no relation with the Nagaland firing. The video shows an incident that took place in Colombia in 2018. The viral video is old and unrelated to the recent killings in Nagaland.

(If you also have any suspicious messages, posts, photos, videos or news, send them to our WhatsApp Fact line Number (9049053770) for Fact Check. Follow Fact Crescendo on Facebook , Instagram and Twitter to read the latest Fact Check.)
Title:2018 video from Colombia viral as footage of the recent killings in Nagaland
Fact Check By: Aavya Ray
Result: False