Video has no relation with the helicopter crash of CDS General Rawat. The video shows a recent IAF helicopter crash in Arunachal Pradesh.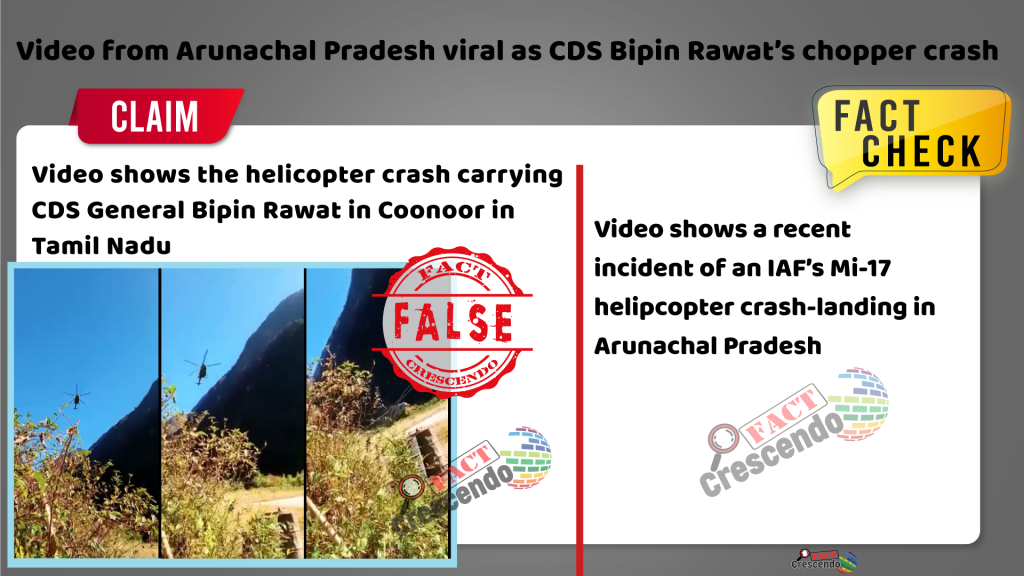 India's first Chief of Defence Staff General Bipin Rawat died on 8 December, after a military chopper carrying him crashed in Tamil Nadu. Indian Air Force has tweeted that his wife Madhulika Rawat and 11 other persons on board have also died in the accident.
As soon as the news broke on 8 December 2021, some social media users started sharing old and unrelated images and video as real footages of the incident.
A video is circulating on social media claiming to show the footage of the chopper crash that took place in Coonoor killing CDS General Bipin Rawat.
The video shows a helicopter trying to land on a field, crashes on the ground.
The caption of the viral video states that "Live Breaking News : IAF Helicopter Crash Live Updates: CDS Gen Bipin Rawat, his wife, 11 others killed in chopper crash in Tamil Nadu's Coonoor #Bipin_Rawat #BipinRawatHelicopterCrash."
---
ALSO READ: Old Video from Syria went viral as CDS Bipin Rawat's Chopper Crash
---
Fact Check
We started our investigation by breaking the video into small key frames with the help of InVid We Verify tool and ran a Google reverse image search on the same. The results led us to the same video published by the YouTube channel of Hindustan Times on 19 November 2021. According to the headline of the video, it shows IAF's Mi-17 chopper crash landing in Arunachal Pradesh.
According to the report, the Mi-17 chopper with two pilots and three crewmembers crash-landed in Arunachal Pradesh while the locals captured the moment. All the crewmembers on board were reported to be safe. The chopper was on maintenance sortie when it had to force-land in the Lohit sector. As per reports, the crash took place due to a technical snag.
---
ALSO READ: Old Photo from Colombia shared as remains of the crashed chopper Carrying CDS General Bipin Rawat
---
ANI and East Mojo reported the same video on 18 November 2021. They reported that the video shows an Indian Air Force Mi-17 helicopter crash landing near a helipad in eastern Arunachal Pradesh. The incident took place in Arunachal Pradesh's Anjaw district. The helicopter was doing ration sorties from Hayuliang to Roccham for the Indian Army.
Conclusion-
Fact Crescendo found the viral video on social media to be False. The video shows an IAF's Mi-17 helicopter crash landing near a helipad in Arunachal Pradesh in November 2021. The video has no relation with the helicopter crash leading to CDS General Bipin Rawat's death.

(If you also have any suspicious messages, posts, photos, videos or news, send them to our WhatsApp Fact line Number (9049053770) for Fact Check. Follow Fact Crescendo on Facebook , Instagram and Twitter to read the latest Fact Check.)
Title:Video from Arunachal Pradesh viral as CDS Bipin Rawat's chopper crash
Fact Check By: Aavya Ray
Result: False