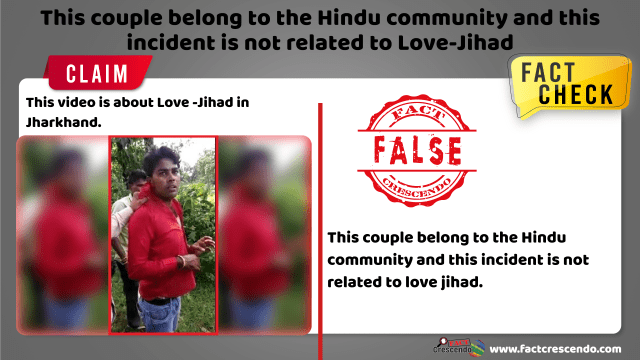 On 20th September 2019, a video was posted on Facebook by a user named 'Bhataia Ji'. In this video, the public is seen beating up a young man. In the description of this post, it is written, 'Nafis, a resident of Ramgarh, Jharkhand, took his Hindu girlfriend and attacked her with scissors; he was caught due the alertness of the people around him. How unfortunate that these Hindu girls are victimized by them. Be aware, not stupid. Through this post, it is being claimed that 'this video is related to Love Jihad in Jharkhand.'
For more information about this incident, as per the claim, we contacted Prabhat Kumar, SP of Ramgarh district in Jharkhand. He told us that, "The incident took place on September 15th near Patratu Valley. This area comes under the jurisdiction of Ranchi district, due to which report of this incident has been recorded in Pithoria Police Station. But this incident is not related to love-jihad at all. Both boy and girl belonged to the same religious community. The boy was is not Muslim. "
After this we spoke to SHO Inspector Vinod Ram of Pithoria Police Station, he told us that, "The boy's name is Arvind Kumar and the young lady seen in the video is his alleged girlfriend." Arvind is a resident of Chandwa village and came to Ranchi to meet his girlfriend. Both of them had come to visit Patratu Valley where they got into an argument as the boy suspected the girl of being infidel .In a fit of rage the boy attacked the girl with a knife. Hence, FIR (Prof. 108/19) of IPC sections 345 and 307 has been registered against the boy. The case against him is still in progress and he is presently in jail. The girl's injuries were treated and she was handed over to her family members. Both belong to the Hindu community. The boy is not from the Muslim community and this is not at all an incident of love-jihad.
After this, we searched for the keywords 'lover attacked with knife' on Google. In this context, we found some published News. To read these News articles, click on the link given below.
This research makes it clear that the video shared in the post has no relation with love-Jihad nor does the youth belong to the Muslim community. This incident occurred in Ranchi district on 15th September 2019. Both, the boy and the girl, belong to the Hindu community. This incident is being shared with the aim of misleading people by making a communal transformation.
Result of the investigation: The claim in the above post 'this video is about the story of love jihad in Jharkhand' is false.

Title:This couple belong to the Hindu community and this incident is not related to Love-Jihad
Fact Check By: Ruchika M
Result: False