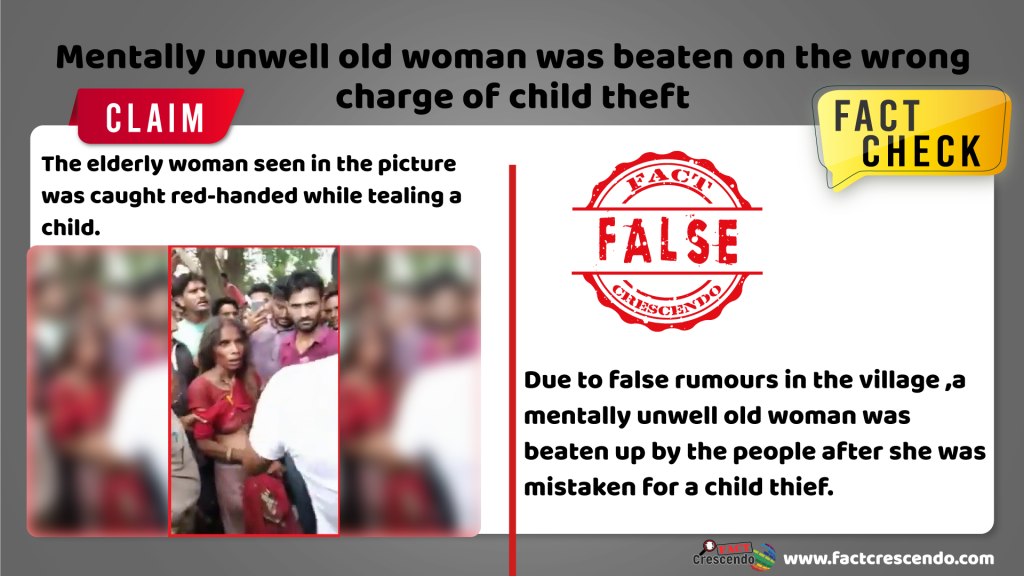 On 3rd September 2019, a Facebook user named "sachchaee vahee dikhao jo sach hai indiya" posted a video on Facebook. In this post, a video of an old woman is shown and it has been said that "a child thief has been caught in Siwan". In this post, it has been claimed that 'the old woman shown in the video was caught red handed by the people while stealing a child.' Is that really so? Let us investigate the claim made through this post.
These days, many claims on child theft are getting viral on social media. Very often in such cases, people become a victim of misunderstanding and rumours, we find that usually it is the elderly or mentally ill people that are either beaten or handed over to the police on suspicion of child theft. Recently many such claims were investigated and found to be incorrect by the Fact Crescendo team.
In order to proceed with our investigation we contacted SP Naveen Chandra Jha Siwan district on 12th September for more information about this post.
On seeing the video, he said, "This old woman was mentally unstable and was going on the road. A small child started walking with her, people suspected that this old woman could be a child thief." As people suspected this woman they beat her up striped her of her clothes and paraded her in the entire village.It was a shameful incident. We are taking action against the people associated with this incident. Not a single child thief has been found in this area. Due to misunderstanding's and rumours, there have been cases when few people were caught after they were mistaken for being child-thieves. This is a rumour and I request all of you to not believe in such rumours. "
Apart from this, we found a News article published on this case on 30th August 2019 by SanmarglivePost. According to this news, in Harpalpur village under Siwan's MH Nagar police station, a sensational case has been reported where an old woman was beaten up by the villagers. Her clothes were taken off and she was paraded in the entire village. Along with this, a video similar to the above claim is also broadcasted in the above news.
SanmarglivePost | ArchivedLink
It is clear from this research that the woman shown in the post is mentally unwell. The villagers spread this rumour by making false allegations. Further, we were informed that the woman has now been admitted to a hospital in Bihar for further psychiatric treatment and care.
Result of the investigation: The claim made in the above post, 'Old lady is seen in the picture was caught red-handed while stealing a child' is wrong.

Title:Mentally unwell old woman was beaten on the wrong charge of child theft
Fact Check By: Ruchika M
Result: False