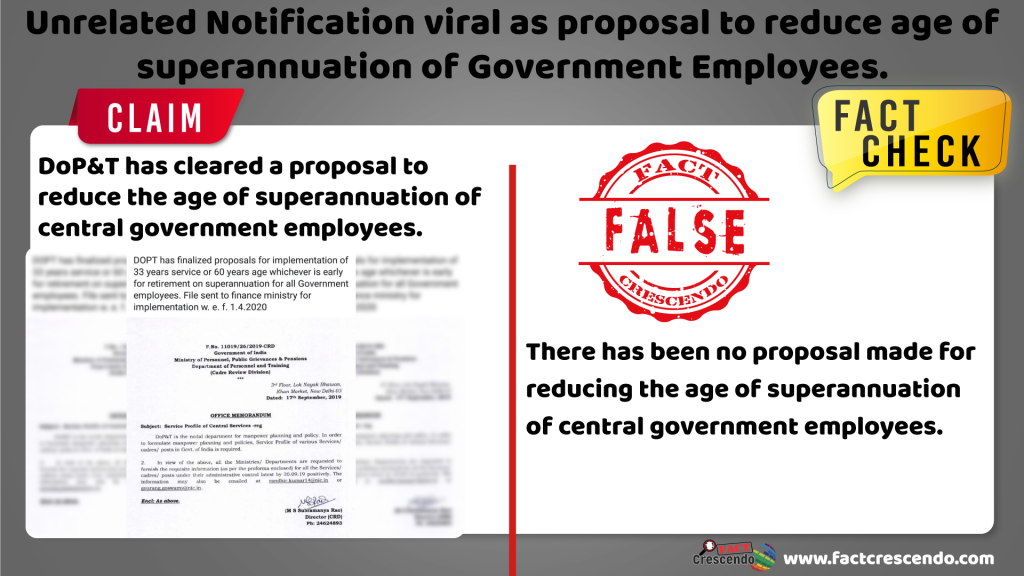 We received a fact check request on Fact Crescendo's WhatsApp Number-9049053770 to verify the authenticity of a viral notification. In this message, we can see a notification issued by the Government of India. Now, this Notification is being shared on social media with the written message that says, "DoP&T has finalized proposals for implementation of 33 years of service or 60 years age whichever is early for retirement on superannuation for all Government employees. File sent to finance ministry for implementation w. e. f, 1.4.2020"
The Notification Attached with this viral message is an office memorandum, which was issued on 17th September 2019 by Ministry of Personnel, Public Grievances and Pensions. The subject of this memorandum states service profile of central services- reg.
This message have been circulating on social media claiming that the department of personnel and training has cleared a proposal under which government employees will retire at the age of 60 or after 33 years of service, whichever is earlier. In other words, this message is about a proposal to reduce the age of superannuation of Central government employees with effect from April 1, 2020.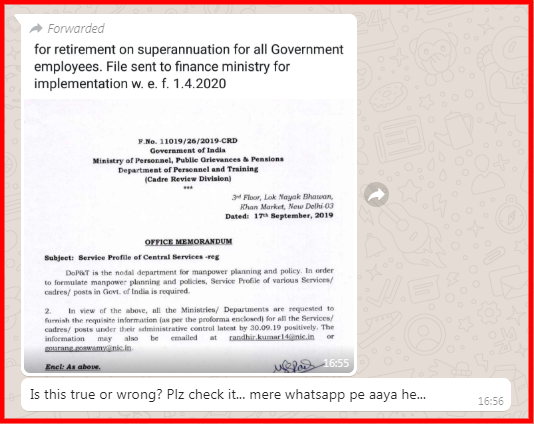 Fact Check-
We started our Investigation by using "19 September 2019 office memorandum pdf" these keywords in Google search to verify the authenticity of the viral Notification. We found that this Notification is available on the DoPT.gov website. According to the Memorandum DoP&T is the nodal department for manpower planning and policy. In order to formulate manpower planning and policies, service profile of various services/ cadres/ posts in Govt. of India is required. Thus, the ministries/ departments are requested to furnish the requisite information latest by 30.09.19 positively.
Thus, we can say that the memorandum has no connection with the viral message on social media.
Service-Profile-of-Central-Services-reg

Next, with a simple Google search we tried finding news related to the reduction of superannuation age of central Government employees, the results led us to the news published by ANI on 24 September 2019. It stated the Department of Personnel and Training (DoPT) has clarified that the rumours circulating over social media about a proposal for reducing the age of superannuation of central government employees are baseless.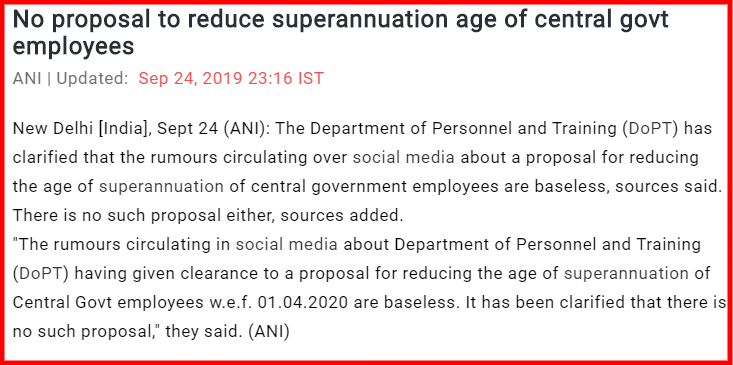 The TOI also published a news on this proposal on 24 September 2019 stating that "A senior government functionary said that the rumours had mysteriously surfaced on social media, even though there was no thinking whatsoever within the government on these lines. Not a single paper has been moved or a word uttered in this regard. The existing CCS (Pension) Rules provide for review of service of a central government employee after 30 years of service or at 50/55 years, followed by compulsory retirement of under-performing or "deadwood" officers. There is no need for any further change."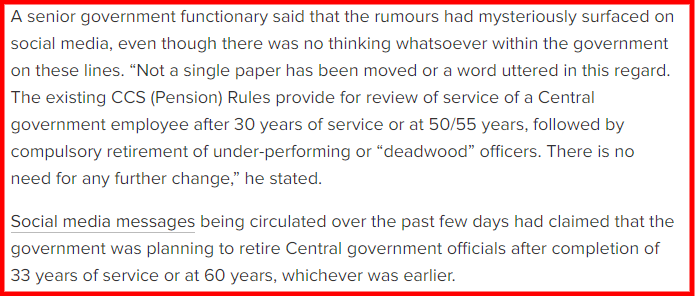 The headlines of Hindustan Times on this matter were "Centre denies plan to reduce retirement age of its employees."
Conclusion- Upon our Fact Check we found the above post to be False. The notification has no connection with the viral message. There has been no proposal made for reducing the age of superannuation of central government employees.

Title:Unrelated Notification viral as proposal to reduce age of superannuation of Government Employees.
Fact Check By: Aavya Ray
Result: False