The image was captured at a wedding reception where Mohan Bhagwat was sitting along with Samajwadi Party leader Mulayam Singh Yadav.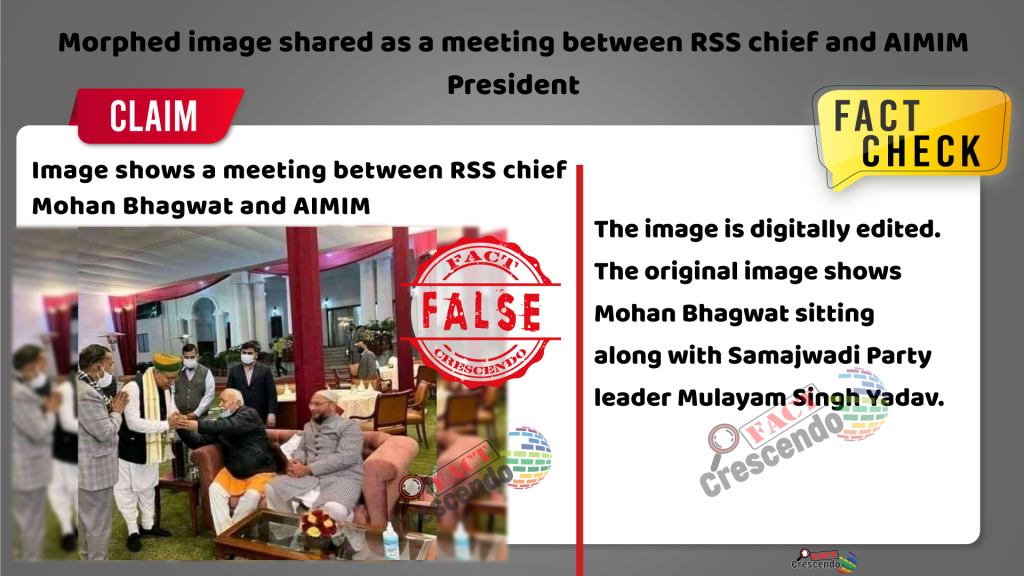 An image showing of AIMIM party President Asaduddin Owaisi meeting with RSS chief Mohan Bhagwat at an event is widely circulating on social media.
Users are claiming that the image shows a recent meeting that took place between the RSS chief and AIMIM President.
Fact Crescendo received many fact-check requests about this image on its WhatsApp FactLine (9049053770).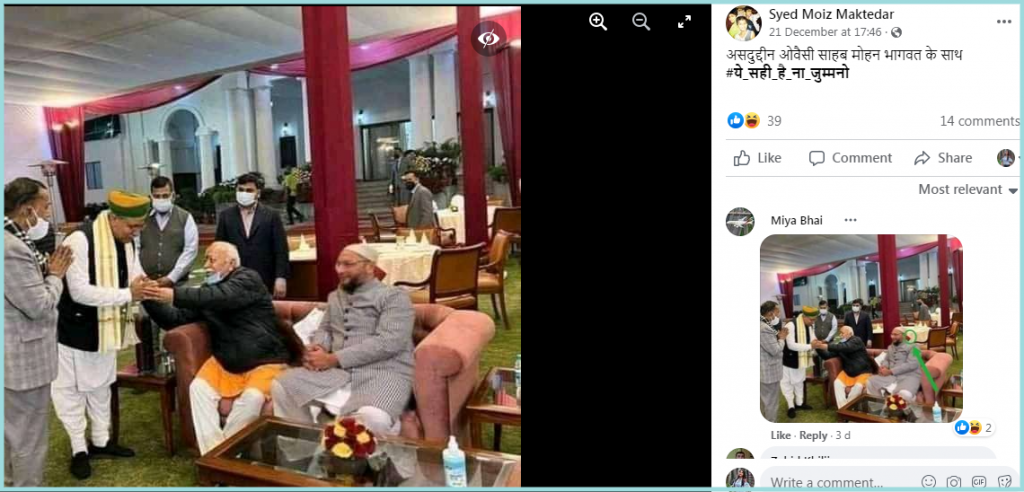 Fact Check-
A Google reverse image search led us to a news report published by the Times of India on 22 December. The image shared along with the report does not show Asaduddin Owaisi sitting beside Mohan Bhagwat.
Instead, we can see that Samajwadi Party leader Mulayam Singh Yadav sitting with the RSS chief.
The image was captured when the Union Minister of State Arjun Ram Meghwal greeted RSS chief and MP Mulayam Singh Yadav at the wedding reception of Vice-President M Venkaiah Naidu's granddaughter.
The caption of the image states, "Union MoS for Parliamentary Affairs Arjun Ram Meghwal greets SS chief Mohan Bhagwat as MP Mulayam Singh Yadav looks on, during Vice-President M Venkaiah Naidu's granddaughter's reception in New Delhi."
This makes it very clear that the viral image is digitally edited.
This image was also shared by several other media organizations here and here.
The Union Minister of State, Arjun Ram Meghwal also posted the original image on his Twitter account on 20 December.
Below you can view the comparison image between the original and the morphed image.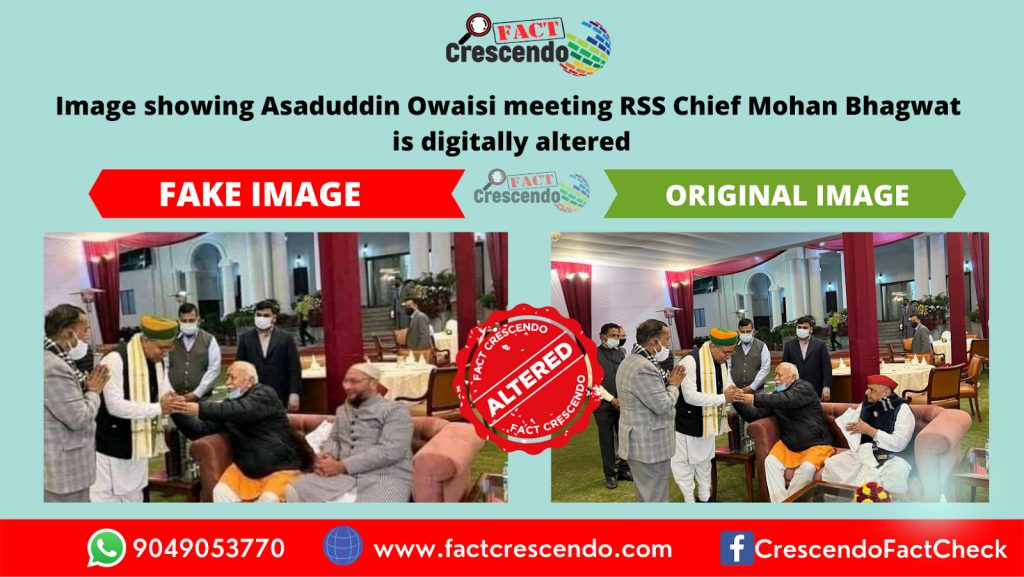 Conclusion-
Fact Crescendo found the viral image on social media to be digitally altered.
The original image was of Mohan Bhagwat and Samajwadi party leader Mulayam Singh Yadav sitting at a wedding reception in New Delhi.
Asaduddin Owaisi's face is digitally added to the image in place of Mulayam Singh Yadav's.
(If you have any suspicious messages, posts, photos, videos or news, send them to our WhatsApp Fact line Number (9049053770) for Fact Check. Follow Fact Crescendo on Facebook, Instagram and Twitter to read the latest Fact Check.)
Title:Morphed image shared as a meeting between RSS chief and AIMIM President
Fact Check By: Aavya Ray
Result: Altered