IAS Aarti Dogra confirmed to Fact Crescendo that the woman in the image is not her.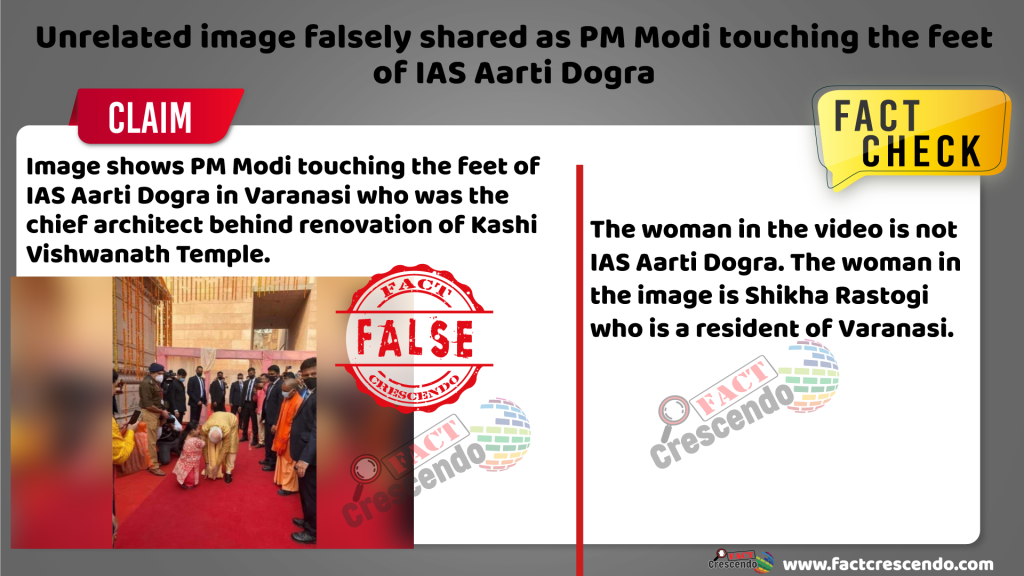 Recently, Prime Minister Narendra Modi inaugurated the Kashi Vishwanath Dham in Banaras . In this ceremony, he touched the feet of a woman. An image showing this incident is circulating on social media claiming that this picture shows Prime Minister Narendra Modi touched the feet of IAS Aarti Dogra. The image shows PM Modi touching the feet of a woman suffering from dwarfism. The post also states that IAS Aarti Dogra was the chief architect behind renovation of Kashi Vishwanath Temple.
Fact Crescendo received many fact-check requests about this image on our WhatsApp FactLine (9049053770).
Post Description:
The caption of the post mentions, "Aarati Dogra, IAS Officer who was the chief architect behind renovation of Kashi Vishwanath Temple. She is rather too short (just Three Feet and 6 inches) but obtained 56th rank in the UPSC exam in *her very first attempt; she is the daughter of an Army Officer. Modiji Prime Minister of India worshiping on her feet praising her yeoman services in accomplishing this grand memorable achievement."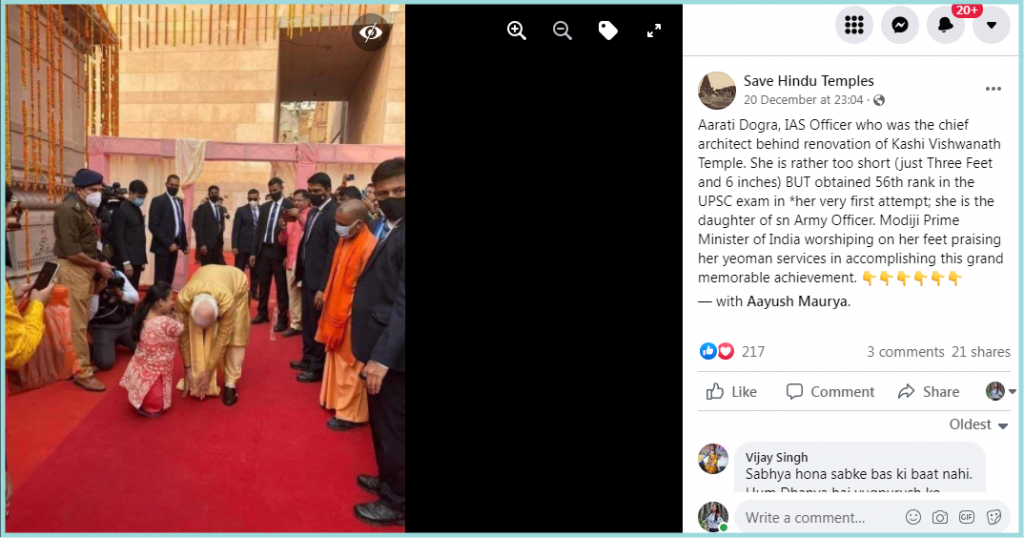 This image is widely circulating on Facebook.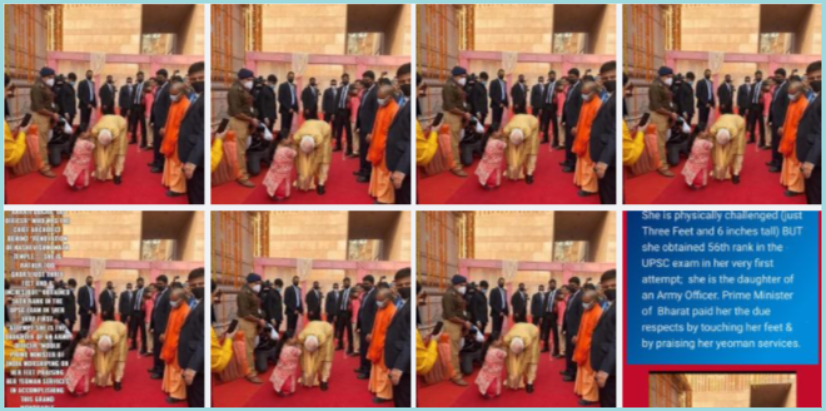 Fact Check-
We started our investigation by running a keyword search on Google, from the results we found the same image published by Amar Ujala on 16 December. According to the report, Prime Minister Modi met a handicapped woman at the Kashi Vishwanath Dham inauguration ceremony. She was trying to touch his feet but the Prime Minister stopped her and touched her feet himself. The name of this woman is Shikha Rastogi.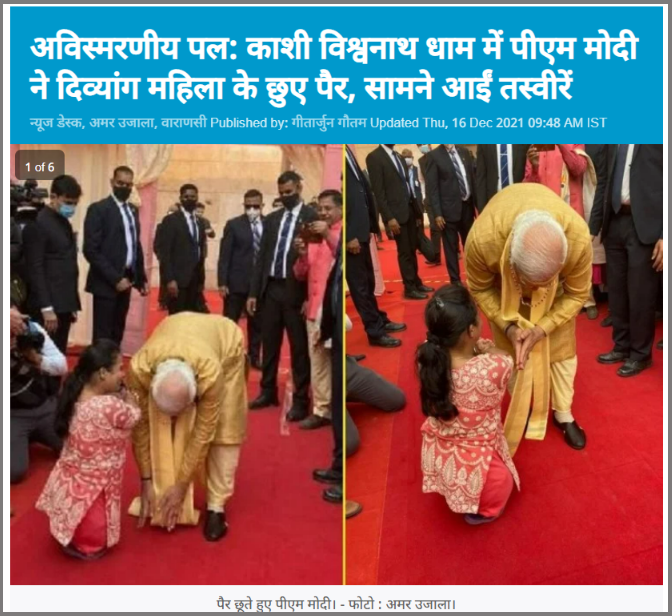 Let us tell you that Shikha Rastogi is a resident of Sigra area of ​​Varanasi. She does sewing, weaving work at home and also runs a dance class. Video news about this incident is also available on Zee Bihar Jharkhand 's YouTube channel.
Fact Crescendo then spoke to Rajasthan cadre IAS officer Aarti Dogra . She told us that, "The claim that is going viral is false. I am not the woman whose feet Prime Minister Narendra Modi is touching. I am working in Rajasthan and have not travelled to Varanasi recently."
Aarti Dogra cleared UPSC exam in her first attempt in 2006.
Conclusion-
Fact Crescendo found the viral image on social media to be False. PM Modi is not touching the feet of IAS Aarti Dogra. The woman whose feet PM Modi is touching is Shikha Rastogi who is a resident of Varanasi.
(If you also have any suspicious messages, posts, photos, videos or news, send them to our WhatsApp Fact line Number (9049053770) for Fact Check. Follow Fact Crescendo on Facebook, Instagram and Twitter to read the latest Fact Check.)
Title:Unrelated image falsely shared as PM Modi touching the feet of IAS Aarti Dogra
Fact Check By: Aavya Ray
Result: False