Jaideep Bhatnagar, principal spokesperson of PIB confirmed to Fact Crescendo that the viral image is Fake. The government has not made any announcement on the nationwide lockdown.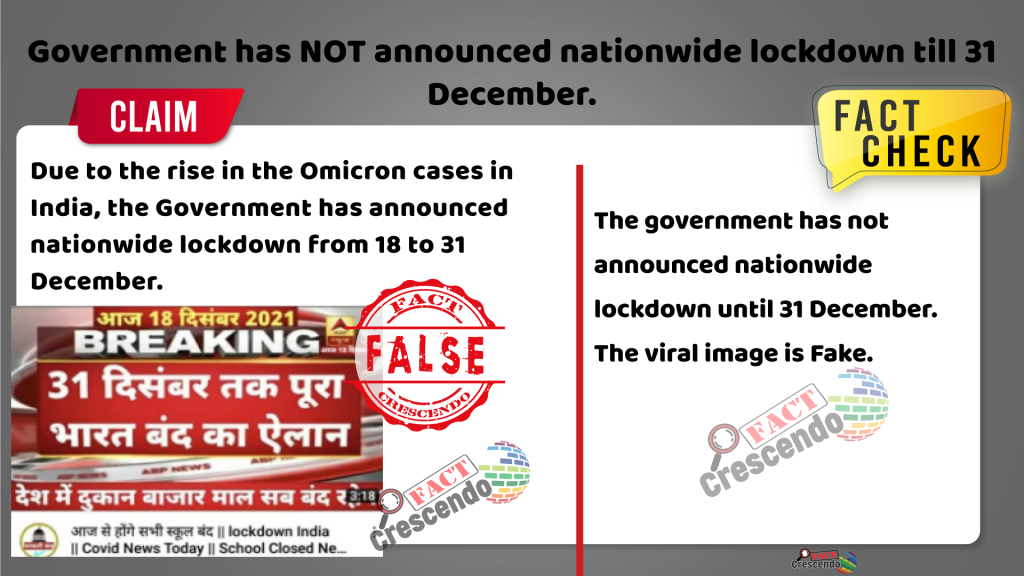 With the rising cases of the omicron variant of Covid-19 in India, people are worried about the possibility of another lockdown. India has recorded over 300 Omicron cases so far. The government has warned every citizen to be more careful in masking up and maintaining social distance.
Amidst this, a screengrab of a news report by ABP News is being widely circulated on social media claiming the Government of India has announced a nationwide lockdown until 31 December. The image states that from the 18 to 31 December all the schools, shops and markets will be closed.
Fact Crescendo received many fact-check requests about this image on our WhatsApp FactLine (9049053770).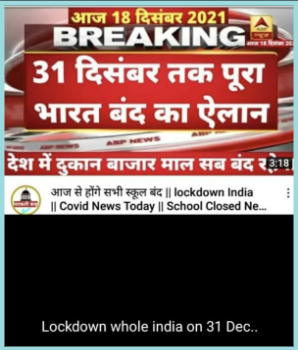 Fact Check-
We started our investigation by running a keyword search on Google to find news reports regarding the newly implemented nationwide lockdown. However, we were unable to find any report that corroborated the same.
We could not find any similar news report published by ABP News on their website or their YouTube channel.
Next, Fact Crescendo reached out to the Principal Spokesperson, Government of India & Principal Director General of Press Information Bureau, Jaideep Bhatnagar who confirmed to us that the claim made along with the viral image is Fake. The government of India has not announced for any nationwide lockdown.
We also found a clarification tweet posted by PIB Fact Check that stated the viral image to be Fake. The tweet stated the Central Government in respect of nationwide lockdown has made no such announcement.
Conclusion-
Fact Crescendo found the viral image on social media to be False. There has been no announcement made regarding the government of India calling for a nationwide lockdown from the 18 to 31 December.
(If you also have any suspicious messages, posts, photos, videos or news, send them to our WhatsApp Fact line Number (9049053770) for Fact Check. Follow Fact Crescendo on Facebook, Instagram and Twitter to read the latest Fact Check.)
Title:Government has NOT announced nationwide lockdown till 31st of December.
Fact Check By: Aavya Ray
Result: False