On 23rd October 2019, a Facebook user named "Sajid Hasan" posted a video which reads, "Mumbai Ghatkopar Hotel Golden just caught fire". This video shows a building on fire. Sharing this video on social media extensively, it is being claimed that the accident occurred at Hotel Golden in Ghatkopar area of Mumbai.
At the beginning of the investigation, when we watched this video carefully, we saw a water tanker to extinguish the fire, on which was written "E.N.A.P." If it was a Mumbai water tanker, the tank would have been inscribed with "BMC" on it. The Municipal Corporation of Greater Mumbai is called Brihanmumbai Municipal Corporation or "BMC".
After this, we searched for E.N.A.P on Google and found that it means "Indore Municipality Corporation". It appears to us that this incident is from Madhya Pradesh.
After this, we noticed a vehicle at the beginning of the video whose registration number starts from "MP-09" and searched for more information regarding it.  On searching the official website of Ministry of Road Transport and Highways, we found that this vehicle has registration plate registered by the Indore RTO.
After that we searched Google for more information using these keywords "Indore Hotel Golden Fire". The search result revealed a News published by Dainik Jagran,. In the description of the incident that happened on October 20th 2019, it was mentioned that "a renowned Hotel of Indore, Hotel Golden Gate has caught fire. This five-storey hotel located in the Vijay Nagar area has been engulfed in a massive fire. As soon as information was received, the fire brigade reached the venue and tried to control the fire."
Several other media organizations published News about this accident, according to which, "a hotel named 'Golden Gate' was set on fire in Vijay Nagar area of Indore." The same video can be seen in this news below.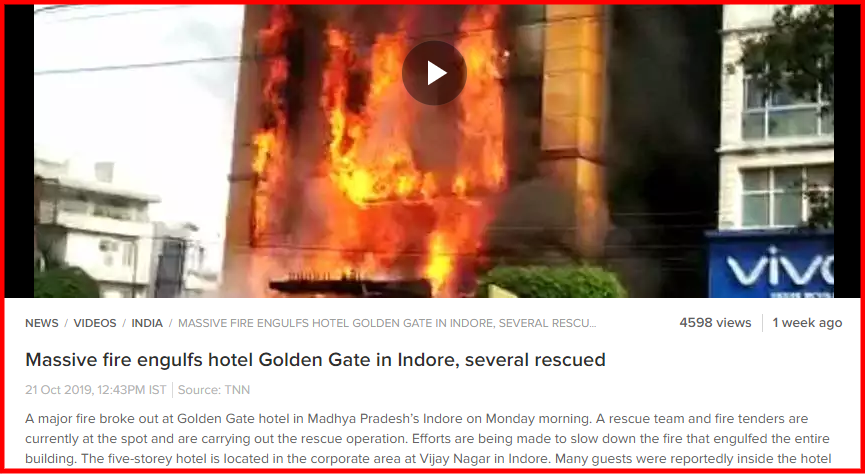 We did not find any report of fire in hotel named "Golden" in Mumbai's Ghatkopar area. In Indore, the photographs related to this incident were published on 21st October 2019 through a tweet by "ANI".
Conclusion: We found the above post wrong after checking the facts. In the viral video, the hotel which caught fire is not from Ghatkopar,Mumbai but from Indore city in Madhya Pradesh.

Title:The viral video of the hotel engulfed in fire is not from Mumbai
Fact Check By: Ruchika M
Result: False