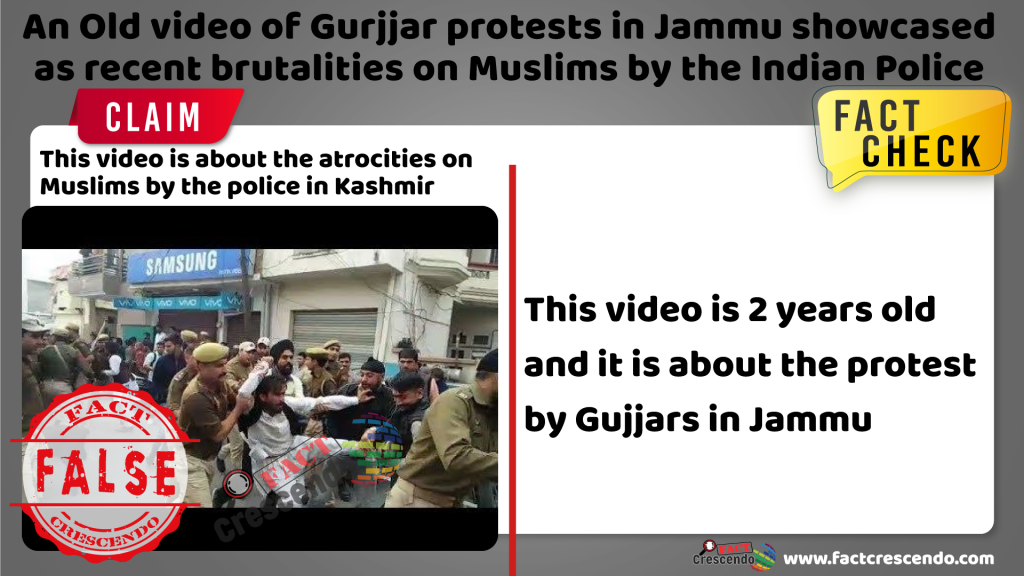 On 27th October 2019, a Facebook user named "Hummayu Basharat" posted a video, captioned "Atrocities on Kashmiri Muslims by the Indian Police". In the video, we can see the police arresting some people after hitting them with lathi sticks. Sharing this video on social forums rapidly, it is being claimed that this video shows the recent Kashmir where the Indian police are torturing and beating Kashmiri Muslims. By the time the fact check was done, this video had received 13000 responses.
In the beginning of the investigation, we broke this video into small key frames using the InVID tool and conducted Google Reverse Image Search. As a result, we found a longer version of a viral video. This video was uploaded on YouTube on 13th November 2017 by a YouTube channel called Daily Excelsior. After 14 seconds in the video, we can see the scene shown in the viral video on social media. The title of this video reads, "Protesting against eviction, Gujjars block Lal Singh's residence with livestock."
We further searched the news related to the above title. As a result, we found News reports related to this incident published in Rising Kashmir and Greater Kashmir. According to the News published on 15th November 2017, members of the Gurjjar community protested outside the residence of Forest Minister Chaudhary Lal Singh against the alleged eviction of some members of the Gurjjar community. The protestors tried to push their livestock into the leader's residence due to which the situation worsened. In order to handle the situation, the police personnel had to lathi-charge and arrested the protestors.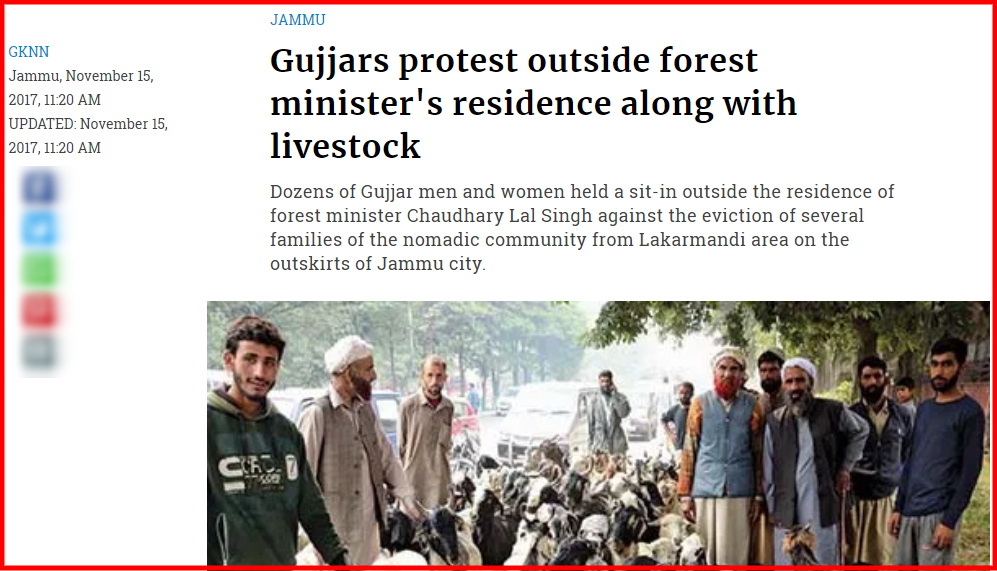 Conclusion: After checking the facts, we found the above post wrong. A two-year-old video of the Gurjjars protest in Jammu has been shared as a recent lathi-charge on Kashmiri Muslims by the Indian Police.

Title:An Old video of Gurjjar protests in Jammu showcased as recent brutalities on Muslims by the Indian Police
Fact Check By: Ruchika M
Result: False