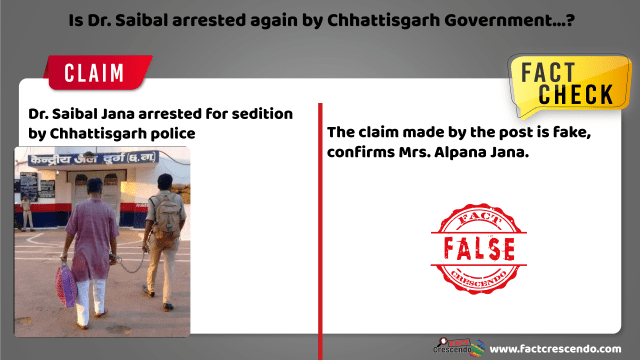 Narrative on social media
A Facebook page called " witness | സാക്ഷി | شاهد " has published a post on June 20th 2019 claiming that Dr. Saibal Jana has been arrested by Chhattisgarh police on grounds of sedition. The text in Malayalam accompanying an image in which an old man is being handcuffed and taken into central prison by a police officer translates as such: The man who is chained, as a domesticated dog is a surgeon Dr. Saibal practising in Chhattisgarh's Shaheed hospital. The humanitarian who visits poor Adivasis and provides treatment to them. The Government jailed him for sedition. "I will fight until death." Was Dr. Saibal's last tweet." So has the Chhattisgarh government jailed Dr. Saibal? Why is he charged on grounds of sedition? Let's investigate and find out the facts.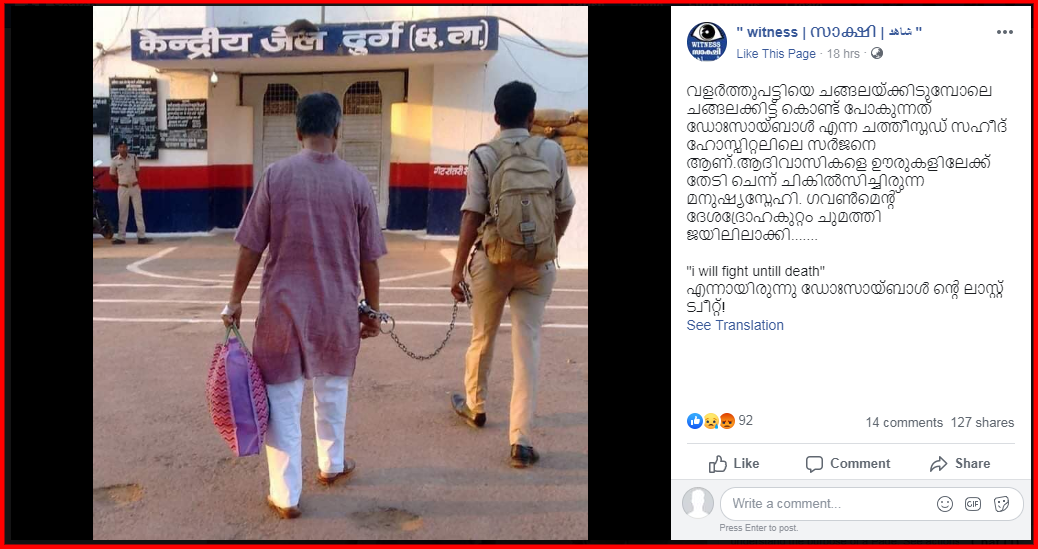 Our Fact Check
In order to know more about the image shared along with the post, we reverse image searched the image and obtained the following results as shown in the screenshot given below: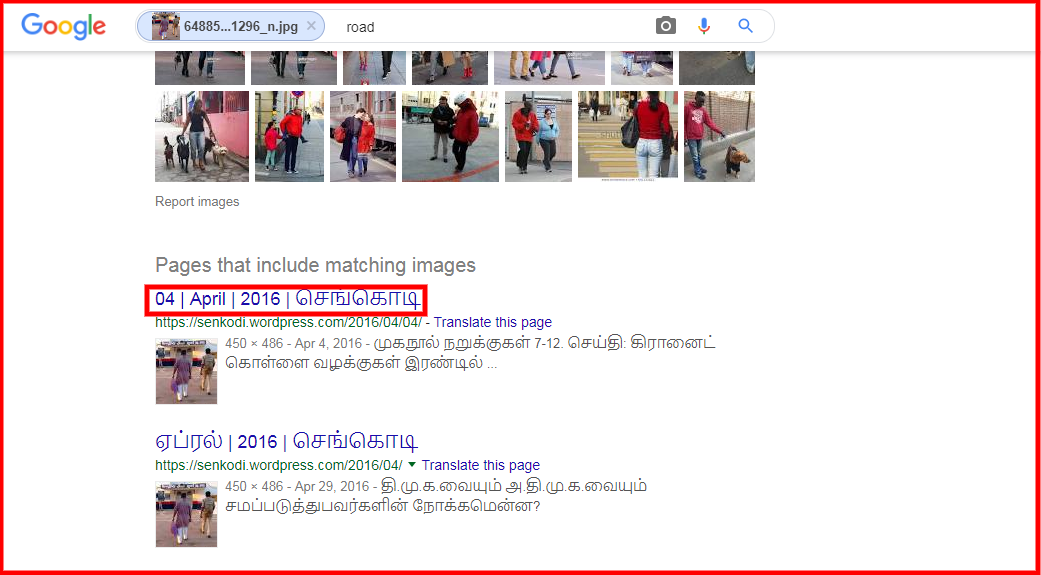 In the Tamil articles, highlighted in the screenshot, have been published more than three years ago. The same image, which is used in the post, can be seen in these articles. We searched Google for news related to Dr. Saibal's arrest in 2016. We found a number of articles on the internet regarding Dr. Saibal's arrest. Dr. Saibal was arrested in March 2016 for a case that was registered against him in the year 1992. The Chhattisgarh police alleged that Dr. Jana was absconding in the case, which was rubbished by his wife who told reporters that he was in the hospital all the time serving the patients and rarely went out.
Former MLA and social activist from Chhattisgarh, Janaklal Thakur told the Hindu, the case against Mr. Jana was registered in 1992. He was among 58 people who were accused in the case. Most of these accused had obtained bail. Thakur claims that Dr. Jana was not intimated about this case and hence he was not aware of such a case registered against him. A lot of people and social activists took to Twitter and outraged against the arrest of Dr. Jana. Some of the tweets are given below:
Dr. Saibal was able to get bail and was released after a few days.
Dr. Saibal Jana runs Shaheed hospital in Chhattisgarh's Dalli-Rajhara town along with his wife and other doctors. The Hospital was started by non-violent trade union leader late Shankar Guha Neogi in the year 1983. He was supported by Dr. Ashis Kundu and Dr. Binayak Sen. A year later, Dr. Jana joined the hospital. Dr. Jana is the only remaining senior doctor and runs the hospital at present. Shaheed hospital was named after the eleven contract mine labourers who laid down their lives while protesting in the year 1977.
We tried contacting Dr. Saibal but were unable to talk to him. However we were able to speak to his wife Dr. Alpana Jana over phone. When asked about the claims made by the post, she responded as such:
"Doctor Jana is treating patients in hospital; he has not been arrested. The news is 3 years old."
When we asked her about the photograph used in the post she confirmed that it was indeed an old picture and was taken when Dr.Saibal was arrested. He has not been arrested after that, Mrs. Jana confirms.
Conclusion
The claim made in the post that Dr. Saibal Jana has been arrested for sedition by Chhattisgarh police is false. The image used in the post is three years old. Mrs. Jana has confirmed to us that Dr. Saibal Jana that the claim made by the post is fake.

Title:Fact Check: Is Dr. Saibal arrested again by Chhattisgarh Government…?
Fact Check By: Harish Nair
Result: False