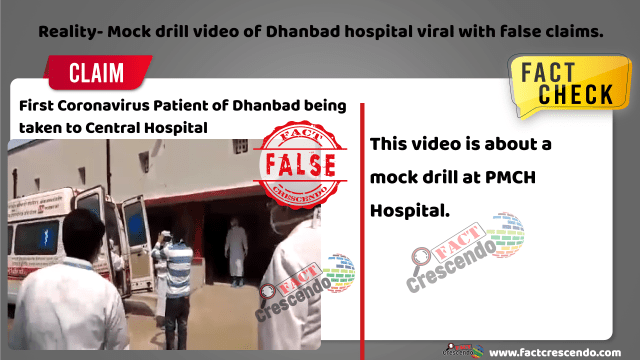 Considering the readiness to fight Coronavirus, various government departments are conducting mass exercises to test their preparedness, videos of these exercises are being shared on social forums by many social users with incorrect details. In this sequence, a video has been spread on social media claiming that the first Coronavirus patient was taken to Central Hospital in Dhanbad, Jharkhand.
The title of the post reads, "Medical staff transporting the first corona patient from Dhanbad to Central Hospital." This video was sent to Fact Crescendo's WhatsApp number- 9049053770 to check the truth.
We started the investigation by watching and listening to this video carefully, in this video we can hear the words "Dhanbad mock drill" being used many times. At the same time, many people are also seen recording this incident, which makes the above claim doubtful. Further, we searched for news related to this incident on Google, as a result of which we found a news article published by Jagran on 13th April 2020. According to this news, the Central Hospital of Dhanbad has been declared a Covid 19 Hospital by the Government. Under this, doctors of PMCH and Central Hospital performed a mock drill on Sunday. The patient was taken from PMCH to Central Hospital during the mock drill in just 15 minutes and his treatment started. The doctors present at this mock drill were CMD PM Prasad of BCCL, Civil Surgeon Dr. Gopal Das, Head of the Department of Medicine of PMCH, Dr. UK Ojha, District Sadar Medical In-charge Dr. Alok Vishwakarma, in-charge of Central Hospital, Dr. AK Gupta, WHO Doctor Rajan Kumar
Fact Crescendo contacted Dr. Umesh Kumar Ojha, Head of the Department of Medicine Department of PMCH and Isolation In-Charge of PMCH. They told us that "this video in PMCH is a mock drill conducted on 12th April 2020. I was also a part of this mock drill. This mock drill was a practice run of shifting a patient infected with coronavirus to the Central Hospital. This video has nothing to do with a real time situation."
Conclusion: After fact-checking, we found the above post to be incorrect. This video does not depict the first Coronavirus Patient found in Dhanbad. But instead is footage from a collective mock drill in which a volunteer pretending to be an infected patient was being shifted from Dhanbad PMCH to Central Hospital.

Title:Mock drill video of Dhanbad hospital viral with false claims.
Fact Check By: Aavya Ray
Result: False